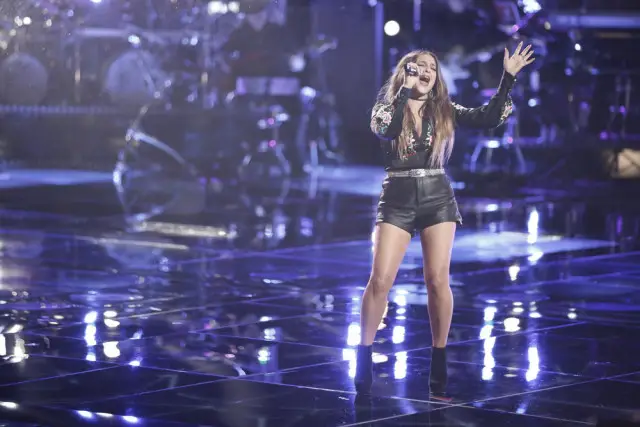 The Voice 10 went LIVE tonight with Part 1 of the Playoffs! Team Blake Shelton and Team Christina Aguilera were up first with performances. They also brought back one eliminated contestant each. Blake reached back to the Battle Rounds to rescue Justin Whisnant and Christina plucked Nick Hagelin, a singer whom she never worked with, out of the abyss.
Twelve singers in all competed on tonight's show. With Christina's team on deck, there was some pretty strong talent that took the live stage. Alisan Porter, Adam Wakefield, Brian Bautista were the standouts. But Nick Hagelin, Ryan Quinn and Paxton Ingram were also competitive.
Paxton's iTunes sales are bombing. Performing first couldn't have helped him. Kata Hay and Tamar Davis both oversang. I blame the latter on Christina. She kept pushing Tamar to perform adventurous runs, and she botched them. Kata managed to keep it together last week, but once again she was out of control when she hit the stage.
Check out the current iTunes standing and take the polls!
iTunes Chart numbers at 12 midnight
25. Alisan Porter – Team Christina – Cry Baby
39. Adam Wakefield – Team Blake – Seven Spanish Angels
45. Nick Hagelin – Team Christina – Stay
57. Bryan Bautista – Team Christina – Pillowtalk
84. Katie Basden – Team Blake – Georgia Rain
89. Ryan Quinn – Team Christina – I'm Not the Only One
95. Joe Maye – Team Blake – Long Train Runnin
105. Mary Sarah – Team Blake – Rose Garden
124. Kata Hay – Team Christina – Natural Woman
161. Justin Whisnant – Team Blake – Here's a Quarter
Outside of the Top 200
Tamar Davis – Team Christina – Rise Up
Paxton Ingram – Team Blake – How Deep is Your Love
iTunes Chart numbers at 12 PM, end of voting window
Alisan JUST missed the 10x voting bonus given to contestants who make the iTunes Top 10. No worries. She'll get their soon enough. She's a shoe in for the finals, and that's all that matters at this point.
12. Alisan Porter – Team Christina – Cry Baby
25. Nick Hagelin – Team Christina – Stay
30. Adam Wakefield – Team Blake – Seven Spanish Angels
38. Bryan Bautista – Team Christina – Pillowtalk
57. Ryan Quinn – Team Christina – I'm Not the Only One
59. Katie Basden – Team Blake – Georgia Rain
65. Joe Maye – Team Blake – Long Train Runnin
68. Mary Sarah – Team Blake – Rose Garden
81. Kata Hay – Team Christina – Natural Woman
110. Justin Whisnant – Team Blake – Here's a Quarter
Outside of the Top 200
Tamar Davis – Team Christina – Rise Up
Paxton Ingram – Team Blake – How Deep is Your Love
Favorite Performance
Favorite Team
Grade the Episode