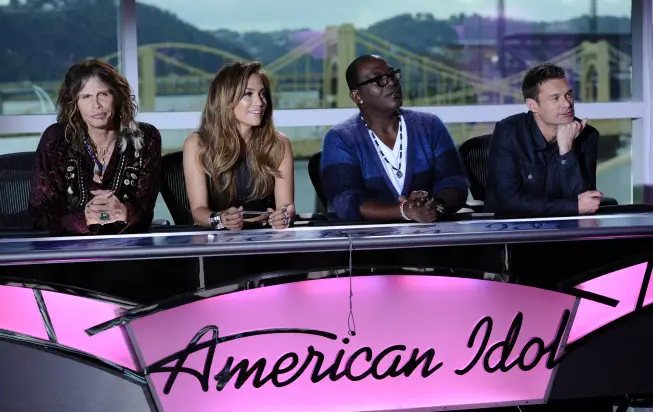 As we approach the New Year, I thought I'd do a little roundup of the biggest stories of 2011. What I've included here are stories related to the shows I cover on the blog, including: American Idol, X Factor, Glee, Dancing With the Stars and America's Got Talent. The list is mostly show related items, but if a contestant or cast member made some waves, I've got it covered here too.
I've divided the items month by month and will deliver the piece in two parts, as I just could not cut the list down far enough to fit it reasonably in one post. Part 1 today and Part 2 will come your way on Friday!
January
American Idol 11 debuts on January 19 without Simon Cowell – Nigel Lythgoe is back at the helm (WHERE HE BELONGS) and has put into a place a newly configured judges' panel that features Jennifer Lopez, Steven Tyler and Randy Jackson. Also, Nigel has made a few tweaks to the show–adding a Las Vegas round to Hollywood and shortening The Top 24 middle round to one sudden-death week. The first episode–the New York Auditions–is promising–with Steven taking on the Paula Abdul lovable-but-wacky role, Jennifer Lopez as the insightful and caring judge and an energized Randy Jackson taking on the role of head judge. The reviews are positive and while the ratings dip, they are still solid.  Simon who?
Chris Colfer wins the Best Supporting Actor in TV Series, Mini-Series, or Made-for-TV Movie award at the 68th Annual Golden Globes and gives an awesome, and heartfelt anti-bullying acceptance speech. Glee and actress Jane Lynch are also winners.  Ricky Gervais is host and manages to piss off a lot of people with a slew of extremely Un-PC jokes.
February
American Idol Top 24 contestant, Casey Abrams is rushed to the hospital after complaining of severe stomach pains.  He stays overnight and it's feared that he'll have to drop out of the race just as he's about to compete.  But after a blood transfusion, he's well enough to return to the show.  Casey misses a results show, and a few commercial appearances, but stays in the race until he is eliminated in 6th place.  Casey eventually reveals that he has ulcerative colitis and becomes a spokesperson for the chronic illness.
March
Casey Abrams is eliminated in 11th place.  But not so fast! The judges use their one time save, giving Casey another chance. The 19 year old contestant is so overwhelmed by the news, he nearly faints, making for one of the more dramatic moments in the competition. Watch the Drama Unfold.
Glee's Kurt and Blaine finally kiss – Fans had been waiting for the moment since Glee newbie, Blaine (Darren Criss) serenaded a smitten Kurt (Chris Colfer) with Katy Perry's "Teenage Dream".  Glee's realistic and positive depiction of a gay teen romance not only won hearts, but broke a few barriers as well.  #theykissed instantly began trending worldwide on twitter.
April
Taylor Hicks joins Stephen Colbert and Jimmy Fallon on Late Night with Jimmy Fallon for an EPIC performance of Rebecca Black's "Friday". It was all in the name of fun and charity. Watch the Awsomeness Here.
American Idol contestant, Pia Toscano, is shockingly SHOCKINGLY eliminated at 9th place.  Many predicted the beautiful Pia with the big belty voice would be the 1st female Idol winner since Jordin Sparks took the crown in 2007.   But, something didn't quite connect with Pia and the viewing public.  Maybe it was her insistence on performing big old-fashioned ballads nearly every week, or a performance style some viewers called "robotic." Or maybe a female was not destined to win American Idol 10–as 4 girls fell in quick succession in the first weeks of the show. Nevertheless, the shock boot got Pia tons of press and appearances.  And in the end, she was signed to UMG.  Her album is set to be released in early 2012.  All is well that ends well… Watch Pia's Dramatic Elimination Here.
NBC's The Voice premieres and it's a Surprise Hit – NBC's new singing competition, The Voice, with it's gimmicky swivel chairs and contrived boxing-style battle rounds appears to be an iffy proposition at the outset.  Could coaches Cee Lo Green, Adam Levine, Blake Shelton and Christina Aguilera pull in curious viewers to this new singing competition? YES.  The auditions feature some great singing and the gimmick–the coaches listen to auditions with their backs turned to the contestant–turned out to be a kick.  Would the coaches turn around or not?  The ratings are impressive–with almost 12 million viewers and a whopping 5.1 rating in the 18-49 demo–a shot in the arm the ailing NBC badly needs. The Voice is different enough from Idol to not seem redundant, but effectively steals the thunder from the X Factor, which is premiering later in the year with a similar concept. Poor Simon.
May
The judging on American Idol Goes to Hell – While the American Idol judges' panel got off to a promising start, somewhere along the way, either the producers or the judges themselves decide that blowing smoke up every contestant's ass is the way to go.  As the competition heads down to the home stretch, the comments get nicer and nicer and viewers become more and more frustrated.  Where is Simon when you need him?  The one contestant who doesn't seem to get a free pass is Haley Reinhart.  She gets a chilly response when she sings "You and I", a brand new Lady Gaga song that has never been performed in public before.  The judges can't handle the brand new tune, even though Haley knocks it out of the park.  They redeeme themselves somewhat when they prais her second song, "House of the Rising Sun". But it isn't enough to keep fans from expressing their displeasure across the internet. Include me as someone who was ready to storm the CBS studios with a torch and pitchfork.  The upside–the uproar probably saves her from elimination.  Jacob Lusk goes home in 5th place that week. Watch the Performances.
Lee DeWyze and Nigel Lythgoe Twitter Fight – After the Season 9 winner is denied a performing spot on the American Idol finale, Lee's brother Mike hops on to twitter to complain, calling Idol producers "scumbags".  Fans also tweet angry messages at Nigel. In return, he tweets in the wee hours after the finale that Lee had been asked to present the winner's trophy, but declined.  Lee tweets a response– that he was asked by producers to present as the trophy was about to be presented.  Nigel tweets–no, Lee was asked to present with a week's notice.  Hello twitter war!  In an interview with THR after the incident, it appears that the truth was somewhere in the middle–Lee was asked a week before to present at the finale. He declined, but was asked again right before the winner was announced. Again, he declined.  I would say, at this point, there is no love lost between Lee and Nigel. It's worth noting Nigel was not the EP Season 9, the year Lee competed. I hope Lee isn't counting on an Idol promo spot when his record drops next year…
A couple of country teens win Idol – Teen contestants, Scotty McCreery and Lauren Alaina take winner and runner-up, respectively.   Nobody thought two teens would take the top spots–let alone two COUNTRY teens.   In the end, despite criticisms of the judges panel, ratings stay solid for Idol, proving that the show was not all about Simon Cowell.  The brittle Brit seems none too pleased as he later takes snide potshots at Idol as he makes media rounds, promoting the upcoming X Factor. He even mocks Scotty's southern accent. Yes. Simon goes there.
June
Simon Cowell FIRES Cheryl Cole – Was it a case of cold feet?  Her thick accent? Only Simon knows why he decides, after shooting auditions in Los Angeles and Chicago, to dump Cheryl Cole as X Factor judge in favor of the lifeless fembot, Nicole Scherzinger.  The Gordie beauty joined the X Factor USA panel, after a successful run on the UK version.
Javier Colon wins the Voice. Dia Frampton comes in second.  But unfortunately, the only careers jump started here are the coaches.   Blake Shelton's album sales go up.  The Maroon 5/Christina Aguilera single "Moves Like Jagger" is a big summer hit and Cee Lo Green becomes an even bigger star.  Sadly, Javier and Dia release albums in the fall to very little fan fair.  Javier Colon's Come Through For You debuts at #133 on the BB200, selling a measly 10K copies, while Dia Frampton's album Red, debuts at #106 with 10.5K sales.
July
Jennifer Lopez and Marc Anthony split – The couple seemed so HAPPY when they sexy danced on the Idol finale!  But it was splitsville in July for Jlo and Marc. What would happen to the twins? Oh my.  Jennifer, almost immediately begins to date one of her young male dancers.  Good for her?
Amy Winehouse dies – Not much to add to this. Very, very sad.
Glee co-creator, Ryan Murphy announces popular cast members will graduate, leave show.  Ryan Murphy drops  a bombshell when he announces that the characters portrayed by beloved cast members, Lea Michele, Cory Monteith and Chris Colfer will leave the show after they graduate at the end of Season 3.  Chris tells interviewers the next day during a round of Emmy interviews (Murphy conveniently drops the news the day before Emmy noms are announced) that he was pretty much blindsided, having read about his imminent graduation on twitter.  Later, in an interview with Deadline, Ryan reveals that his actors weren't being fired, but would star in a New York City based spin-off, that was now cancelled due to his actors' media indiscretions (!!!).  He then proceeds to blame his actors and the media for not being able to read his mind.  He's not called "Troll Murphy" in the blog-o-sphere for nothing.  Eventually, Ryan admits to mishandling the situation and that  just because a character graduates, doesn't mean they can't be on Glee.
Come back tomorrow for August thru December!