Check out the bright and colorful Key Art for The Voice season 17, set to premiere in September on NBC. The bright yellow, blues, greens and pink give off a fun pop 60s vibe. I prefer the new design over season 16's odd impressionistic watercolor look.
Almost the entire crew is returning. Carson Daly has been the host from day one, and remains in his post. Blake Shelton is the veteran coach, in place since season 1. John Legend is returning for his second consecutive season. Kelly Clarkson has become a regular–season 17 will be her fourth cycle in a row.
Actually, the ENTIRE gang was supposed to return. However, Blake's fellow veteran coach, Adam Levine, decided to bail a few weeks after NBC announced that he would return. It was all very last minute, with behind the scenes reports insisting his heart hadn't been in the game for a long time (and it showed!). Adam reportedly walked away from a 30 million dollar payday.
Adam's departure left NBC in a tough spot. Only a few short weeks were left before the Blind Auditions were scheduled to film. The network had to act fast. Bringing back Gwen Stefani for her fourth season took care of two issues. NBC needed an experienced coach. CHECK. And they needed a character who could play off of Blake in the absence of his frenemy Adam. With Gwen and Blake a solid romantic couple, bro friendship would be replaced by romantic rivalry. 
The release of season 17's first promo illustrates the new narrative, which features Gwen gleefully blocking her boyfriend Blake from choosing a coveted team member. But with all the love, of course.
In addition, there is GOOD NEWS for fans who HATED season 16's new twist the Live Cross Battles. According to The Voice 17's taping schedule, the show has gone back to its original format: Blind Auditions taped in June, followed by Battle Rounds on Aug 2 and 3 and finally the Knockout Rounds on Aug 14 and 15. By now, I would have expected NBC to announce Battle Round celebrity advisors/Knockout Round key advisors. Perhaps NBC has decided to ditch celebrity mentors? Or maybe the network is holding that info close to the vest for a little while longer? Hm.
Regardless, The Live Cross Battles were an intriguing idea in theory. For me, they were kind of fun to watch. But unfortunately, throwing away team parity in order to pit singers from different teams against each other resulted in wildly uneven teams. Team Blake had 8 members, while Team Adam was left with only 4. Honestly that outcome could have been the thing to drive Adam over the edge. I trust producers will work to avoid that mistake in ht upcoming cycle. 
The Voice season 17 premieres on NBC Monday September 23 at 8 pm. Be there!
Check out the Season 17 logo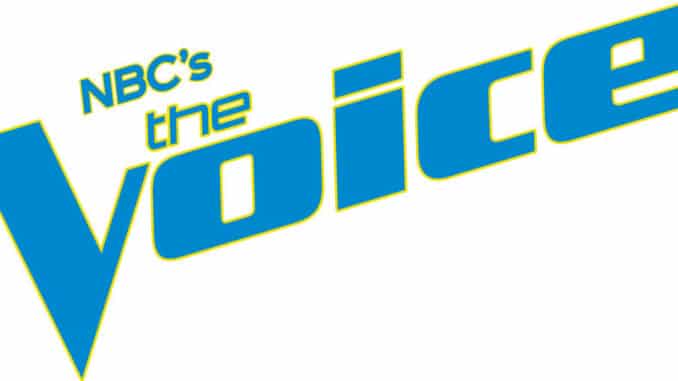 And key art