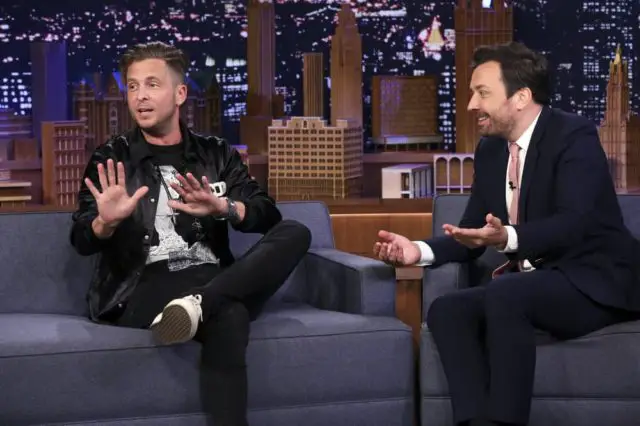 Here's an interesting tidbit. Songland's Ryan Tedder shared on Thursday's Tonight Show starring Jimmy Fallon that NBC approached him about replacing Adam Levine on The Voice. But here's the kicker–it happened four years ago!
"I initially got pitched four years ago on potentially replacing Adam on The Voice because he was just tired. He was like, 'I think I'm going to step off for a minute.' They called to see if I would do it," Ryan told host Jimmy Fallon. "And before I could even decide, they called back and said, 'False alarm. He's back on but we have this other show that you might be better for,' " the OneRepublic frontman said. 
In November 2013, Tedder joined The Voice season 5 as the show's first-ever in-house producer and songwriter. He also served as a mentor that season. 
Meanwhile, Levine abruptly announced his departure from the The Voice–for real this time–at the end of May. Returning judge and Blake Shelton gal pal Gwen Stefani will replace him on the panel. The Voice season 17 blind auditions for the fall cycle will tape at Universal Studios at the end of June with Stefani, Shelton, John Legend and Kelly Clarkson as coaches. 
Anxious Adam Levine Turned Down 30 Million The Voice Payday (Report)
Was Adam Levine Pushed from The Voice or Did He Jump?
The Voice: Gwen Stefani on Adam Levine's Exit and Her Return (VIDEO)
The new NBC competition Songland, co-executive produced by Adam Levine, features Tedder and fellow songwriting producers Ester Dean and Shane McAnally. 
In this Tonight Show clip, Tedder also chats about his participation in Songland and introduces a preview of next week's show (June 18) featuring the Jonas Brothers. In it, Tedder works on the melody of a song with contestant and musician Remmi. 
Songland Spoilers: Meet the Songwriters Penning Tunes for Jonas Brothers (PHOTOS)
Watch Ryan Tedder talk about Adam Levine, The Voice and Songland on The Tonight Show.
https://youtu.be/4c99NM2vE7o