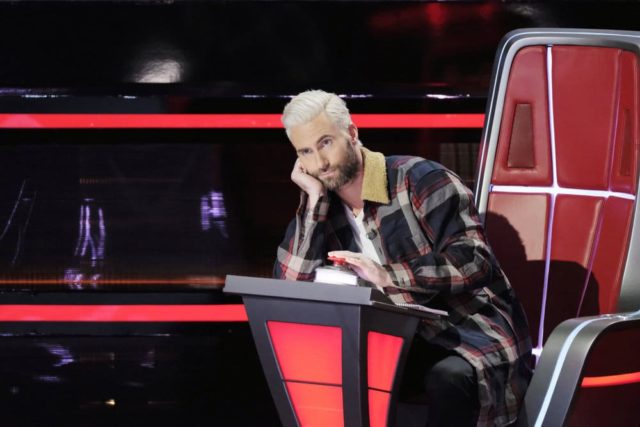 Folks woke up on Friday morning to the big news that Adam Levine would not return to The Voice this fall for season 17 after all. Only two weeks ago (May 5) NBC announced that all the current coaches, Adam along with Blake Shelton, Kelly Clarkson and John Legend, would once again sit in the big red chairs for the fall cycle.
All parties involved framed Adam's departure as an amicable "parting of ways." But if that were so, wouldn't the Maroon 5 frontman have made the decision not to return weeks and even months ago? What could have possibly changed in the past two weeks? Reports, which appear to be from Adam's camp, say he got tired of the show and decided to quit. But TV Line offers a more plausible explanation.
Reportedly, Adam's performance at the May 13 upfronts was disastrous. The four coaches sang a medley of Rolling Stones songs at the end of the presentation to advertisers. Those who saw the performance online before NBC took it off Youtube knows it was pretty sloppy. Reportedly, the sub-par performance infuriated NBC boss Paul Telegdy:
Singing on stage alongside his fellow coaches, Levine was near-motionless — a stark contrast to his much more enthusiastic and animated colleagues. "Adam had been checked out for a while," notes an NBC insider, "but this was a new low. It was essentially the straw that broke the camel's back."

Paul Telegdy was said to be particularly incensed. The co-chairman of NBC Entertainment witnessed Levine's performance firsthand and, per multiple sources, was not happy with what he saw. One insider says the exec was "embarrassed" and "furious" that Levine exhibited such indifference in front of the very people (read: advertisers) who pay his $26-million annual salary.

one NBC source says Telegdy called for Levine's immediate firing (a position he quickly backed off on). Another source at the network insists Telegdy and his fellow execs were very appreciative that in the middle of a week of live shows, the coaches flew to New York, on Mother's Day, to perform early Monday morning.
Due to the Monday morning Upfronts in New York City, producers taped that night's  Top 13 performance show on Sunday. Adam was reportedly not happy to be there. Viewers noted that when it came time to critique the contestants, Adam did not have much to say.
By all accounts, Levine did not want to attend that Sunday taping. As one source tells TVLine, the Maroon 5 frontman expressed frustration beforehand at having to be present when, at that point, he had no artists left in the Season 16 race. And he did not hide his frustration. One eyewitness tells TVLine that Levine was "very difficult" during the entire taping, refusing opportunities to offer commentary to the other judges' performers.

During the episode that aired May 13, the odd coach out praised Team Blake Shelton's Andrew Sevener, Team John Legend's Maelyn Jarmon and Shawn Sounds, and Team Kelly Clarkson's Rod Stokes, but host Carson Daly didn't even go to Levine for comment after solo performances by the rest of the Top 8.
From the seemingly Adam-friendly camp, sources say Adam has been frustrated for awhile.
…the singer had disliked the show for multiple seasons now as he didn't like the format or the fact that America favors country music: "Things have been very tense between the judges and everything regarding upfronts was demonstrative of this. It was his choice to go but no one was begging him to stay."
And other obviously Adam friendly voices say:
…a source tells ET that 40-year-old Levine hasn't been having fun at The Voice for some time. According to the source, the Maroon 5 frontman had been thinking of leaving the show for years and didn't want to come back next season. The source says he and NBC came to a mutual agreement for him to leave and that there are no hard feelings. The source adds that it wouldn't be a surprise to see Levine appear in the new season of The Voice in some capacity.
And yet another source says Adam did not like this year's format change. Typically, The coaches still had control at the Knockout round, which advanced an equal number of singers from each team to the live shows. This season, the Live Cross Battles had viewers deciding the winners of cross team battles. It left Adam with only 4 contestants. He lost the rest before the semi-finals.
In a preview of the Live Cross Battles, Levine said the round made the show feel like "the wild west out there now"

"He really didn't like some of the changes to the format of the show last season, and it's just time for him to leave," the source continues. "It wouldn't be surprising if he came back to visit the show though. There's new music coming soon for him, he'll be touring and he plans to continue acting. He's staying busy."
Hm. Reports saying Adam was unhappy for years and didn't like this season's Cross Battles doesn't explain why he signed on and then a mere two weeks later quit. I think TV Line is on to something.
Also, production usually tapes The Voice Blind Auditions in June. Obviously, the powers-that-be needed to confirm the lineup pronto. Currently, there are no tapings for The Voice's fall cycle scheduled at this time.