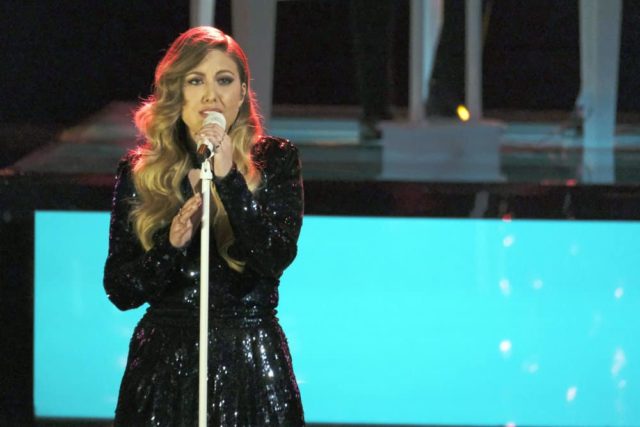 Tonight, The Voice season 16 Top 13 will perform for the coaches, Kelly Clarkson, John Legend, Adam Levine, Blake Shelton and your votes.
Apple streams will count as votes. Limit ten streams per eligible song per Apple ID. The artist with the most streams on their eligible song(s) at the close of voting period will receive an Apple Music Bonus. Check out all the song spoilers, with links to iTunes below.
The Voice 16 Top 13 Song Spoilers – What Will the Contestants Sing?
For how to vote this week and beyond, check out our The Voice voting guide:
How to Vote on The Voice 16: Everything You Need to Know
Tonight is all about us the viewers, welcome to fan week (AKA bus songs week!)
Fans picked the songs and we are going to meet the super fans and check in with viewing parties throughout the country.  5 singers will go home tomorrow and our votes will determine who goes home.  Voting is open now!
Kicking off the night with the cowboy Blake Shelton and we are meeting some of Gyth's biggest fans.  They are holding up a sign that says Gyth.  The fans love that he is the whole package.  Gyth is doing a Blake song.  Blake says the fans made the right decision, he knows how to work the crowd and get intimate.  Gyth's first concert was a Blake concert and he's a big fan.  Blake says this guy is going places!
Gyth Rigdon "Nobody But Me" Team Blake
He is standing at the mic with his guitar.  He also has a piano and other instrumentalists behind him.  He sounds decent he's a little hard to understand in the lower register.  He puts guitar down and now it's just him and the mic as he walks around the stage.  He sounds better in the chorus and bridge where he is in his higher register, strong ending.  Blake on his feet.
John loves Gyth, he was great up there.  He carries himself with star presence.  Blake says he agree with John, he does belong here.  He owns the stage, and is an undiscovered talent.
When we come back Kim Cherry takes the stage!
Blake tells Kim we've had artists try what she has and not get very far.  Kim is worried about how it will be received.  Clips of fans and TLC tweeting that they are rooting for her.  Hmmm not sure about this song choice.  Blake tells her to do the song straight.  Kim loves the song, and says it fits her awesome man.  Blake reminds us that rap is hard, it requires rhythm and personality.    Indiana in the house as two of Kim's fans are on the camera, they love her mad rapping skills.  They get the honor of introducing her…
Kim Cherry "Whatta Man"  Team Blake
Neon columns, as Kim comes out on the stage, she has no glasses on.  Two back up singers on the stage.  She starts out rapping immediately.  She is a good rapper, and looks very confident and comfortable on the stage.  She laughs during the song when it talks about laughing.  Pretty sure we've never heard this on the Voice.  She's singing to her boyfriend now.  This is mostly rap and not really showing off her voice.  Somewhat big note at the end, but never really broke out into big notes.  Blake on his feet.
Kelly says Kim did exactly what she expected, but she would like to hear her sing something.  Her attitude and rap separates her, but she wants to hear her wail (I agree).  Blake tells us it's fun to see what the fans choose, that song choice was perfect.  Great performance, great job.
Up next Jej, Andrew, and Oliv
Up next is Jej Kelly's save.  He's excited to represent the Philippines in the top 13.  Kelly thinks he will be in the finale.  Kelly is throwing papers at him during rehearsals.  He had a watch party during his blind audition.  Kelly is pushing Jej to be vulnerable.  Jej is ready to show us the beast in him.   Live from the viewing party in Glendale, CA of Jej fans (about 20 maybe haha).
Jej Vinson "Close" Team Kelly
He's starting off on the keyboards.  He is starting off more vulnerable we've heard and in tune so that's good.  He leaves the keyboards and now it's him and the mic on the stage.  Adding his signature runs.  There are a lot of back up vocals in this song while he sings oooo…  He breaks into bigger notes and runs and ends on a big, tender ooooo..  That was okay. His runs are overdone for me, but better then he has been.
Adam loves Jej's voice, he loves his tone.  Adam envisions him in the finale, he did great.  Kelly's favorite thing about him is that he has style and grace with his runs, sexy, and angelic.  She will be shocked if he is not in the finale.  (Um, good luck with that).
Andrew's up next, followed by Oliv and Dexter
Gyth is shown screaming for Andrew going through.  Blake tells Andrew he's connected with country fans across the nation.  Hi fans made cookies and T-shirts in his hometown of 4,000 people.  Blake says Andrew is in awe of this opportunity.  The fans gave him a contemporary country song, he infuses a Southern rock sound.  He doesn't back down from any song.  We go to Burleson TX viewing party for Andrew.  Hmmm this is Kelly's hometown, and they are copying Idol with these hometown/viewing watch parties.
Andrew Sevener "She Got the Best in Me"  Team Blake
Andrew stands at the mic with his guitar as we would expect.  There's a tree backdrop behind him, drums and some back up singers, and guitarists.  His voice is so solid and pure, he sounds really good.  I'm not a country fan but he's good.  He throws his guitar behind his back and heads to center stage, hits some wailing, big notes.  Solid, predictable performance.
John loved his energy, wanted more finesse and he felt his passion in the performance.  Blake says Andrew is on 10 all the time, and that's why he has a huge fan base, but he realizes every second that goes by that's he here.  Blake appreciates his attitude.
Coming up Oliv, Dexter, and Shawn!
Reminder: Five go home tomorrow, and lol that we have already seen almost Blake's whole team before 9:00.
UP next Oliv Blu's Blake save.  She was so grateful for the opportunity to be saved.  Blake loves that she is jazz.  He thinks the fans will love her even more after this song, because she will take it to the next level.  Her sisters are her three biggest fans.  Blake says Oliv is unique and special.  She is talking to her sisters on her laptop and her twin sister Brooke gets to introduce her.  (Wow they couldn't find any fans other than her family?)
Oliv Blu "Smooth Operator" Team Blake
Saxophone behind her, excellent lighting on her face.  She is doing an expected jazzy take on this song.  Not a huge fan of the song, but it does allow her to show her different take on things.  Her face is so animated as she sings.  she's wearing a long red dress, she moves away from the mic stand now but she sounds a little nervous.  The song never really takes off it was okay.  Blake is on his feet.
John regrets that he's her former coach, she was impressive.  Comments on her hair (it's huge) and her look.  He says it takes discipline to sing with clarity and she pulled it off.  Blake tells her she sounded incredible and he feels like she came out of her shell and embraced the moment she became an artist on stage tonight.
Coming back to back performances of Dexter and Shawn followed by Celia…
Reminder that you can stream on Apple music, and the artist with the most streamed artists has theirs streams multiplied by 5.
Dexter has a lot of fans outside.  Blake glad to see him representing the early 2000's. Dexter loves the song and the facts that the fans know he is country.  He has a special fan back home named Abby, she has cerebral palsy she comes to his shows and she loves to sing.  Blake says Dexter works so hard but also someone you want to be buddies with.  The Voice flew Abby out to the show to see Dexter perform.  Abby is now with Carson and she gets to introduce Dexter.
Dexter Roberts "Something Like That"  Team Blake
He doesn't have a guitar he sounds like he's talking a bit at the beginning of this.  He is wearing a leather jacket and a ball cap interesting for a country singer.  Some of the girls are screaming in the background.  He is playing the audience but we are losing his voice as he walks.  A few big notes, classic country performance.  Is anyone else bored with all these country songs?  That was good but I've seen him do better.  Blake is on his feet.
Kelly says she loves the song pick and thanks the fans.  Kelly says country is a lifestyle and the song connected to it.  Blake tells us Dexter was worried about the song not being vocally challenged enough, Blake says he did a great job.
Shawn says he has an outpouring of support from the fans, including clips of his students.  This is one of my favorite songs.  John says Shawn is amazing.  Shawn's Mom was his biggest fan, and he wants to draw on the emotion that he misses her.  John says grab America by the heart and make them fall in love.  A viewing party in Houston, TX introduces Shawn.  These crowds are so small (maybe like 40 people in this one).
Shawn Sounds "A House is Not a Home"  Team Legend
Love the hat and the sparkly jacket.  He has an interesting lower register and it's just his voice and a piano.  He is putting some runs into it, John is on his feet.  Maybe a bit much embellishment, but he has a great voice and this is good.  He is keeping it jazzy and tender.  I'm waiting for some belting.  One big note…  but that never turned into a wailing song like i was expecting.  But it was good.  All four coaches on their feet.  First four coach standing O tonight.  Carson fawning over that.  Definitely better then everyone else so far tonight.
Adam tells him he's incredible, and it was the best of the night, his personality, his flair.  John says it was one of the best performances this season.   He's happy to have him on his team.
When we come back Celia is up, along with LB and Mari  haha all of Team Adam together.
Another Team Legend up
Celia was picked because her performance of Chains was his favorite of the season.  He loves that the fans picked a Gaga song for her it's never been sung on the show before.  Celia says the fans chose a great song and it's a huge honor.  Her babini babies have been sending in videos for her.  Her Mom makes most of the stuff she wears on the show.  Babini babies are the names of her fans and one of them is on video from Orange County California who thinks she's unique and has passion.  She introduces…
Celia Babini "Shallow" Team Legend
Interesting pick, song suits her voice.  The stage is dark with just her and the mic.  She falls as she sings, and this causes her to lose her note for a minute.  Her voice is definitely unique, and this song shows her range.  She hits big notes, and goes back to back with the guitar player on the stage.  She is on full volume for the whole rest of the performance.   She is so good at visual enactments of the song she sings.   That was one of her better performances.  She dives into the audiences, and the fans are lifting her across them in the pit as she ends.
Adam her former coach says he misses her.  He's happy she's still on the show, he loves watching her perform.  John tells the audience that Celia was concerned about the pressure in the song, but she made it her own, visual performance..
LB, Mari, and Carter on deck…
Now it's the comeback artist LB Krew on Team Adam.  LB says he chose Adam because he started with him.  This performance is for the fans, Adam calls him the comeback champion.  He's one of the best singers in the competition, he's a beast.  The fans chose a Boyz to men R&B song, and the fans might cry a long with him.  The Mayor of El-Dorado talks about how hot LB was by turning four chairs.  We flash to a viewing party in Little Rock Arkansas introduce him (again, very small crowd).
LB Crew "I'll Make Love to You" Team Adam 
LB is wearing a white jacket, cloud background two back up singers hidden in the background.  This song is a little iffy for him but he's a good singer.  Have I mentioned that I hate fan pick week?  The songs always suck.  He breaks into some big notes, but this song doesn't allow for a lot of that.  Now he's doing some runs, and going into his falsetto.  Dude can sing for sure.  He's jumping on stage after he's done.  Crowd on their feet, and so is Adam.
Adam was thrilled to get LB back, he's a true talent, a kind, good human.  Adam tells him he loves and he's incredibly talented, and he always brings it.  No other coaches comments….
Back to back from Mari and Carter when we come back….
And now we see last season's winner Chevel in a Toyota commercial.  Wow we finally see last season's champ.
https://youtu.be/0xjuc5RHuIA
Adam hugs Mari as she comes into rehearsals.  It means the world to her that Adam saved her.  Mari is gifted musically and she has stage presence.  This Ashanti song has never been done on the show.  Mari is glad that her fans wanted her to do R&B, some of her fans have drawn pictures of her.  She loves her salon family and they send her a good luck message.  One of Mari's biggest fan is from Taiwan who sent in a video with her drawings of Mari, she loves her vibe… give it up for:
Mari "Foolish"  Team Adam
She's wearing a short checked dress and there's a black and yellow background that matches her dress.  She is standing on risers  and the yellow and black are flashing on the stage too.  She's really into the performance but it's not really going anywhere.  Definitely better then last time we heard her.She sounds pretty good, and is really getting into it but shes' not that memorable to me.  That was better then she usually is.  Adam on his feet.
Adam thinks she's a super star, she has arrived, and she has reached the point to where she's an artist.  She is her thing, he loves her, and she should be on the show.
Moving right on to Team Blake
Carter got his braces off.  This song will show off his vulnerable side.  Blake tells him to reach through the living room and smack people around.  Carter has had a 100 prom invite videos.  He thought his demographic would be his Mom but he was wrong.  Blake says the girls love Carter, but he needs Carter to focus.  One of Carter's biggest fans from NC is on live, she says he has an old soul and he throws his songs out of the ball park.  She introduces Carter.
Carter Lloyd Horne "Let It Go"  Team Blake
It's just Carter and the acoustic guitar standing at the mic stand.  Tender, quiet opening.  He is just playing and singing concentrating on his voice.  This song is boring, this performance is boring.  He has a good voice but this isn't memorable enough but he's Team Blake so he probably doesn't need to be too memorable.  Blake standing but that was meh…
Blake says the fan-picked songs make him nervous, he was worried a little bit.  But he takes everything that gets thrown at him and runs at it head-on.  He killed it tonight.
Rod up after the break and Maelyn closing it up!
Now we are onto Kelly's country soul singer Rod Stokes.  He brings his wife Kimberly his biggest fan to his rehearsal.  Never show the demo his wife, haha.  He's going to sing the song to his wife, he tears up talking about her.  Massachusetts mother and son fan on video saying he has the perfect Southern raspy songs that his Mom loves.
Rod Stokes "When a Man Loves a Woman" Team Kelly
This guy's voice is so good, it's a little twangy for me but the power is undeniable.  He is tearing this up, pitch perfect, powerful.  Kelly is standing up already.  He even puts a little run at the end, he hit all the right notes.  That was good one of the best tonight.  Kelly is on her feet.
Blake gets to comment and says he is so good and used to be on his team.  He keeps delivering every time.  Kelly says she adores him, he has a God-given talent, it's beautiful, majestic power and passion.
The Queen Maelyn closes the night when we come back!
One of Maelyn's biggest fans on the stage he loves that she has overcome so much and not let that get in the way of her dreams.  Maelyn is touched by all the people with hearing impairments who have reached out to her.  She loves to do songs originally sung by male artists.  John says she reminds him of Celine Dion and Joni Mitchell.   Maelyn talks about dating a musician, John says she's the best singer on the show.
Maelyn Jarmon "The Scientist"  Team Legend
It's dark and it's Maelyn and a piano.  Her voice has so much emotion and tenderness.  This is very subdued and tender yet powerful.  Her black glitter dress is beautiful too.  She is hitting all these notes perfectly and she is wailing now as she moves away from the microphone.  Gorgeous, John is on his feet.  She's almost crying in her voice.   Only John standing that deserved more.  I was almost in tears.
John says she's the best singer in the competition.  Her skill level is beyond and we are all blessed to hear her.
Tomorrow night we lock in the semi-finalists and Blake and John both perform with their teams.  See you tomorrow!