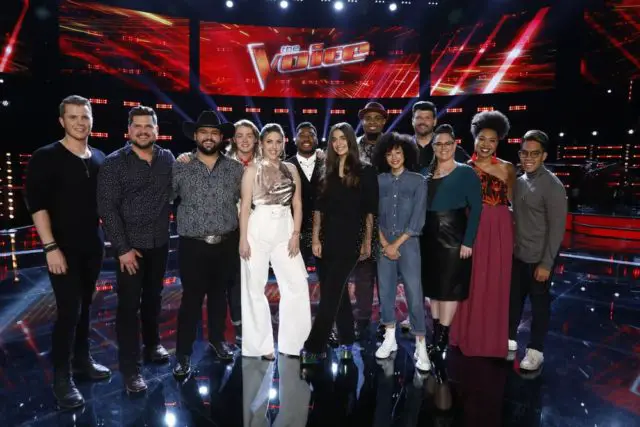 The Voice season 16 is finally down to a manageable 13 finalists, with only 3 weeks left in the competition. Last week after 24 contestants performed in rapid fire succession, only 12 remained after the nationwide vote. A 13th contestant was added after a showdown between the Comeback Stage winner and an eliminated Cross Battles contestant. In previous seasons, three singers advanced from each team, including one saved by their coach. This season, contestants were eliminated randomly, except 3 singers saved by their respective coaches. It was kind of a mess.
Here's the problem. For instance, American Idol crafts a Top 24 with diversity in mind, so that when singers are eliminated, the diversity stays mostly intact. The judges saves keep the pool of finalists well rounded. 
But that's not how The Voice works. Each coach chooses contestants during the various rounds. Blake Shelton typically has a country-heavy team. By the old system, only 2 or 3 of those singers would advance. Random voting, however, means a popular genre like country will dominate. That's how we wound up with 5 country white dudes in the finals. 
And I'm going to put my tinfoil hat on right now. Comeback Coach Bebe Rexha purposely chose former Adam Levine team member LB Crew for her Comeback Stage sing off. That was so Adam would have at least two team members in the final. Speaking of which– pitting a contestant who has been on TV for several weeks against a no turn contestant like Kanard Thomas is ridiculous. NBC didn't even bother flashing the voting chyron, because LB was CRUSHING the vote. If NBC insists on sticking with the Comeback Stage in the future, the battles should be between no-turns only. 
According to an NBC press release, on Tuesday's results show, host Carson Daly will declare seven artists safe by America's votes. The next three vote getting artists will compete for the Instant Save. The bottom three will be eliminated. Eight contestants will move on to the semi-final. Five will go home.
Here's how I rank the remaining contestants. How would you rate them?
13. LB Crew (comeback artist) – Team Adam –  LB is likely toast. The Comeback Artist comes into the finals at a distinct disadvantage. Only a WOW performance could save LB. I like him a lot, but there's too much competition for him to survive.
12. Mari (save) – Team Adam – Mari is one of my favorite contestants, but her quirky throwback vibe doesn't attract votes. I was happy that Adam saved her. 
11. Celia Babini (save) – Team Legend – Celia, a four chair turn, started the competition strong. But she has struggled lately. John had to save her, which was no surprise. She's just a teen, and probably should have waited a few years to audition.
10. Oliv Blu (save) – Team Blake – In a sea of country artists on Team Blake, there is Oliv. I love her creative takes on covers. She has a chance to survive this week.
9. Jej Vinson (save) – Team Kelly – Jej was seemingly a fan favorite, but did not advance to the Top 13 without help from Kelly. He has massive views on his Youtube videos. What's the deal? I keep saying social media numbers can be misleading. In Jej's case, as a Filipino native, he probably had a ton of views from overseas. Those folks can't vote. Stateside fans will be voting extra hard for him this week. He should survive to the Top 8.
8. Shawn Sounds – Team Legend – Shawn is a good singer, albeit a little generic, so I was a surprised he advanced to the finals based on America's vote. Apparently he has a fan base. But is it big enough to advance him to the next round?. 
7. Andrew Sevener – Team Blake – If this year's format was the same as last year's Andrew would not have advanced. Period. He's clearly the weakest of Blake's country boys. 
6. Rod Stokes – Team Kelly – Rod is generic, but I understand his appeal. He's got a big booming voice and knows how to do nostalgia. He appeals to folks who remember the 80s. 
5. Kim Cherry – Team Blake –  Kim Cherry got the coaches' full attention in the blinds with a party trick. She raps! Not nearly as well as she sings, however, which is why it's time to ditch the gimmick. Nevertheless, I think she'll advance to the Top 8 easily.
4. Dexter Roberts – Team Blake – Out of Team Blake's country boys, Dexter Roberts takes 3rd place. But he could make the finale anyway! Dexter, Carter and Gyth could all make the finale with Maelyn or another contestant rounding out the Top 4. 
3. Carter Lloyd Horne – Team Blake – Carter's unique tone and bluesy style has made him a fan favorite. He is a good bet for the finals. 
2. Maelyn Jarmon – Team Legend – Maelyn is the best vocalist of the Top 13.  Her tone and phrasing are something special. She's a unique stylist who deserves to advance as far as possible. 
1. Gyth Rigdon – Team Blake – Gyth not only has a beautiful voice, but he has an innate ability to tell a story through song. His song choices are A+ and he knows how to connect to an audience. Bet he breaks out a Jesus song next week. He could take it all. 
PHOTO GALLERY