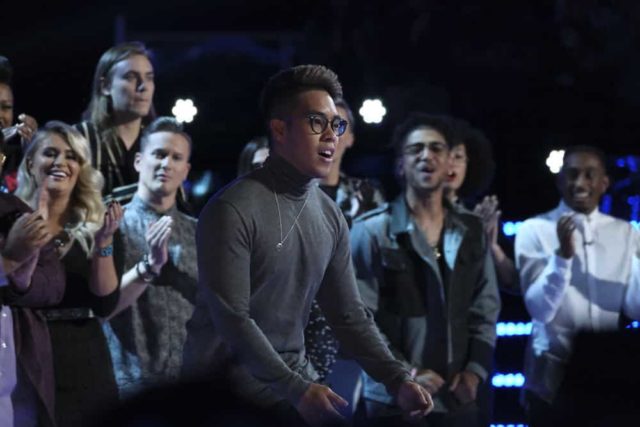 Last night the Top 24 sang for your votes. Viewers voted overnight for their favorite singers, and tonight, the Top 13 will be revealed. Eight singers based on viewer votes will move on. Each of the coaches–Adam Levine, Blake Shelton, Kelly Clarkson and John Legend will choose a wildcard to round out the Top 12. Additionally, the Comeback Stage winner will face off against an eliminated Cross Battles contestant for the 13th spot.
The Voice Season 16 Recap – Top 24 – Live Blog and VIDEOS
The Voice 16 Top 24: Poll Results and Predictions
Kelly Clarkson will perform her new single "Broken & Beautiful" from her movie Ugly Dolls.
Each coach will pick an artist, the top 8 in votes will go on, and 2 artists from Comeback stage will perform.
Blake tells all the contestants to not give up.  Carson mentions Koryn Hawthorne is up for a Dove Award.  Kelly says she encourages the contestants to keep hustling.  John said Celia had a standout performance from last night.  She tore the house down.  Adam says he doesn't want to overthink it his whole team deserves to go through.
Results time!  The Top 24 take center stage.  Gyth Rigdon was the most streamed artist on Apple music during the overnight voting window.  Hmmm… is he the winner this season?
The first three artists who are safe and moving on are….
from Team Blake….  Gyth Rigdon (no real surprise there).
America also saved….  from Team Legend…..  Shawn Sounds.
The third artist America voted into top 13 from Team Blake…. Carter Lloyd Horne.
Meh… so far with these results.  Blake already has 2 in the Top 13.
Next Monday the artists will sing songs that the fans pick.
Give it up for a team performance from Team Adam (hmmm maybe they think this is the only time Adam will have a team).  They perform Is This Love by Bob Marley and the Wailers and it is kind of boring.
https://www.youtube.com/watch?v=HmbkJXUMb2A
More results!
21 artists remaining come back to the stage. America saved 2 more artists…
from Team Kelly…. Rod Stokes (SERIOUS??)
4 artists through and not a single female….
America also saved from Team Blake…. Kim Cherry (finally a female albeit not a great one). 
Blake has 3 artists, John 1, and Kelly 1 in the top 13.
Sneak peek of "Songland"… as we head into commercial.
Now another special performance from Kelly Clarkson singing a song "Broken & Beautiful" from the movie Ugly Dolls.  This dress is really not attractive, I don't like to comment on women's clothes, but what is this she's wearing?? Kelly's a great singer, and this is a solid performance although I'm not a fan of the song.
https://www.youtube.com/watch?v=wc7kVn9jR30
More results as the remaining artists come back to the stage. 3 more artists advance! The last 3 America chooses…
America saved….  Dexter Roberts from Team Blake (4 artists for Blake now in Top 13).
America also saved…. Maelyn Jarmon from Team Legend
And America's last save….  Andrew Sevener from Team Blake (Blake will now have at least 1/2 the artists in the top 13 haha!).
Joining Carson is now the 5th coach Bebe Rexha, who coaches the Comeback Stage. Kanard Thomas a no-turn chair turn won the Comeback digital stage and he will perform against another comeback artist from the Cross Battles. BeBe thinks Kanard has what it takes to win The Voice. BeBe invites LB Crew to return as the comeback artist from the cross battles. America will vote between Kanard and LB… hmm wonder who will win that? After they each sing, we the audience will have 5 minutes to tweet for our favorites.
Singing "Call Back my Name"  please welcome Kanard Thomas.  He's standing at the mic, sounds a little nervous.  The song starts off a little slow, but he's moving around the stage now.  I have to say, these pants are distracting.  He seems more comfortable moving around the stage.  That really never went anywhere, doubt it's enough to get many votes from America.  John loved it and says that performance was really great, showed skill switching between tone and falsetto.
https://www.youtube.com/watch?v=e0laIdBOnmY
Now LB Crew is up singing "Electric Feel".  This song is a weird choice, starts off slow too. He's standing in front of the mic, and asks the audience to put their hands together. This is better then Kanard's performance, but we have seen better from LB.  He gets better, as the song goes one Adam and John are standing up.  He is interacting with the audience, he never really has a ton of energy but should be enough to win.  All four judges on their feet. Adam says that was literally a perfect 10. Gee, wonder who the show wants to come back?  Adam said it was the best performance of the entire season.  UM, NO.
https://www.youtube.com/watch?v=WBZsjcr0FiY
The power is now in America's hands.  Tweet #VoiceSaveKanard or #VoiceSaveLB to choose your favorite, retweets also count.   5 minute voting window starts right now.
BTW, I think this sucks that one of the legitimate top 13 will not get a spot because of these guys. Kanard says making the top 13 would mean everything. He fought his way all the way here. LB says he's chasing the dream, and he thanks America, making it to the top 13 would mean everything.  BeBe thinks they are both incredible, and that they should never give up. The voting window has closed.  America chose……  LB Crew.  (No surprise there). Kanard Thomas is re-eliminated. LB now gets to choose a new coach. He signals for the crowd to stop screaming. LB tells John Legend he loves him, but he sees his team struggling and a little low in numbers so he chooses Team Adam! (Anyone else smell a set up?)
https://www.youtube.com/watch?v=ohp0K-xMeCg
Coach count:
Blake 5, Adam 1, John 2, Kelly 1
Now each coach will get to save 1 of their remaining artists.  Five minutes left…
Blake is up first he has Selkii, Kendra, and Oliv left only his guys advanced.  He told them they all worked so hard, he hates to see any of them go home.  It was not an easy decision he chooses Oliv to advance.  Oliv Blu advances.  
Surprisingly only 1 of Team Kelly was voted through by America she can only save 1.  She has to choose from everyone but Rod.  Kelly chooses Jej Vinson.  She tells the other not to be sad.  No surprise there.  Jej Vinson advances.  
Now John chooses between Jacob, Jimmy, Lisa, and Celia.  John says they all gave their best performance.  Celia Babini is chosen by John and advances.  
And now we are down to Team Adam.  Adam says he is shocked as are many of the other coaches at the results.  Adam chooses Mari to advance.  
America your top 13 is mostly white male country singers.  UGH what a boring season this will be.
The Top 13:
Team Adam:
LB Crew (comeback artist)
Mari (save)
Team Blake:
Andrew Sevener
Gyth Rigdon
Carter Lloyd Horne
Dexter Roberts
Kim Cherry
Oliv Blu (save)
Team Kelly:
Rod Stokes
Jej Vinson (save)
Team Legend:
Maelyn Jarmon
Shawn Sounds
Celia Babini (save)
Hmmm… me thinks we are getting a Team Blake male country singer this year.  See you next week when the top 13 perform and 5 are eliminated!