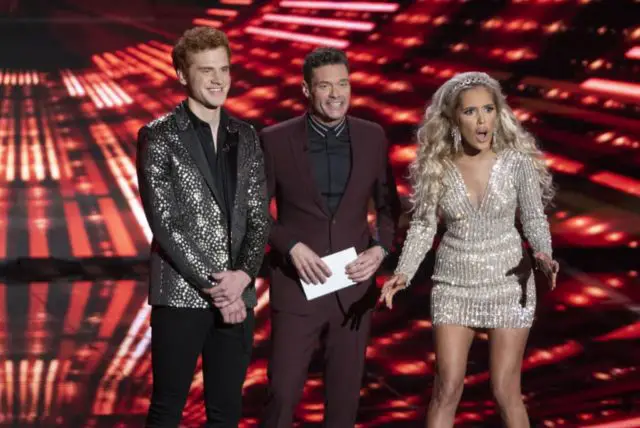 Tonight, the American Idol 2019 Top 6 perform two songs. One is inspired by the Woodstock music festival, the other is titled "Inspirational Showstoppers." American Idol alum and CCM star Lauren Daigle will mentor the singers through the Showstopper tunes. Last season's Gabby Barrett will perform her new single "I Hope." American Idol continues to broadcast LIVE coast to coast.  
Viewers across the US will watch and vote simultaneously. At the end of the episode, TWO contestants will be eliminated. UNLESS…the judges Lionel Richie, Katy Perry and Luke Bryan–save one singer from the chopping block.
Here is how to VOTE. Y'all can start voting AT THE TOP OF THE SHOW:
How to Vote on American Idol 2019 – Everything You Need to Know
Song Spoilers below! 
American Idol 2019 Top 6 Woodstock/Showstoppers Song Spoilers
American Idol 2019 Top 6 Power List and Poll Results
THIS is America's NO 1 SINGING SHOW brags Ryan and THIS is American Idol. 
We're kicking off with songs from Woodstock
Madison vandenburg – Piece of My Heart by Janis Joplin/Erma Franklin – Madison is strumming an electric guitar and it isn't entirely convincing. She's nailing the notes, but is missing the gut wrenching passion of the original. Stop smiling! Your heart is being ripped into shreds! That's the point of the song. "Oh my gosh! You flung your pony!" says Katy "I don't want you to be second, I want you to win this thing." Katy thinks the second half was better than the first half. Luke says, "You're doing what we ask every week…digging in more and more." Lionel says, "You brought us attitude tonight."  Her family, in the audience, drove to California from New York State. 
https://www.youtube.com/watch?v=E_TciSsOMtU
Laine Hardy – I Don't Need No Doctor by Joe Cocker/Ray Charles – It's a good song pick for Laine, giving him the opportunity to swamp it up tonight. He accompanies himself on guitar. The arrangement is a bit too "Las Vegas."  This song needs a grittier attack. He could have dug in harder. Luke compliments the song choice. "Your voice has that certain sweet spot." Lionel digs his colorful jacket. "You are taking it to the core of who you are." Katy says, "I think you've figured this chess game out." She suggests that he push himself hard. She is correct. He's playing it easy. 
https://www.youtube.com/watch?v=rcZyHZu9YSg
Katy's dad was at Woodstock, she claims. 
Jeremiah Lloyd Harmon – Swing Low, Sweet Chariot by Joan Baez – He performs behind the piano. He sings an upbeat performance of the classic song. Gospel is obviously a comfortable genre for him. He really wails at the end. This is pretty great. My favorite so far. Jeremiah sings it like he means it. The judges are on their feet. So is Jeremiah's boyfriend. Lionel says, "You're bringing the bling and the swing…your vocals are absolutely amazing." Katy says, "HALLELUJAH. The church is in ya! She shouts." She thanks him for "showing off." He was born October 9, the same day as John Lennon, Katy reveals. "I think your chosen." Luke calls it "comfortable from day one." 
https://www.youtube.com/watch?v=osCUvcFh3w0
Laci Kaye Booth – To Love Somebody by Janis Joplin/Bee Gees – I'm not loving this mid-tempo arrangement. This song is heartbreaking and is better sung as a ballad. She is just not bringing the requisite passion. Laci sounds a little hoarse tonight, too. Katy calls her voice "spectacular" and compares her to Bonnie Raitt. Uhm. Bonnie Raitt if she were comatose. Katy wants her to move more. Luke felt she dug in and stood out, "You commanded our attention…this was cool to watch." Lionel compliments her big hair and fringe outfit. Lionel wants her to play the crowd more. 
https://www.youtube.com/watch?v=Vl4dOiCbfdw
Alejandro Aranda – White Rabbit by Jefferson Airplane – I like the arrangement a lot. It's a super-psychedelic and just plain weird, but in a good way. Bring on the magic mushrooms! He does some really cool things with his phrasing. He totally makes the song his own, modernizing it. But the vocal itself is underwhelming. The band almost swallows him up.  Luke felt the performance embodied the spirit of Woodstock. He calls it "Pink Floyd like." Lionel says, "The jacket is on fire." Lionel gives him some mic tips. "Make love to it," he says. "That was a fantastic performance," says Katy, "Keep feeling yourself…your heroes would be proud."
https://www.youtube.com/watch?v=uteV0dP85hY
Wade Cota – With a Little Help from My Friends by Joe Cocker/The Beatles – He should pass out on stage like John Belushi. Just kidding. This song is a great choice because it's a sing-along crowd pleaser. He's closing the set. His heavily raspy voice harkens back to Joe Cocker. Once again, Wade brings the nostalgic vibe. He did what he needed to do with that performance. Lionel comes out from behind his desk, "You have more movement than Joe Cocker. It's the perfect song for you. You knocked it out of the park." Katy says, "That was the best performance I've seen tonight." Luke says, "You just elevated the game, spiritually moved the whole room."
https://www.youtube.com/watch?v=UYM640DV7cs
Hey NEXT SEASON it could be you. Go audition for American Idol! The Top 6 talk up the show. Go to AmericanIdol.com for more. So yeah! The show is definitely renewed for another season.
Ryan calls Gabby Barrett a "superstar." Twenty million streams for her single "I Hope." And here she is to sing it. Katy runs up on stage to compare engagement rings with Gabby, who is engaged to fellow alum Cade Foehner. Oh. GOOD NEWS: Gabby just signed with major label Warner Brothers/Nashville. 
https://www.youtube.com/watch?v=dlgGxTymNz0
Over 11 million votes so far! Ryan refers to tonight's mentor, Lauren Daigle as a former contestant. She didn't even make it to the Top 24. But technically, she is an alum! 
Madison vandenburg – I Surrender by Celine Dion – Madison is very very nervous to meet Lauren. "It's a little shrilly," says Lauren. She suggests she make a "smiley face" in the roof of her mouth. Madison feels better about hitting those big notes. Big, dramatic songs are Madison's forte. She wasn't really pulling off the rocker thing in the first half. She's in her comfort zone here. Her range is amazing. KEY CHANGE! "I could really hear and see you feeling it," says Katy. "There you are." Luke says, "You finally gave us a cry in there," he says. Lionel says, "Your vocals are far beyond your age. You're owning it so much now. You did that song in a Madison style."
https://www.youtube.com/watch?v=UWpXkZ0uMUM
Alejandro Aranda – Poison (Original song) – I'm not really trying to stop a show, says Alejandro, seemingly confused by the concept. "His songwriting is stunning," remarks Lauren. She gives him some solid vocal tips. "You can see the longing in him," she says. Original songs are where Alejandro really shines, and throws all of his passion. He's performing on acoustic guitar–it's mesmerizing, beautiful. It's a 180 degree turn from last week, when he seemed completely checked out. I mean, that look on his face at the end says it all. Just pure joy. Luke mentions how tough it is to sing and play guitar like that at the same time. Lionel says "Watching you sing your songs is everything. Your star has already gone to the top." Katy says, "That was the best you have ever sang on the show."  She thinks it will be interesting how American Idol will change when he wins. After, Alejandro admits he was extremely nervous. 
https://www.youtube.com/watch?v=83QkMrguTFc
Mentor Bobby Bones is offering commentary between the performances. 
Laci Kaye Booth – Open Arms by Journey – Laci is nervous–she's not a big belter. Lauren helps her with crazy vocal exercises. She is a very good vocal coach. These tips are solid. A more intimate performance, Laci feels more connected this time. She performs with a slight country twang. It's a lovely rendition. On the key change, she opens up her vocal. No big notes, she doesn't need them. A very heartfelt performance from Laci, although she still sounds hoarse. She's hitting a few clunkers. It's a pretty arrangement. Lionel calls the delivery "fantastic." and "You're in your comfort zone now." Katy orders America to VOTE NOW. "That was exactly what I was asking for," she says. Katy calls her "Multidimensional." Luke is so proud of her far she's come. 
https://www.youtube.com/watch?v=-nTz8lX4AHc
Jeremiah Lloyd Harmon – Somewhere by Barbra Streisand – Lauren had Jeremiah sing acapella to work on the phrasing. Every word must be filled with emotion, she says. The arrangement felt a little chopped up, which interrupted the song's momentum. But Jeremiah delivered a powerful and moving performance nevertheless. The big notes at the end really landed the song. Katy notes that he took what Lauren said to heart. "I was locked in every single word, every single syllable." Luke says he started a little unsure, but rallied at the end. "You cannot study mesmerizing," says Lionel. "You killed it tonight."
https://www.youtube.com/watch?v=TwvFtR1PQro
Wade Cota – Through the Valley by Shawn James – Wade talks about messing up (which he did last week). "Give yourself the freedom to fail," Lauren advises. Wade is having a very good night. It's another song choice tailor made for his vocal style. The original artist has a very similar voice. Pretty dark material, but he delivered it. Luke calls it a "Johnny Cash moment." Lionel says, "You have sold it to us." Katy says, "That voice is 1000 years old." She notes that he was shocked by last week's vote. She thinks he is finally believing in himself. 
https://www.youtube.com/watch?v=TRswnGupySg
Bobby remarks that Laine makes it look too easy. He has to work harder. Exactly.
Laine Hardy – Johnny B. Goode by Chuck Berry – Lauren is from Louisiana, just like Laine. She says he needs to work on timing. They do a little Louisiana Cajun dancing. She's trying to loosen him up. He starts in shadow and has the Elvis pose going. A totally crowd pleasing song, it's a perfect end to the episode. Performing last won't hurt him either, because he's golden. His fans already have their votes in for him. Lionel and Luke are holding Katy back. Ha. "That was the perfect song, the perfect attitude," says Lionel. "I'm scared," says Katy. "It was so good! Who knew you had that in your lower body!!!" Luke says, "Laine has left the building! I have nothing left to say." 
https://www.youtube.com/watch?v=c7ykfhETITg
RESULTS: KIERAN DIM THE LIGHTS. In No particular order the first person voted in the the Top 4 is Madison VanDenburg. Laine Hardy is next. Who is next? Alejandro Aranda.  The last person to make it into the Top 4 is…Wade Cota. Sigh. Will the judges use their save? YES. Jeremiah nods his head like he knows what's coming. The judges save Laci. Jeremiah is eliminated.
I had a feeling Jeremiah would be eliminated tonight. But I was convinced Madison would be standing next to him. Laci has had better weeks, but overall she's had a great run. I did not expect her to be eliminated tonight. But I did expect the judges to save her if she got in trouble. I really love Jeremiah, but I understand why they saved Laci instead. She's a more marketable and identifiable singer. Wade should have been eliminated last week. But he managed to pull through with two solid performances this time. He could make it to the final, y'all. If it were up to me, I would have eliminated Madison. She's a good singer, but young and doesn't always connect to what she's singing.
By the way, Lauren Daigle is a VERY good mentor. She needs to come back!
Top 4 5:
Madison VanDenburg
Laine Hardy
Alejandro Aranda
Wade Cota
Laci Kaye Booth – JUDGES SAVE
Jeremiah Lloyd Harmon is ELIMINATED