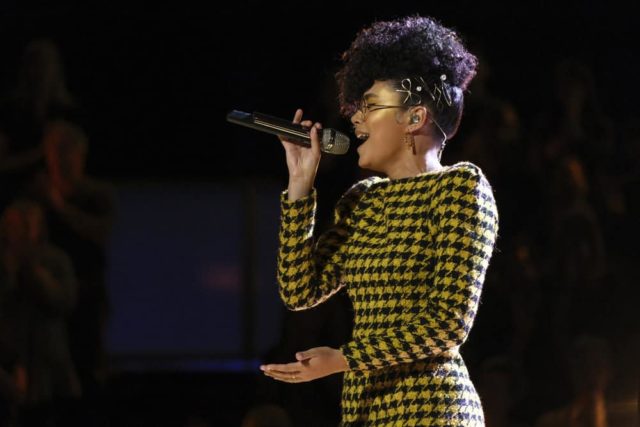 The Voice is finally down to a manageable number of singers and the season is almost over. Boo. Thirteen artists performed tonight. Five will go home tomorrow. The best performances were not from the country artists who currently overwhelm the field of finalists.
The Voice Season 16 Recap – Top 13 Live Blog and Videos
Best performance of the night was Maelyn Jarmon's "The Scientist." She turns in one exquisite performance after the other. She deserves to win, y'all. But at this point, I'm just hoping she makes the final. Mari from Team Adam delivered the second best performance with Ashanti's "Foolish." Mari has such a cool vibe.
Also cool–Oliv Blu. But I don't think "Smooth Operator" did her any favors. Fan Week is a great way to show the base some love. But fans don't always pick the best songs. Another case in point–Carter Lloyd Harmon's rendition of "Let it Go" was like milquetoast–a real departure from his typically dynamic performances. His heart just didn't seem to be in it.
Shawn Sounds delivered a solid rendition of the classic "A House is Not a Home." And I thought Jej Vinson was fine. When he overdoes the runs it affects his pitch. But I appreciated his tone and emotional delivery on "Close."
Front runner Gyth Rigdon has had better performances, but he still could win the whole thing. Celia Babini had another pitchy, uneven outing. I doubt she survives to the next round.
Now it's time to VOTE VOTE VOTE!
Vote in the Polls
Favorite Performance
Which 5 singers WILL be Eliminated? (Choose 5)
Which 5 singers SHOULD be Eliminated? (Choose 5)
Grade the Episode