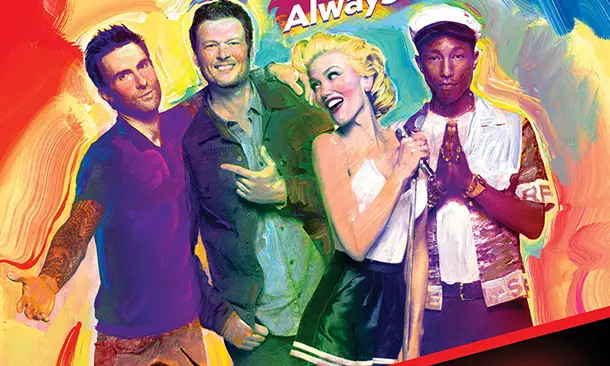 For those who are REALLY curious about Monday's The Voice premiere, I've got some detailed spoilers for you, including singers, performance order, songs and more! The Voice season 9 begins on Monday September 21 at 8/7c pm. We'll be live blogging…do join us.
The show opens with the coaches–Blake Shelton, Adam Levine, Gwen Stefani and Pharrell Williams sing each others songs.
The 2 hour broadcast features the following singers:
1. Mark Hood – 24 – Chicago – Use Me by Bill Withers – 4 chair turn. Mark chooses Pharrell. Blake wears a Pharrell hat to try to snag him.
2. *Kota Wade – Bring it On Home to Me – She lives in Los Angeles and works at Amplifier with her parents is in the band Bad Wolf. Gwen , Pharrell and Blake turn. She picks Gwen who she's been a fan of since 5th grade.
3. Keith Semple – 33 –  I'll Be There For You by Bon Jovi – This lad is from Ireland, but lives in Chicago now. He's is in the band 7th Heaven.  When American Idol alum, Anthony Fedorov, was fired from 7th Heaven, Keith stepped in to take his place. (The band has a large following).  The two go on and on about knowing Bono to get him, Adam and Gwen turn–he picks Adam.
4. Alyssa Sheridan – "I Remember You" by Sarah Mclachlan – Performs with her guitar. Dedicated the song to her step dad who died in service while her mom was pregnant. Package shows it all. No one turns
5. *Siahna Kim – 15 – Fever – She's biracial (white and Asian). Petite and cute, she performs the song soulfully. Gwen turns quickly, Pharrell and Blake turn.  She picks Pharrell.
6. Jordan Smith – Chandelier by Sia –  Easily mistaken for a female voice, we only hear his voice at first. 4 chair turn. The audition went on forever–some of it cut for brevity.  The coaches go on about how he doesn't sound the way he looks, etc. He's from a small town in Kentucky. Touted as the "Mystery singer" here's what he looks like. Watch his audition. He picks Adam, who turned at the last minute.
7. Dr. Paul – 66  – Country singer with a long white beard. He plays guitar. He's been gigging all over for the last 15 years. No turns for Dr. Paul.
8.Nadjah Nicole – 23 – Tightrope by Janelle Monae – African American, dressed in yellow. She has a small child.  Adam and Blake turn . Adam goes on about how Blake doesn't know who  Janelle Monae is, but she chooses Blake anyway.
9. Braiden Sunshine – 15 – The Mountain by Jane's Addiction  – From Connecticut from CT. Small white guy who plays guitar.  Joined a band called Silver Hammer at 9 years old.  His band mates are currently in college and don't play anymore. sings The Mountain wins again. Gwen and Pharrell turn He picks Gwen
10. Michael Woolery – Los Angeles –  Say – He is Chuck Woolery's son and the grandson of Ozzie and Harriett Nelson. Performs with a guitar. After he got hurt playing sports, he turned to music.  NO TURNS.
11. Last singer is Barrett Baber. 35 he is a country guy, married now with 2 kids got into an airplane years ago and barely survived. All 4 turn, but he picks Blake. Check out a preview of Barrett's performance
Check out a list of singers who auditioned for The Voice season 9 HERE. Includes social media and YouTube links! Most of the performers above are included.
*Corrected spelling of name. Also added social media info to the spoiler post linked above!