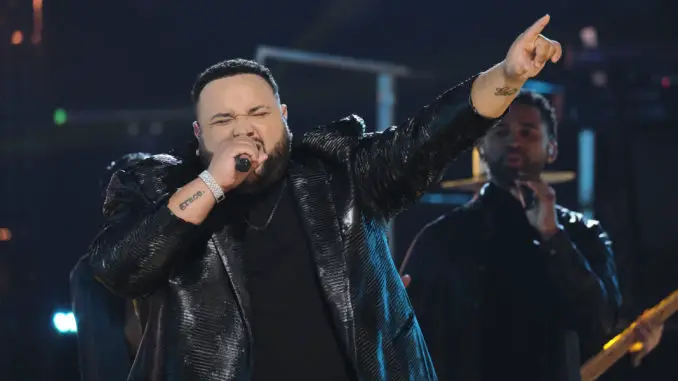 The Voice season 21 LIVE SHOWS continue tonight (Nov 22). The Top 11 perform for YOUR VOTES and a chance to advance to the Top 10.
Coaches Blake Shelton, Kelly Clarkson and John Legend and Ariana Grande sit on the panel.  Carson Daly serves as host.  We'll be live blogging all the performances here.
The Voice 21 Top 11 Song Spoilers: Fan Dedication Song Choices! (Audio)
The Voice 21 Power List/Rankings – Live Finals Top 11
The Voice 21 Live Final Rounds FULL SCHEDULE – When is the Finale? UDPATED TONIGHT!
VOTING Instructions: Download The Voice Official App (Available on the APP Store and Google Play). And/or vote on NBC.com/VoiceVote. Limit 10 votes per artist per method. Must be 13+ AND IN THE US OR PUERTO RICO. More at NBC.com/VoiceVoteRules. VOTING IS OPEN UNTIL 7 AM ET TOMORROW (Nov 16).
Tonight, the Top 11 artists choose songs chosen for them by The Voice fans.  In fact, the fans many aspects of the show tonight. The show will be cutting to fan parties. Ariana's are VERY VERY LOUD and Blake is VERY VERY JEALOUS.
Wendy Moten – Team Blake
Freeway of Love by Aretha Franklin – Her pal Vince Gill dials in to wish her good luck. Wendy declares that the fans picked her favorite song. Wendy never thought she'd be back in pop culture relevancy 30 years after her debut record.  There are so many superior Aretha songs to "Freeway of Love." But Wendy loves the song, and like everything else she does on the show, she sings the crap out of it. She looks all pink and sparkly tonight. It's like a homage to the Queen of Soul. Ariana calls Wendy one of her favorites. She loved watching her have fun. John calls her a flawless vocalist. Maybe TOO effortless. Don't take her for granted, America, he warns. Blake believes she's performing like a legend. "It's literally perfect." He begs America to vote for Wendy.
Girl Named Tom – Team Kelly 
More Hearts than Mine by Ingrid Andress – Their No 1 fan is…grandma. They call the song pick a "modern country song." They are a little nervous about that. Their fans in Pettisville, Ohio are going crazy. They don't mention that the Mennonite church they belong to are also rooting for them. Geez their party at the local high school is PACKED. The song is modern, period, which is a departure from the 70's era folk they favor. But the number falls nicely into their wheelhouse. The harmonies, as always, are beautiful. Each of the trio play an instrument tonight. Blake likes them singing country "It feels like home to me." Kelly adds, "It's so fun to work with you." She compliments the trio on their work ethic and enthusiasm. "Thank you so much for picking me," she says before begging America to vote for them.
Holly Forbes – Team Ariana
Alone by Heart  – Holly's daughter is still excited about speaking with Ariana on the phone. October 14 was declared Holly Forbes Day in Ashland, KY. Ariana notes that Holly is sweet and soft-spoken, but not when she sings! The fans chose the song, but Holly has an emotional connection to it. Wither her unique tone and wide vibrato, Holly makes every song her own, even when she doesn't change the song much. She puts her own stamp on the song, with soft phrasing in parts, and fierce growls in the chorus. This is one of her best performances of the entire competition. John loves her passion and commitment to every song. "Gorgeous…we feel your heart every time." Blake was confident her performance would be EPIC. Ariani calls her "consistently phenomenal." 
Jershika Maple – Team Legend
How Can I Ease the Pain by Lisa Fischer  – Jershika sharing about her dyslexia is helping so many people, as her conversations with them over Zoom illustrate. John mentions that this 90s classic is difficult to sing. Jershika, from Killeen Texas, has Australian fans! They introduce her tonight. Once again, Jershika electrifies the stage with powerhouse vocals. Like Wendy, her performances are effortless. But what sets her apart are her passion and muscular tone.  Jershika admits that she experiences stage fright, and  almost threw up backstage! Kelly compliments her vocal runs, which have turned into memes on TikTok! Kelly never heard the song before. Now, I don't feel so bad (neither did I). Jershika makes Blake happy. John says it's a joy to see someone empowered by their gift. "Stunning," says John.
Lana Scott – Team Blake
I Hope by Gabby Barrett  – Blake brags that he hasn't lost any team members yet. Lana is happy that country fans seem to have embraced her. Lana is happy that fans picked a modern song for her–American Idol alum Gabby Barrett's massive hit. She calls her fans the "Lanterns." Her high school put together a group video, and her dad has been putting up signs.  Sweet Lana tackles a revenge song like she means business. She sounds more assured than she did last week. Her intonation and control are improving. But it doesn't matter. Country die hards will latch on to the only country singer in the competition. Ariana feels like she's at a Lana show. She calls her the perfectly packaged country pop star. Blake calls it her "break out" moment. Blake insists on calling Lana's fans "The Fanas." 
Joshua Vacanti – Team Legend
The Show Must Go On by Queen – Local businesses from Lockport New York are supporting him, naming dishes after him, and whatnot. Mentor Camila Cabello compared Joshua to Freddie Mercury during the Battles. And his fans suggested several Queen songs. John works on his confidence around transitions. The song is big big big. He starts off standing on a grand piano. Singing a Queen song is brave because of the difficulty. But it also risks a backlash. An observation I'll just leave alone. In any case, he isn't holding back, embracing Queen's theatricality with gusto. "You are literally what this show is all about," says Kelly. "You have such an incredible voice." Blake calls it "the perfect song choice….you slayed it." John insists that he knows Queen songs and have always felt he should sing from their catalog.
Jeremy Rosado – Team Kelly
Reckless Love by Cory Asbury – Jeremy mentions that he sings this song when he leads worship in church. "My fans understand who I am at my core." Tampa peeps have been supporting him big time (probably like they did in 2012 on Idol). Oh. Ariana called Jeremy's daughter too, and she was literally shook. Apparently this song was a huge CCM hit. It's a good pick for Jeremy's earnest, passionate delivery. He's going to stick around at least until the semi-final. And maybe even beyond that. Moving away from the girl diva songs to worship is a smart move. John calls it the perfect song for him, and the most passionate performance from him yet. Kelly reveals that Jeremy wants to sing Christian music after he's done with The Voice. That's very doable. It's really the only realistic place for him in the music business. 
Gymani – Team Kelly
Diamonds by Rihanna – Gymani had to be saved by the Instant Save last week. She can't believe she has fans. For instance, recently, a flight attendant wanted to take a photo with her. Gymani uploaded a cover of "Diamonds" on her Youtube channel 3 years ago, and barely had any viewers. Now she has over 10K. Gymani's slinky take on the song is punctuated by her familiar rasp. I'm still not sold on this song pick, but she finishes strong. Those last adlibs were awesome. The coaches are on their feet. Ariani calls the performance "incredibly cool….you yourself is shining like a diamond." Kelly feels like she's at her show. She calls the choice "smart."
Jim & Sasha Allen – Team Ariana
Have You Ever Seen the Rain by Creedence Clearwater Revival – A trans fan shares that Sasha, a trans man too, has been an inspiration to him. Sasha had never been on a roller coaster before Ariana took the entire team to Universal park. He calls the song choice "perfect." Ariana believes "the fans really get him." Wow. The duo's fan party in Connecticut looks huge. Dad plays a mandolin as the two harmonize. Sasha is a much better singer than his dad. Also, their family harmonies are surprisingly bad. Having said that, it's one of Sasha's better vocal performances. He seems to be completely recovered from the laryngitis that ruined his Playoffs song. This rendition of a 60s classic might get them a place in the Top 10. Blake admires the bond between parent and child. He wonders if there is an instrument dad DOES NOT play. Ariana calls dad Jim a musical genius. "If he had 10 more arms he's be playing every instrument he can." 
Paris Winningham – Team Blake
Use Me by Bill Withers – Paris considers his fans "family." Blake claims the fans had lots of ideas for him! He believes there is a place for Paris's vintage sound in today's musical landscape. He lives in Jacksonville Florida, but Paris's Navy family lives all over the world.  I thought this was a great song pick when I saw it this morning, and I still do. He's SPECTACULAR here. The passionate runs and adlibs are unreal. That GROWL on the big notes is so impactful. Then he moves up into his head voice. He traverses one end of his range to the other and it's effortless. Terrific. Paris reminds John of gospel singers he grew up hearing. "You put so much soul and power into every song." Yet you gave him away to Blake, John! Kelly stood 3 times, Blake noticed. "You have ease and control of the room," Blake declares. He calls it his favorite performance so far. 
Hailey Mia – Team Kelly
Elastic Heart by Sia – Her high school, where the 14 year old is a freshman, is supporting her like crazy. Mia wants to do the "piano" version of the song, because she wants to speak straight to the fans. Kelly is blown away by her depth. She suggests a cello play along, and declares the song Hailey's best yet. And she's correct. With the instruments stripped back, Hailey isn't fighting the band. And she is obviously intensely connected to the song. For some singers, that makes the difference between a great and mediocre performance. Blake calls it so powerful, that he got wrapped up in her emotions. Kelly is SO PROUD of her. Kelly calls her a dark horse and believes she could make the finale.