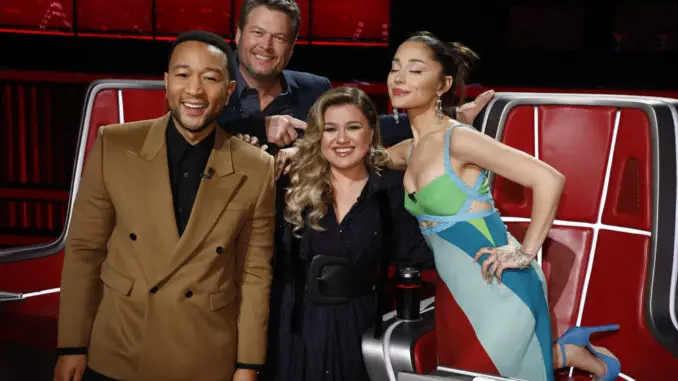 The Voice 21 studio performances continue the Top 11. Check out what the finalists will sing, with audio. I've linked to Youtube videos, however, the the songs are also available to download and/or stream on major platforms like Spotify, Apple and Amazon.
This week is FAN WEEK. Fans suggested songs on Twitter. Each of the artists and their coaches then decided which song to perform based on your suggestions. Let's see how you all did. 
The Voice 21 Power List/Rankings – Live Finals Top 11
The Voice 21 Live Final Rounds FULL SCHEDULE – When is the Finale?
Wendy Moten revealed in a recent interview that her fans really wanted her to sing an Aretha Franklin song. And out of all the great classics Aretha released, she picks the 80's hit "Freeway of Love."  Paris Winningham's fans chose well for him. "Use Me" is a gritty, passionate song well suited to his talents. Looky there. Lana Scott is covering a hit song from an American Idol alum from the ABC era! Is it the first time Gabby Barrett has been covered on The Voice?
The Jeremy Rosado song, "Reckless Long" is religious. He must feel it's time to call in the big guns. I'm not surprised Joshua Vacanti's fans have suggested Queen songs, but it's brave of him to take on such a massive tune. Good luck to him. Holly Forbes could have the moment of the night with "Alone." Jim and Sasha Allen's song, "Have You Ever Seen the Rain" is on the snoozy side. 
I'm not in love with Girl Named Tom's choice, but I'll reserve judgement until they sing it live. Hopefully, Gymani can make a comeback this week, but I'm not sure "Diamonds" is the song that will do it. Will Hailey Mia be a match for the huge "Elastic Heart" by Sia? We'll find out tonight.
Teams Blake Shelton, Kelly Clarkson, John Legend and Ariana Grande are ready to compete. What do you think of their song choices?  Jershika Maple tackles a 90s hit that the kiddos may not know (and some of the boomers too). But she'll likely kill it, neverthless.
The Voice 21 Top 11 Song Spoilers
Wendy Moten – Team Blake – Freeway of Love by Aretha Franklin – VIDEO 
Paris Winningham – Team Blake – Use Me by Bill Withers – VIDEO
Lana Scott – Team Blake – I Hope by Gabby Barrett   – VIDEO
Girl Named Tom – Team Kelly – More Hearts than Mine by Ingrid Andress  – VIDEO
Jeremy Rosado – Team Kelly – Reckless Love by Cory Asbury –  VIDEO
Gymani – Team Kelly – Diamonds by Rihanna – VIDEO
Hailey Mia – Team Kelly – Elastic Heart by Sia – VIDEO
Joshua Vacanti – Team Legend – The Show Must Go On by Queen  – VIDEO
Jershika Maple – Team Legend – How Can I Ease the Pain by Lisa Fischer  – VIDEO
Holly Forbes – Team Ariana – Alone by Heart  – VIDEO
Jim & Sasha Allen – Team Ariana – Have You Ever Seen the Rain by Creedence Clearwater Revival – VIDEO