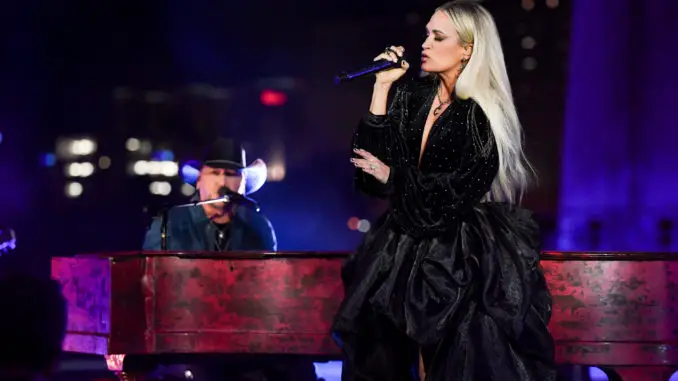 This year's new American Music Awards "My Hometown" segments featured Carrie Underwood and Jason Aldean. During the video package, both country singers shared how their respective hometowns shaped them into the people who they are today, before performing their hit country song "If I Didn't Love You."
The AMAs aired live on ABC Sunday (Nov 21). See the full list of winners HERE.
Jason is from Macon, Georgia. Meanwhile, most American Idol fans know that the season 4 winner grew up on a farm in Checotah, Oklahoma. She describes her hometown as a string of small towns, where everybody knows each other.
Her parents recognized she had talent at a very young age, and would sign her up for various local activities and competitions, Carrie explained. She laughed, as clips of her singing as a kid at school assemblies played on the screen. "They would make me sing for everybody everywhere!" She added, "my mom would sign me up for random stuff. Sometimes I was like, 'I can't believe she did that!'"
"Home is home"
"Home is home," Carrie described the place where she lays her head at night. "It's the one place I feel I can truly be myself. I'm so blessed to be able to live in Nashville, and I feel like the only other place I could live in this world would be Oklahoma. It's either Checotah or Nashville. There is no in between!"
Both singers live in Nashville now. So it's fitting that Carrie and Jason sang their hit duet "If I Didn't Love You" in music city, on an outdoor stage, with the glittering town and river behind them. Watch the performance below
Carrie won two AMAs bringing her total to 17
Carrie won two more fan-voted American Music Awards Sunday night, for Favorite Female Country Artist and Favorite Inspirational Artist. She's won a total of 17 AMAs altogether.
Gabby Barrett, who competed on American Idol in 2018, won her first ever AMA awards. She nabbed Best Country Album for her debut Goldmine and Best Country Song for "The Good Ones."