The Voice season 21 Live Finals continue on Monday (Nov. 22) , as the Top 11 sing for your votes. Only one artist will be eliminated on Tuesday (Nov. 23), leaving 10 contestants moving on to the following week. 
On Monday Nov. 29, the Top 10 sing for your votes, while TWO contestants will be eliminated on Tuesday Nov. 30. On Monday Dec. 6, the Top 8 will perform for your votes. Stay tuned for further schedule info as it becomes available
We've updated the The Voice schedule below with the latest scheduling info:
The Voice 21 Live Final Rounds FULL SCHEDULE – When is the Finale? UPDATED
As far as this week's rankings are concerned, I feel confident in the Top 5. But then after that, I'm not so sure.. The fabulous Gymani from Team Kelly Clarkson is last, as America needed to save her last week after hitting the bottom 3. 
The Voice 21 Top 11 Power List/Rankings
11. Gymani – Team Kelly – Even after an incredible performance of the CCM hit "Made a Way," Gymani STILL landed in the bottom 3 last week. Plus, Kelly had to save her in the Playoffs the week before. I'm not sure what more the singer can do to stay safe next week, but I hope she does. Perhaps she should choose a classic song that most people have heard before.
10. Jim & Sasha Allen – Team Ariana – Maybe I'm stupid for continually ranking Jim & Sasha at the bottom of my rankings. But their performances have been so mediocre, I can't help but think they nearly missed the axe last week? Or maybe I'm deluding myself. 
9. Jeremy Rosado – Team Kelly – I might be ranking Jeremy too low. He's got a couple of things going for him: He came into the competition fairly well known as a former American Idol Top 13 contestant. And he's an authentic and likeable guy. His song picks lately have been super tired and dated, however. He needs to shake things up a little at this point in the competition. An aside: Congrats to Jeremy, who exited American Idol in 13th place. He's officially gone farther on The Voice, having made the Top 11.
8. Hailey Mia – Team Kelly – I almost switched Jeremy and Mia's places. But young singers, especially those coached by Kelly, have an excellent track record on The Voice. Hailey is poised and remarkably, at 14, seems to know who she is as an artist. I can't imagine her hitting bottom this week.
7. Jershika Maple – Team Legend – Jershika electrifies the stage every time she steps on it. Unless she makes a major misstep, or picks the wrong song (See: Shadale last week), she should stick around for at least a couple of weeks. 
6. Joshua Vacanti – Team Legend – Can you say "DARK HORSE." I knew you could. Last week, Joshua proved that he deserved to advance to the Live Finals with a powerful performance of "You Can Be Found." He's both a good singer and a great Broadway-style storyteller. And he's got a lane all to himself. 
5. Holly Forbes – Team Ariana – On a season less stacked with talent, Holly would make the final, no question. But she'll have stiff competition this season with talent like Girl Named Tom, Wendy Moten and Paris Winningham competing. As the only country singer in the competition, Lana Scott doesn't even have to sing well to advance! Regardless, Holly's versatile, soulful pop sound deserves a spot in the finals. 
4. Lana Scott – Team Blake – If I were ranking Lana based on the strength of her vocals, I'd put her in 10th place. But here we are. Her own lane, and all that. 
3. Paris Winningham – Team Blake – Blake made noise about choosing country songs for Paris after he performed "Tennessee Whiskey" a few weeks back. But really, Blake should just remain hands off and allow Paris, who has been consistently great throughout the competition, to do his thing.
2. Wendy Moten – Team Blake – At this point, the veteran soul singer has a ton of momentum behind, her, not to mention coach Blake who adores her. A spot in the finale is hers to lose at this point. Only ONE act can beat her at this point…
1. Girl Named Tom – Team Kelly – …and that act is a Girl Named Tom. The trio's exquisite sibling harmonies are haunting, mesmerizing. They've had a "moment" nearly every time they've taken the stage. Kelly is the perfect coach for them. And she's poised to win for the first time since she took the crown alongside country singer Jake Hoot two years ago. 
The Voice airs on NBC Mondays and Tuesdays at 8 pm ET/PT.
Team Blake Shelton
Team Kelly Clarkson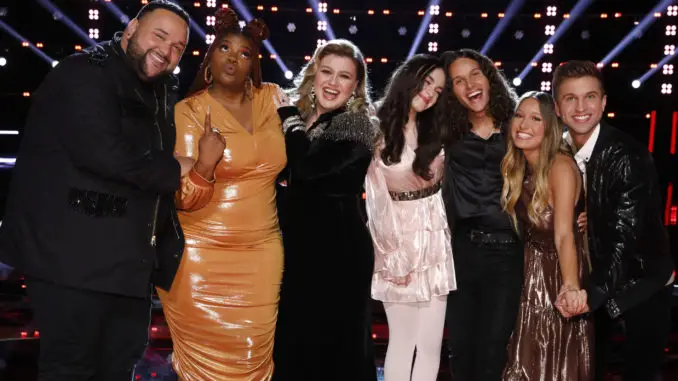 Team John Legend
Team Ariana Grande