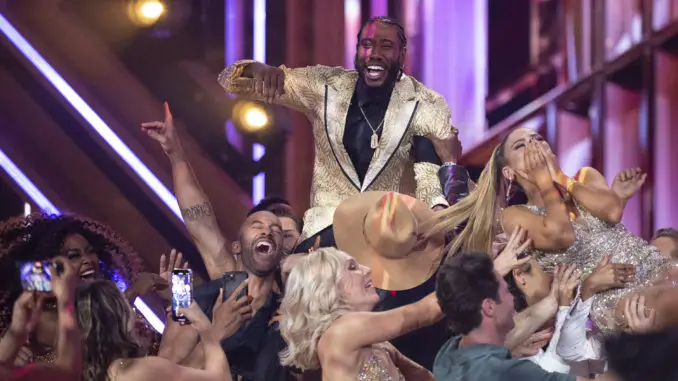 Tonight's the night! After 10 weeks, 11 eliminations and so many memorable dances, tonight we crown the winner of Dancing With The Stars Season 30! This season has been full of groundbreaking moments for the show, from JoJo Siwa being the first star to dance with a same-sex partner to Iman Shumpert being the first basketball player to compete in the finale, making Season 30 one of the biggest seasons yet!
Our final four couples — Amanda and Alan, Cody and Cheryl, Iman and Daniella and JoJo and Jenna — will battle it out on the dance floor for the final time and one couple will win the coveted mirrorball!
After last week's shocking double elimination sent Melora and Artem and Suni and Sasha packing, we've been left with a mixed bag of stars in this finale. Between two professional dancers, a Peloton instructor and the show's first-ever basketball player to make it to the finals, this season has proven that it's anyone's game, and these four couples need your votes tonight more than ever before. Below is voting information for each contestant if you're voting by text, or you can vote at ABC.com.
Text AMANDA to 21523
Text CODY to 21523
Text IMAN to 21523
Text JOJO to 21523
As if this season hasn't had enough of the unexpected, judge Derek Hough will be replaced at the judges' table by his sister and DWTS vet Julianne Hough after he announced his COVID-19 diagnosis, marking the show's third breakthrough COVID case this season (dancing couple Cody and Cheryl both tested positive for COVID-19 earlier in the season, leaving them out of the ballroom one week and performing separately from home the next). But don't fret because Derek is still set to appear virtually, as well as during a pre-taped segment!
Not only will tonight's finale feature Fusion Dances and Freestyles from our four remaining couples, but we'll see a group performance featuring the entire Season 30 cast, as well as musical performances from Jimmie Allen and Melanie C.
We're kicking off tonight's finale with a group performance to "Dynamite" by BTS featuring the entire Season 30 cast!
Nice to see Tyra dressed up for the occasion…
The last of two rounds of competition begin with the Fusion Dances.
Amanda Kloots & Alan – Viennese Waltz/Paso Doble Fusion
I wasn't sure how I felt about fusing Viennese and Paso but Alan seemed to nail this choreo. These two totally different styles ebbed and flowed so well along the dance floor. Did it look like a FINALE performance? Eh… but Amanda has certainly shown a lot of growth throughout this entire season.
Julianne remarks on Amanda's beautiful journey, sayings consistency is her strength and she found the balance between these two dances perfectly. Bruno says these two dances were a dangerous combination but she's got it all. Carrie Ann says Amanda was tentative during Viennese but not during Paso, then complains about a stumble at the end. Len says she's a "total eclipse of the sun" (k..). 
Carrie Ann- 9, Len- 10, Julianne- 9, Bruno- 10 = 38/40
Cody Rigsby & Cheryl – Cha Cha/Paso Fusion
Every popular step in both Cha Cha and Paso could be seen in this one! I was unsure at first, seeing way more Paso than Cha Cha, but once that Cha Cha appeared I was quite impressed by this performance! I'm also not sure whether I love or hate Cody's shirt…
Bruno says at the beginning it looked like Mission Impossible, but praises Cody for making it to the finale. Carrie Ann comments on how far Cody has come and compliments his posture and form. Len mentions the way they sneaked some Paso INTO their Cha Cha and calls Cody brilliant. Julianne says he worked on his feet since last week.
Carrie Ann- 9, Len- 9, Julianne- 9, Bruno- 9 = 36/40
JoJo Siwa & Jenna – Tango/Cha Cha Fusion
Just like JoJo to pose on top of her own name in lights! A Cha Cha/Tango is my all-time favorite fusion and dancing it to "I Love It!" is the perfect combination for JoJo and Jenna. That was full of content and full of JoJo's signature energy!
Carrie Ann says JoJo is a woman transformed and that she "shines so brightly." Len says they proved it doesn't matter if it's two girls, two guys, or a man and a woman: if the dancing is great, magic happens. Julianne says that because JoJo is all things, she's showed everyone else that they can be all things. Bruno says she's "freaking awesome!" and that every aspect of it was "perfection, honey."
Carrie Ann- 10, Len- 10, Julianne- 10, Bruno- 10 = 40/40
Derek pops into the ballroom virtually to assure everyone he's doing well and shouts out the pro dancers for all of their hard work, then reminds the finalists to remain "strong and calm." And then Tyra tells Derek to check his emails because she sent him an email and of course she has to make everything about her…
Iman Shumpert & Daniella – Cha Cha/Foxtrot Fusion
That hug and fist bump right before the dance began said it all about Iman and Daniella's partnership. That was such a fun fusion, and quite a difficult two dances to fuse. Iman truly has grown as a dancer throughout this season and proved himself worthy of being in the finale with this dance.
Despite Len holding his head in his hand, he says that although Iman said he's an underdog, sometimes underdogs bite back and that there was "no confusion in the fusion." Julianne says she never saw Iman as an underdog and that he never lost himself throughout the season. Bruno remarks on Iman's transformation and calls him the king of the ballroom! Carrie Ann says he's shown he was special from Week 1, but Daniella has evolved him throughout the season. 
Carrie Ann- 10, Len- 10, Julianne- 10, Bruno- 10 = 40/40
Now we take a trip down memory lane, with flashbacks throughout the season to a live performance of "2 Become 1" from Melanie C. And for some reason they decided to show every single time Tyra strut out onto the floor…
After the break, we get a performance from the DWTS pros!
Now it's time for the final round of competition and it's everyone's favorite: the Freestyles!! I'm expecting everyone to receive perfect scores for this (I've only ever seen one contestant get a less-than-perfect score for a Freestyle, and that was Candace Cameron Bure.)
Cody Rigsby & Cheryl – Freestyle
Anything can happen in a Freestyle, and that includes Cody being lowered to the ballroom on a crescent moon, doing a bit of pole dancing and pink fans! This looked less like a professionally choreographed dance and more like we were all in a club, but the point of the Freestyle is for the stars to be their full, authentic selves on the dance floor for a final time, and Cody did just that!
Julianne says his true self is shining through. Bruno says screams a bunch of pop culture references then says he was fabulous. Carrie Ann says it was the most flamboyant freestyle they've ever seen. Len says it was wild, whacky and wonderful!
Carrie Ann- 10, Len- 10, Julianne- 10, Bruno- 10 = 40/40
Amanda Kloots & Alan – Freestyle
Looks at them swing down from the ceiling! This freestyle was full of so much fun and joy and felt like a culmination of all of Amanda's growth throughout this season. I loved the combination of ballroom and freestyle they incorporated into this.
Bruno says they saw a star reborn in font of their eyes the last 10 weeks and that she's shining brighter than ever. Carrie Ann says Amanda is hope and resilience personified whenever she dances. Len says he's loved her lyrical dancing throughout the season. Julianne says the magic is when they want to come out and dance with her (love that remark!)
Carrie Ann- 10, Len- 10, Julianne- 10, Bruno- 10 = 40/40
JoJo Siwa & Jenna – Freestyle
Look at those matching mirrorball outfits! JoJo doing her freestyle to "Born This Way" by Lady Gaga was a bit of a full circle moment, that being the song JoJo used to come out earlier this year. When Jenna said this dance as going to be a celebration, she was certainly right! That lift!! And the way all of their backup dancers joined in as same-sex partnerships!! Wow!!
Carrie Ann says it was beyond amazing and that she feels safe for the future when she watches JoJo dance. Len talks about the elements of each ballroom dance incorporated and says JoJo was a standout. Julianne says she is floored by JoJo and that she's officially a Siwanator. Bruno says he wishes JoJo was around when he was young.
Carrie Ann- 10, Len- 10, Julianne- 10, Bruno- 10 = 40/40
Iman Shumpert & Daniella – Freestyle
Iman looked like he was having the time of his life during this Freestyle! I didn't think I would ever say this during this season, but Iman has become one to beat! And Daniella is one heck of a choreographer!!
Len says this season has been like a good book with twists and turns and you never know the result until you turn the last page. Bruno says it was Iman-style! Julianne says it was her favorite Freestyle she's ever seen in 30 seasons! Carrie Ann says it was sick, and that Iman showcased his partner in his Freestyle, unlike the other three Freestyles. 
Carrie Ann- 10, Len- 10, Julianne- 10, Bruno- 10 = 40/40
Now it's time for Jimmie Allen to perform, with a surprise cameo from Emma!
Here we go! The moment we've waited all season for! Here comes the results…
In 4th place… Amanda and Alan
In 3rd place… Cody and Cheryl
The WINNER is… IMAN AND DANIELLA!
This leaves JoJo and Jenna in 2nd place. Our top 2 finalists both made history this season: JoJo and Jenna as the first-ever same-sex pairing and Iman just made history as the first NBA player to win DWTS!
That's a wrap on DWTS Season 30! It's been an absolute blast doing these live-blogs every week; writing about dancing, offering my own input as a former pro dancer, bashing the keyboard as fast as I could to update with the judges' scores, then cooling down after the show ended as I added videos to my post. It's been stressful and hectic and truly a dream job – as both a passionate writer and dancer – getting to write about my favorite dancing show every week. Thank you all for coming on the ride with me! :)