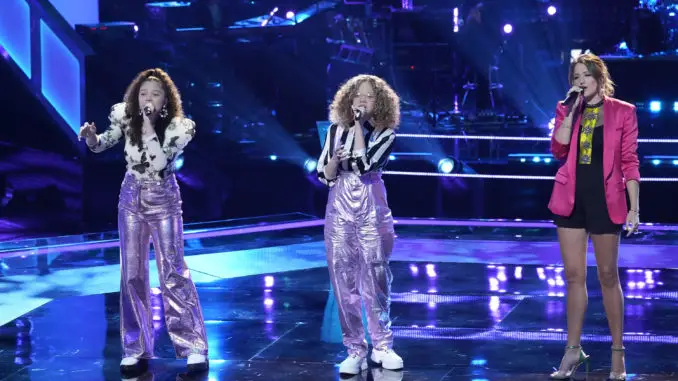 The Voice season 21 Battle Rounds CONCLUDE tonight with returning coaches Blake Shelton, Kelly Clarkson and John Legend. Pop star Ariana Grande joins the panel.  Carson Daly returns as host.  We'll be live blogging all the performances as the coaches choose singers to advance to the Knockouts
Each of the coaches has a celebrity advisor helping to prepare the duets. Country star Jason Aldean teamed up with Kelly Clarkson. Ariana Grande chose Broadway star Kristin Chenoweth. X Factor alum and former Fifth Harmony member Camila Cabello joined John Legend. And country singer Dierks Bentley aided Blake Shelton.
The Voice 21 Spoilers: Week 2 Battle Pairings and Song Choices
The Voice 21 Battle Round Spoilers! Results, Pairings, Songs
The Voice 21 Battles: Team Ariana's KCK3 vs Ryleigh Plank Fight for Spot
Additionally, each coach gets a steal and a save. After a video package featuring the coach and mentor working with the duos, the singers battle it out on stage. 
The coaches have used up their saves and steals, except for Blake Shelton, who still has a steal. By night's end, the T0p 32 will be REVEALED. 
REMINDER: NO SPOILERS IN COMMENTS. Keep spoiler talk under spoiler posts above, thank you.
Ryleigh Plank vs. KCK3 – Team Ariana
Come on Over Baby by Christina Aguilera – The Voice previewed this battle earlier today. Ryleigh auditioned with Demi Lovato's "Anyone." And at the time, Ariana declared that she could "win this thing." Ryleigh has struggled with mental health issues. But she's close to her mom. KCK3 auditioned with Ariana's "No Tears Left to Cry." The sibling trio are either in school, or work day jobs. They want music to be their career. Ryleigh is VERY happy about the song. And the oldest sister sang it in school. Ariana wants to "even out" the energy. KCK3's harmonies are great, but they can't seem like background to the powerful Ryleigh, she says. Ariana really pushes the girls to do more. Kristin helps the trio connect to the intention behind the lyric. 
KCK3's harmonies are great, but they aren't impressive soloists. Ryleigh is stomping all over them. She's out of her comfort zone here, but as she plays the part, her big voice shines through. She commands the stage. The judges are all clearly drawn to Ryleigh, and for very good reason. Kelly calls Ryleigh "a light on that stage." Blake says, "Ryleigh attacks the moment. She owns the moment." Ariana feels that each act worked through their "energy imbalances." Ariana adds, 'Today was perfect!" Unsurprisingly, Ariana picks Ryleigh. KCK3 are eliminated. Ariana still believes Ryleigh could go all the way.
Ariana picks Ryleigh Plank, KCK3 are ELIMINATED
The Cunningham Sisters vs. Parker McKay – Team Kelly
It's My Party by Lesley Gore (Lana Del Rey vibe) – Jason calls the song pick "unexpected." He seems a little confused at first, but then embraces the choice. Parker's mother passed a few months ago from dementia. She has a supportive fiance. Her ring is her mom's. The Cunningham Sisters come from a long line of musicians. They are only 14 and 15. Kelly gives both acts pointers on phrasing. Jason suggests they sing less theatrically, with more emotion. 
MAN IT'S A DANG BUMMER THAT JOHNNY LEFT THE PARTY WITH ANOTHER CHICK. The slower arrangement really changes the song a lot. The harmonies between the four are beautiful. The Cunningham sisters have all the confidence and maturity that KCK3 did not. But Parker holds her own! It's heartbreaking that Blake will probably not steal the loser. Blake is in love with The Cunningham Sisters. Parker was a one chair turn. Did he actually advise that Parker quit? Ariana also liked the sisters. John is drawn to the sisters. He thinks they should have a TV show. However, he feels that Parker had the best vocal. Kelly picks the Cunningham Sisters. Parker McKay is eliminated.
Kelly picks the Cunningham Sisters. Parker McKay is ELIMINATED
Montage time!
Berritt Haynes vs. Kaitlyn Velez – Team Blake
Yellow by Coldplay – Berritt accompanies himself on guitar. Kaitlyn has a lovely vibrato. However, Kelly was captivated by Berritt. And Blake calls his performance "incredible" and feels that he had to hand him the victory. 
Blake picks Berritt Haynes, Kaitlyn Velez is ELIMINATED
Paris Winningham vs. Jonathan Mouton  – Team Legend
Here and Now by Luther Vandross – Jonathan was the first person on John's team. He compared Jonathan to Luther. The singer lost his job during the pandemic. Also, he beat stage 4 cancer. He's sung backgrounds behind several big stars. Paris sang "Superstition" for his Blind Audition. His grandmother recently passed away. Also, he spent a decade in the Navy. John compares Paris to Aaron Neville. 
They are very similar singers, who perform in a high tenor, accented by soulful runs. They both deserve to advance. And of course they will, because Blake still has his steal. The song builds to a passionate crescendo. It's a very even battle. I'd pick either one. Kelly calls them "evenly matched." She loves Jonathan's vibrato, and the texture in Paris' voice. Blake can't say who he would chose. "I choose Carson," he jokes. Ariana calls the performance "captivating" and also won't pick a side. "You both were as great as you needed to be," says John. He picks Paris. Then Blake steals Jonathan. 
John picks Paris Winningham, Blake steals Jonathan Mouton
The Knockouts begin on October 25 with Ed Sheeran as Mega Mentor!