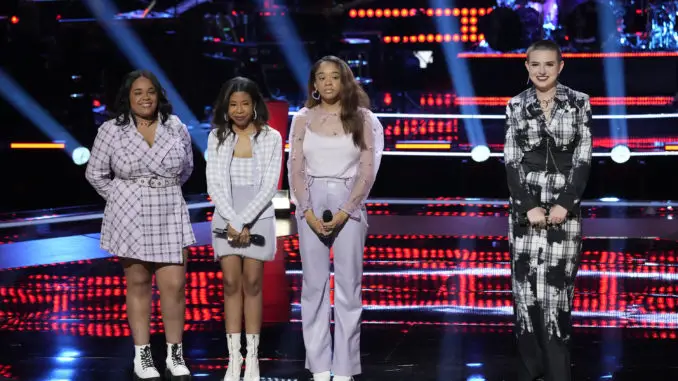 The Voice season 21 Battle Rounds concluded on Tuesday (Oct 19). Which duets were your favorites in week 2? Plus vote for your favorite celebrity mentor. Grade the Battle Rounds. And, chose singers you believe were ROBBED. Or not!
The Voice 21 Recap: Last of the Battles Live Blog (Videos)
The Voice 21 Recap: Battle Rounds 3 Live Blog (Videos)
As far as the advisors are concerned, my thoughts are mostly unchanged from last week. Team John Legend's Camila Cabello offered helpful criticism from the perspective of a successful pop star, and former singing show alum. Team Ariana Grande's Kristin Chenoweth was both hilarious and supportive like a mama bear watching over her cubs.
While I dismissed Team Blake Shelton's Dierks Bentley and Team Kelly Clarkson's Jason Aldean last week as mostly useless, both offered some interesting critiques this week, so I take that back somewhat. I particularly liked Dierk's advice to the pairs: "Take care of No. 1, don't step on No. 2." In other words, be competitive, but don't be a d*ck.
Some of you noticed Ariana's rather interesting song choices. The Rose Royce song pick was weird, but the singers made it work. However, she could do better by her team with better song choices. Ariana loves soulful pop from every era, but seems to have limited taste in music. 
Next week, the Battles end. The Knockouts begin on Monday October 25 with mega-mentor Ed Sheeran.
So what do you think? Vote in our POLLS
POLLS VOTE VOTE VOTE FOR YOUR FAVORITES
The Voice 21: Battle Round Week 2 Favorite Performance (Pick 1)
The Voice 21 Battle Round: Who Was Robbed? (Pick up to 3)
The Voice 21 Battle Round – Best Celebrity Advisor
Grade The Voice 21 Battle Rounds