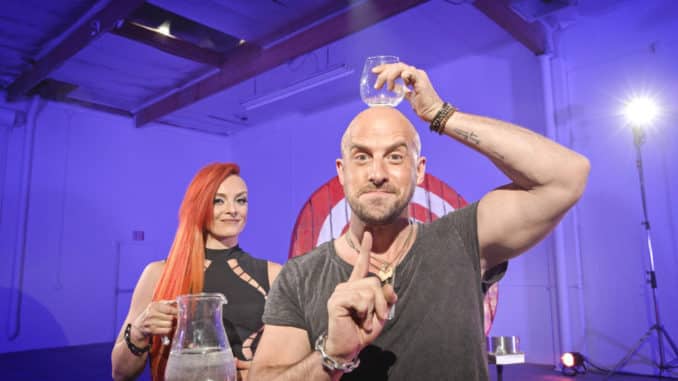 Jonathan Goodwin, was seriously injured last week while filming a danger stunt for the NBC spinoff America's Got Talent: Extreme series. Now, the daredevil is speaking out from his hospital bed.
The good news: He's alive and awake and recovering. 
"You can't say you don't get out what you put in," Jonathan writes on Instagram. "I've tried my hardest over the years to be kind, thoughtful, honest supportive and good. A couple of days ago my life took a complete left turn… and the outpouring of love from all the corners of the world; from people I didn't even think would know or remember me… has just been astonishing. Truly incredible."
"Thank you. Thank you to everyone who has reached out and sent their love and support"
Jonathan continued, "I will have a lot to say on that matter and the benefits of being kind in the future.. but thank you. Thank you to everyone who has reached out and sent their love and support. It literally has been a lifesaver." After thanking people by first name only, Jonathan saves his biggest thanks for his fiancé.  "Then most importantly my fiancé and the best thing to ever happen to me, Amanda," he writes. "I have been to the very brink and dodged the worst that a human being can, without fear…because I was protected by love. Love is all you need, so make sure you get some, cos its good s***."
"There is a long road to recovery"
Jonathan concludes, "To death I say nananana boo boo… and to the rest of you… watch this space. There is a long road to recovery and that won't look like what it did…I may leave the daft s*** alone for a while, but I have a lot left to do in this world. Maybe we can make something good together?"
In the photo, Jonathan holds up a broken hand, and his face is clearly scraped and burned. It's amazing that he's even alive. 
 

 

 

View this post on Instagram

 

 
AGT: Extreme paused production in the wake of the horrific accident
TMZ reported that Jonathan suffered suffered multiple broken bones in both of his legs, plus cuts all over his face and burns after his danger act went wrong.
While taping his act at the Atlanta Motor Speedway last week, the dare devil became sandwiched between two cars before they smashed together.  After the impact, he fell 40 feet to the ground on his head, missing the airbag that was supposed to catch him. Goodwin was supposed to fall first, but the act's timing was off. The horrific accident was caught on film.
For now, America's Got Talent: Extreme has paused production. Simon Cowell, Nikki Bella, and Travis Pastrana sit on the judges panel, while Terry Crews hosts.