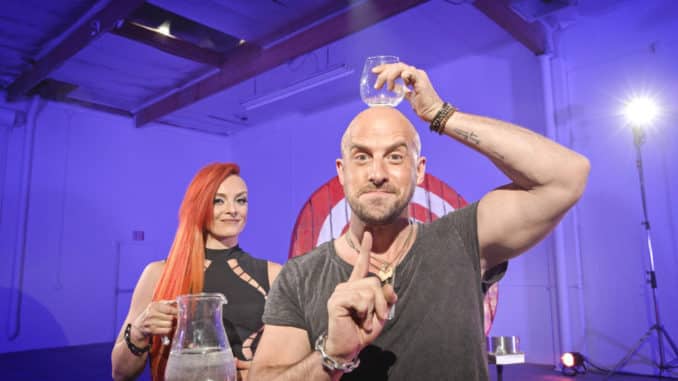 NBC has temporarily halted production on America's Got Talent: Extreme after Thursday's (Oct. 14) terrible stunt gone wrong.
The shutdown comes after danger act Jonathan Goodwin was airlifted to a nearby hospital from Atlanta Motor Speedway in Georgia, following the accident on Thursday evening. Goodwin underwent surgery and remained in critical condition in the trauma ward.
"Our thoughts and prayers remain with Jonathan Goodwin and his family as he continues to recover from his accident on Thursday." AN AGT spokesman said in a statement. "In order to focus on the wellbeing of our crew, we will be temporarily pausing production on America's Got Talent: Extreme and will resume the last few days of filming at a later date. The health and safety of our cast and crew continue to be our priority."
Film of the horrific stunt gone wrong surfaces
Meanwhile, TMZ posted film of the horrific accident. In the clip, Goodwin hangs in midair, two vehicles also suspended on each side of him. When they release the cars–which then start to swing toward Goodwin–they unhook his harness as well.
Goodwin was supposed to fall underneath the cars before they collided, but the timing was off, and he was crushed between them as they came together. After that, he fell to the ground and hit his head.
911 call recording describes Goodwin barely breathing after accident
TMZ also obtained the 911 call. The on-site medic described Goodwin as "agonal and posturing." It's a term used for patients struggling to breathe and making unnatural movements.
"During a rehearsal last evening for America's Got Talent: Extreme, an accident occurred in which escape artist Jonathan Goodwin was injured while performing his act," an AGT spokesperson said on Thursday. "He was responsive and was immediately taken to the hospital where he is continuing to receive medical care. Our thoughts and prayers go out to him and his family as we await further updates on his condition."
Goodwin is a stunt performer who previously appeared on America's Got Talent 2020 and Britain's Got Talent, among other shows, before joining the spinoff. AGT: Extreme is scheduled for a midseason premiere and will be judged by Simon Cowell, Nikki Bella, and Travis Pastrana, with host Terry Crews.