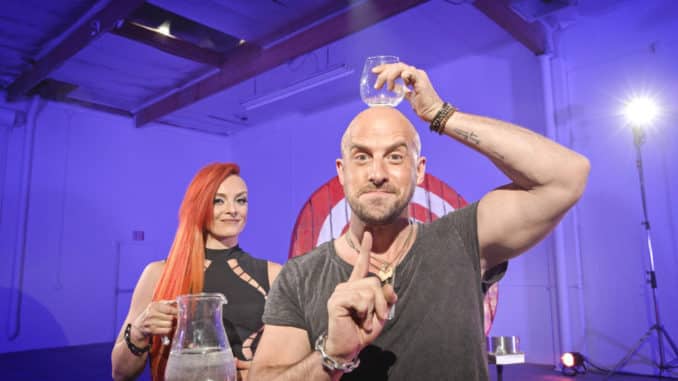 Welsh TV escapologist and daredevil Jonathan Goodwin already has a lengthy list of television credits, but mostly from across the pond. He auditioned for America's Got Talent remotely, and will be performing for AGT audiences for the first time on Tuesday's Judge Cuts (7/28).
Simon makes a vague reference to seeing Jonathan on "another show." Actually, In April 2019 he appeared on Simon's Britain's Got Talent, making it to the finals performing a "buried alive" stunt for the first time anywhere. So, Simon is extremely familiar with this act already.
America's Got Talent 2020 Judge Cuts: List of Acts, First Minutes (Video)
America's Got Talent Judge Cuts: Shaquira McGrath Sings Avicii (Video)
Jonathon has also appeared on the Channel 4 TV programme Dirty Tricks, Discovery Channel's One Way Out and How Not to Become Shark Bait. In the latter, he allowed himself to be attacked by a Caribbean reef shark. In 2009 he returned to Discovery for a ten-part series of One Way Out.  Additionally, he starred in his own TV show, UKTV's The Incredible Mr. Goodwin, which  was also shown on BBC America, as Dangerman: The Incredible Mr. Goodwin.
On Tuesday's episode America's Got Talent Judge Cuts, Jonathan avoids arrows triggered by water bottles filling up with water. AND HE BLINDFOLDED HIMSELF! The Simon Cowell, Howie Mandel, Heidi Klum, Sofia Vergara and host Terry Crews are STILL freaked out, even though Jonathan is performing from a remote location.   "He is crazy," says Simon.
And to see the SCARIEST part of the stunt? Y'all will have to wait for Tuesday, when the crew heads to a COVID-ID safe set  in California for the one and only Judge Cuts episode.