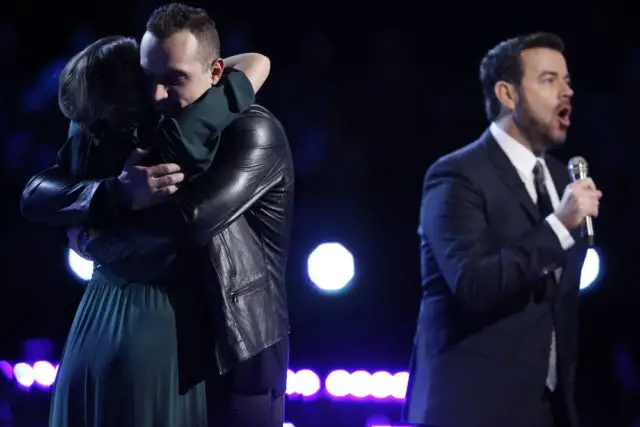 The Voice 11 Top 11 Results Live Blog and Recap
Tonight, one contestant leaves
The Voice
Top 11 after a bottom 2 sing off and twitter vote. Will the eliminated singer be from Team
Adam Levine
, Team
Blake Shelton
, Team
Alicia Keys
or Team
Miley Cyrus
? Check out a recap of last night's The Voice Top 12 performance episode
HERE
. And our The Voice Top 12 prediction post is
HERE
.
The Voice
season 9 winner
Jordan Smith
perform.
The Top 11 take the stage. Dumb question for Brendan. How has coach Adam helped him? Allowing him to take risks and be himself. On to the results! America saved…from Team Blake…Sundance Head! He's the singer who entered the Top 10 this week. He shouts, hugs his coach, and takes a victory lap. America also saved…from Team Alicia…We McDonald!  
Blake Shelton joins his team, Sundance Head, Courtney Harrell and Austin Allsup to perform "The Heart of Rock n Roll" by Huey Lewis and the News. Sundance and Austin strum guitars. Blake claps along. The horn section joins them on stage. Good performance.
https://www.youtube.com/watch?v=IJUCy0GDjMc
The remaining 9 artists take the stage. Ali answers the next dumb question. How has Miley made her a different artist? Because she's helped her be different…or something. Miley shouts "Thank you!" America saved…from Team Miley…Ali Caldwell. YAY. She looked real surprised. Ha. The censors bleeps out some swears. America also saved…from Team Adam…Billy Gilman. 
Next, Alicia Keys and her team, We McDonald and Christian Cuevas sing "People Get Ready" by the Curtis Mayfield and the Impressions. Perfect song choice for all three. Very heartfelt and soulful. 
https://www.youtube.com/watch?v=dvR5rbGUj1Y
The remaining 7 artists take the stage. Dumb question for Aaron. What did being able to perform "Hurt" mean to Aaron? It has many deep meaning for him. Hey Christian. If you advance to the Top 10 what would you like to show them next? A piece of his heart and maybe some dance moves. (???) America saved from Team Blake…Austin Allsup! America also saved…from Team Adam…Brendan Fletcher!!!
Artists and coaches visited the "confessional" for the first time this season. It's a Thanksgiving themed video package. Miley makes a Tofu Turkey. Blake compares it to dog poop.
Now, Season 9 winner Jordan Smith sings "O Holy Night" from his new Christmas album, Tis the Season. The song was chosen by fans via social media.  Whoo hoo. He hits the big note on DIVINEEEEE! Carson and Jordan chat about being on the road with Michael W. Smith and Amy Grant. Oh. His new Christmas special will air on PBS.
https://www.youtube.com/watch?v=ezYBxtk0VAo
He's presented with a plaque for over Seven Million Singles sold this year. Wow.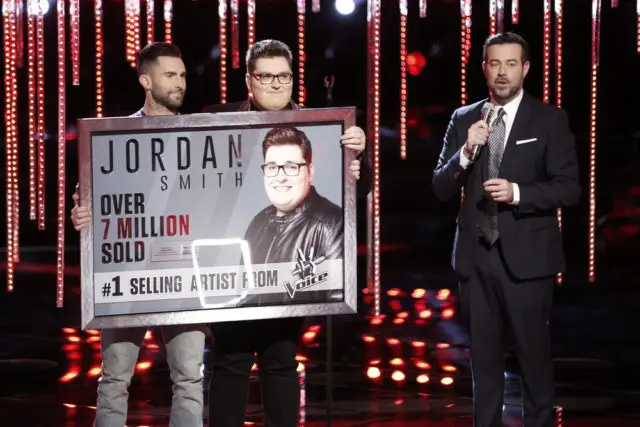 The five remaining contestants take the stage. Josh thanks his fans for following his journey. America saved…Christian Cuevas from Team Alicia! America also saved…Courtney Harrell from Team Blake. Welp. My predictions were crap this week. America also saved…Josh Gallagher!  Two members of Team Miley hit the bottom two, Aaron Gibson and Darby Walker.
Darby Walker – Team Miley – Your Song by Elton John – I wonder if Darby would have done better choosing her own songs? She's singing the Ellie Goulding version of "Your Song." She's got some pitch problems though. There's a grating quality to her voice that probably turns some folks off. Alicia loves her story. Darby is crying now. "I love the songs you sing…you've got a unique style all your own." Miley says sarcastically "It's Miley's b day tomorrow. She jokingly thanks America for their awesome present, putting two of her team members in the Bottom 2. 
https://www.youtube.com/watch?v=tJgOusKhfhM
Aaron Gibson – Budapest by George Ezra – Despite a good performance this week, Aaron still landed in the bottom 2. He's delivering another good performance tonight. His biggest issue right now: There are similar, but better singers in the competition right now (Brendan and Austin).  Miley is really surprised that Aaron hit the B2. She says the coaches all agree he had one of the best performances last night. Interestingly, she's advocating much harder than she did for her mini-me, Darby.
https://www.youtube.com/watch?v=OIOWtdJ7xkI
OK #VoiceSaveDarby or #VoiceSaveAaron.
Once again Aaron is killing the vote 75% to 25%.  Darby eventually creeps up to 27%. Miley's tactic of reaming out America for not voting for Aaron worked. But then, it's not as if America was buying Darby's second-coming-of Miley deal anyway. Maybe the two should have spent more time working on the vocals and less on making weird hippie fashion statements.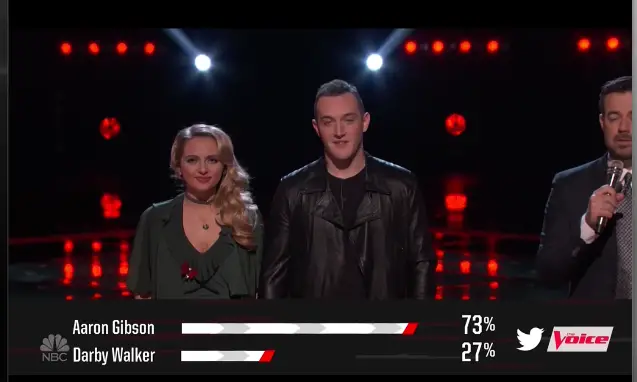 Darby thanks Miley for allowing her to come on stage and sing what she wanted and also for enabling her to be a free spirit. Aaron thanks her for opening up his world and helping him be a better person. Miley has to stop because she's tearing up. She gives a big speech about how we treat each other being the most important lesson of all.
And America instantly saved…Aaron Gibson. AGAIN. Second week in a row.
The Voice Top 10
Sundance Head – Team Blake
We McDonald – Team Alicia
Ali Caldwell – Team Miley
Billy Gilman – Team Adam
Austin Allsup – Team Blake
Brendan Fletcher – Team Adam
Christian Cuevas – Team Alicia
Courtney Harrell – Team Blake
Josh Gallagher – Team Adam
Aaron Gibson – Team Miley – America Saved
Darby Walker from Team Miley is eliminated.
ETA: Fans can vote for The Voice alum they'd like to see return to perform on the show. Vote for your favorite via The Voice app.