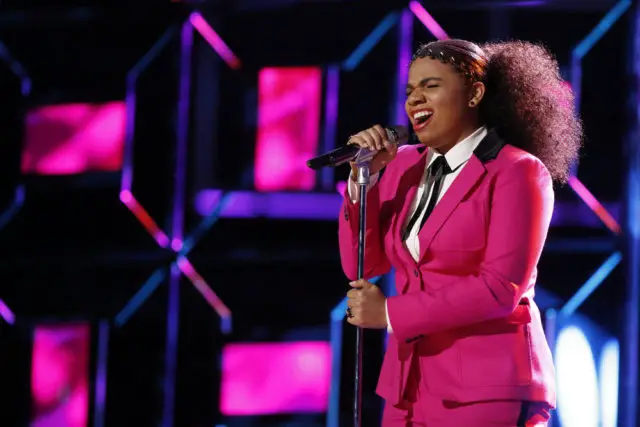 The Voice 11 Live Blog and Recap Top 11 Performance VIDEOS
We're LIVE BLOGGING The Voice 11 Top 11 performances here. If you're wondering who is singing what, Click for The Voice Song Spoilers. Tonight, the Top 11 sing for your votes. Vote by The Voice App, online, iTunes and Apple Music. Results will be revealed tomorrow night when ONE singer is eliminated.
Coaches Adam Levine, Blake Shelton, Alicia Keys and Miley Cyrus will be on hand to introduce their team members and comment on the performances. For more information on how to vote, head over to NBC.com. VOTING IS OPEN AT THE TOP OF THE SHOW. 
Ali Caldwell – Team Miley – 9 to 5 by Dolly Parton  – Miley doesn't trust just ANYONE to sing a song by her godmother. Ali hears a funk beat in 9 to 5 (!!!). She's been waiting all season to sing an upbeat song. Miley really wants Ali to try a country lane. Fun Fact: Ali's boyfriend is her manager. Ali wants to go all Tina Turner with her outfit. I am not a big fan of this corny song. Ali slams it though–in a good way. She shimmies around in a fringe dress and seems to be having fun up there. She can sing anything. So effortless. But going first + an odd song choice probably won't propel the song up the iTunes charts. Adam is so happy she's singing a country song. Blake hopes Dolly is watching. "The rest of your life is going to be opening and closing shows…you're such a star," gushes Miley. "Some people are just meant to be on the stage."  –  Download at iTunes
https://www.youtube.com/watch?v=RmWIoGZVxUE
Sundance Head – Team Blake – No One by Alicia Keys  – Dad comes to rehearsal. He shows off a few 60s dance moves! Sundance is dedicating the song to his family. "Soul music is in my blood." he says. He's always idolized Alicia. Blake says it's time to pull that extra card out of his sleeve.  Sundance performs the song admirably, but it's a little boring? And he's singing 2nd. I hope he has people. I love his clear, strong tone. He always sings with conviction, but never seems to be trying too hard. Alicia holds her hands in the air as Sundance hits a big, clean note. Sweet. Standing ovation from all four coaches! His son Levi turns 10 years old tomorrow. Alicia says, "You're the one person I wish was on my team!" She's never heard her song sung that way before. "You just made me listen to my song in a whole new way." Blake thinks Sundance should feel really proud of himself. "That was so powerful dude." He thinks the pressure kicked his performance up a notch. "A breakout moment," Blake calls it.  –  Download at iTunes
https://www.youtube.com/watch?v=6z5oR_CJhxk
Aaron Gibson – Team Miley – Hurt by Nine Inch Nails  – Aaron wants to show America a side that isn't so rock heavy. Nine Inch Nails isn't "rock heavy"? Hm. The song has never been performed on the show before. Aaron reveals he has dealt with depression. The song is personal for him. Good pick for Aaron. The song demands more emotion than vocal prowess, and he's delivering. His voice is super gravelly, but it works here. Adam is the biggest fan of the song and is glad Aaron sang it. "It's not always the happiest thing in the world being a human being…all types of emotions are valid," he says. Miley admits that she listens to Adam. He said last week Aaron has to show he cares. And he did! She calls it the best performance of the night so far. – Download at iTunes
https://www.youtube.com/watch?v=SuePHK4M3-o
Courtney Harrell – Team Blake – What I Did for Love from A Chorus Line  – Ha ha. Did Blake choose this Broadway tune? She hasn't performed the song in 20 years. "You have to get as Whitney as you can on this song," says Blake. Hm. "She's really got to let it loose," he says. She does the Whitney arm swoop. The song choice is super old fashioned and not doing her any favors. She wiggles her fingers at "goodbye." Eep. KEY CHANGE! Of course.  She hit all the high notes. That's about it from me. Alicia calls her a "pure soul." and "I felt all of you inside of that…I was on a total journey with you." Blake says he's getting to know her pretty well. "This is the happiest I've ever seen you!" He mentions how hard she works. "I think we're going to be hearing you sing again next week.  Download at iTunes
https://www.youtube.com/watch?v=HKI9ODJFs4M
Josh Gallagher – Team Adam – Drunk on Your Love by Brett Eldredge – Adam is so happy to have a country singer on his team! the song represents his marriage. His wife, "an incredible teacher, requests the song at his shows all the time. He's looking forward to having some fun on stage. Josh's tone is so pure and effortless. He's not particularly unique, but he has a comfortable stage presence, and is well suited to current pop country. Can Adam prevail with a country singer?  "You're the only one here more drunk than Blake!" says Miley. "It felt like we were already at one of her concerts." Adam says, "You're so refreshing to me. Nobody is better in this competition at connecting to the audience."   – Download at iTunes
https://www.youtube.com/watch?v=K1pv8IRWDV8
Billy Gilman – Team Adam – All I Ask by Adele – Adam chose the song.  He compares Billy to Jordan Smith. Hm. Adam says "make sure to pay attention to the subtle moments…stay emotionally connected." Bingo. It's going to be just Billy and a piano. Billy has perfectly pure pipes. Why am I not feeling this? In many ways, he is Jordan Smith part 2. The soul Adele imbues in her performances is missing here.  That's what's leaving me cold. The crowd claps when he hits the key change.  Blake is "running out of awesome things" to say. He wonders if he has ever hit a bad note. "You can sing all the perfect notes…but it doesn't matter if you don't feel it." Adam says it's the first time Billy made him feel. If you say so Adam.   Download at iTunes
https://www.youtube.com/watch?v=RswuJVHVw_0
Christian Cuevas – Team Alicia – Rosanna by Toto – He proposed to his girlfriend backstage after last week's show. She said yes.  Alicia and Christian work on the arrangement together. "Make sure the connection is there," she reminds him. 80s yacht rock for Christian? He's bringing some soulfulness (and a few bum notes) but it feels like he's phoning it in. I bet he never heard the song before The Voice. He brings a little grit on the 2nd verse. He finally lets loose on the final chorus, but it's  shouty and erratic. Miley is so blown away by Christian. She loved seeing him have so much energy on stage. She calls the performance "a trap version of Rosanna." Alicia compared Christian's voice to crystal. "America you are witnessing a voice of a generation." Hyperbole much, Alicia? –  Download at iTunes
https://www.youtube.com/watch?v=R0nYPuGY1Sg
Austin Allsup – Team Blake –  Turn the Page by Bob Seger – Going out on the road with his dad is where he "got the itch for all of this." But it's tough on his family life. Blake calls him a "credible outlaw artist" and an "avenger with his voice." I'm getting a few Chris Daughtry vibes off of Austin tonight. But more twangy. Austin's energy just pops off the stage. He's telling a powerful story here. Now, this I'm feeling.  He finishes with a big ragged note. Wow. Maybe his best performance so far. Adam agrees with me–his best performance. It's about who's the most willing to put it out there, he says. Blake was on the edge of his seat. He begs America to vote for Austin. "You're just a badass dude!" –  Download at iTunes
https://www.youtube.com/watch?v=ytSihLlVWU4
Darby Walker – Team Miley – You Don't Own Me by Leslie Gore  – Darby is singing the theme song of a Toyota commercial that just played during break. Coincidence or product placement? YOU DECIDE! Darby promises to show America a new side. Miley is going to help her have a big moment while staying true to herself. She's dedicating her song to her twin sister. Darby turns the song into a hipster lounge song. She's got the rainbow coat and shiny bellbottoms going.  This performance won't earn Darby any new fans. The chorus is super shouty. She's having pitch issues too. She ends with happy tears. Alicia calls her falsetto "effortless." Hm. Miley says, "We have you singing about freedom a lot. That's what you radiate." –  Download at iTunes
https://www.youtube.com/watch?v=9RFsn49Do6E
Brendan Fletcher – Team Adam – The River by Bruce Springsteen  – He grew up on the Jersey shore and LOVES Bruce. Adam compares singing a Bruce song to a monologue. Gregg Allman tweeted at him after his "Whipping Post" performance last week.  One of the great rock songs of the late 70s, Brendan is conveying the song's sense of loss and heartbreak. Blake says, "You have a great storytelling voice. I wish you were singing some country music! I'm a little bit jealous…it's bullcrap you're on Adam's team!" Adam feels like they conquered a lot this week.  He asks America to please vote for Brendan. "He's got it! He's really got it."  –  Download at iTunes
https://www.youtube.com/watch?v=iV7qmh16eDw
Wé McDonald – Team Alicia – Love on the Brain by Rihanna  – Alicia believes this vintage yet contemporary song will be perfect for Wé. And she would be correct.  Growly and soulful, Wé grabs the mic and brings it home. I wish she had held back a  bit on the little "yips" Alicia suggested, but otherwise that was amazing. Particularly the last chorus where she ends on an impassioned grunt. That performance really packed a punch.  This young singer has so much potential. "You always come with it! You're so young but you sing like you have a zillion years of experience…you deserve to soar." –  Download at iTunes
https://www.youtube.com/watch?v=7Hy23gRgPRY