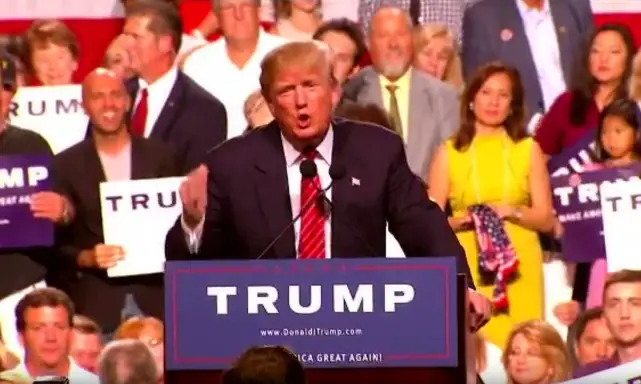 Go the ladies of The View, who basically nailed Donald Trump today on the show, unmasking his lack of depth and knowledge on the issues. The Republican presidential candidate dialed in to have a chat. He probably thought it would be a breeze…but not so fast.
The new panel, which includes Whoopi Goldberg, Michelle Collins, Joy Behar, Raven Simone and Paula Faris grilled Trump on a wide variety of subjects, including the Iran treaty, immigration policy, and women's health.
Trump walked back on his recent comments on Republican presidential candidate, Carly Fiorina, made to Rolling Stone where he said, "Look at that face. Would anyone vote for that?" He claimed he meant her "personage." He said, "She failed miserably at Hewlett-Packard, she failed at Lucent, she then ran for Senate, lost in a landslide, and now she's running for president." Raven wondered why he always slips up his words when it comes to women. Donald attributed his audacious soundbites to his role as an "entertainer." Hm.
Trump insisted he is for ejecting ALL illegal immigrants, not just Mexicans. He said that thousands of immigrants are coming across the southern border and "with that comes tremendous crime. And as you remember when I first announced, a lot of people hit me on that, now they're all admitting I was right."
When asked about female voters, Trump said, "I cherish women and I will protect women and I will take care of women and I have great respect for women."
Trump insisted he is a Republican with a "big heart." When asked if his big heart extended to women, and if he was for defunding Planned Parenthood, he answered that abortion is the bulk of the agency's work, therefore he supports taking their government funding away. Whoopi corrected him–abortions make up 3% of what they do–none of which is funded by taxpayers. "I don't mean this disrespectfully," said Whoopi, "You're misinformed here." She said, "You've got to get yourself a little bit more informed on women's issues."
Watch the interview below.
And in other news…Lead singer, Michael Stipe, of REM told Donald to "go f*ck himself" after his campaign used the band's song "It's the End of the World As We Know It (And I Feel Fine)" at a Tea Party rally Wednesday afternoon.
Band member Mike Mills tweeted the message for Stipe, "Go f*ck yourselves, the lot of you—you sad, attention grabbing, power hungry little men. Do not use our music or my voice for your moronic charade of a campaign."
On Facebook, the band offered an official response.
"While we do not authorize or condone the use of our music at this political event, and do ask that these candidates cease and desist from doing so, let us remember that there are things of greater importance at stake here. The media and the American voter should focus on the bigger picture, and not allow grandstanding politicians to distract us from the pressing issues of the day and of the current Presidential campaign."

There of course is great irony and hypocrisy in these conservative politicians who grandstand about the rights of Christian anti-gay bakers, florists, and photographers they claim must be "protected" from having to do business with same-sex couples – and actual business transaction in which the maker of a product gets paid – while they freely engage in what some might call theft of intellectual property that's protected by copyright by people who clearly do not share their conservative values."