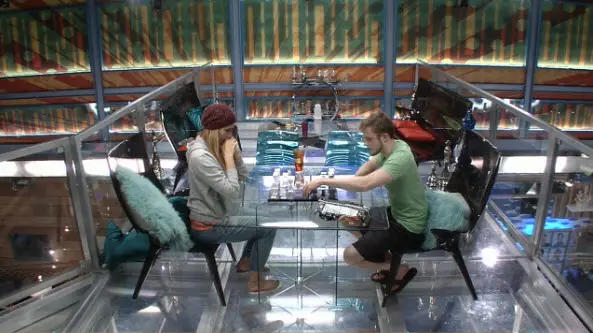 Big Brother 17 Spoilers Week 11 – Who's the Target?
A quick Big Brother spoiler update! Since Monday's Veto competition, the target has switched. The twins decided that it would be better for Liz to stay and Julia to head to Jury. The two are going to split any prize money won. While Julia would have had a pretty good chance at second place, they decided to go for the prize. Liz wins more competitions and has a better shot at winning. Actually, she has NO shot at winning. But whatever.
Vanessa had a chat with the twins and agreed to vote their way. However, she had some conditions. If Austin or Liz wind HoH next week, they can't nominate or use her as a replacement nominee. Plus, Vanessa gets to choose whether John or Steve goes home next week.
Later, Liz declared that she feels under no obligation to abide by Vanessa's conditions. Everybody in the house has figured out that Vanessa is playing all sides and has F2 deals with virtually everyone. But, whether it's Vanessa's ability to intimidate/manipulate them, nobody seems to be making plans to evict her.
The Austwins have decided to work with John, and would prefer to send Steve home next week. The plan is for a Austin/Liz/John final 3. We'll see if they can pull that off. I still think Vanessa's got this one locked down. Steve has an inkling that he's the planned target for next week.
It seems like a no brainer to ditch Liz, who is not only the stronger player, but in a showmance with Austin, and is the stronger alliance. Vanessa, Steve and John want to placate Austin at this point, figuring in the end, keeping him calm is worth the risk of holding on to Liz. If Liz/Austin end up the final 2, that will be pretty disappointing. I dislike the game Vanessa is playing, but at least she's PLAYING. The rest of them. Meh.
Tonight, it's the LIVE eviction on Big Brother at 9/8c PM. We'll be live blogging! Plus, read our recap of last night's PoV competition and ceremony.