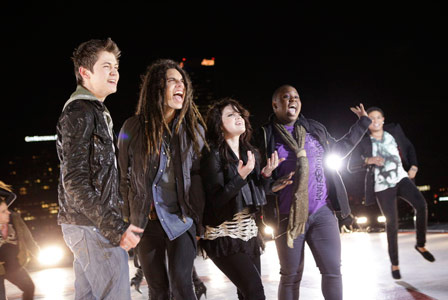 Samuel Larsen AND Damian McGinty win the Glee project! Plus, Alex Newell and Lindsay Pearce win a TWO episode arc!
That's right TWO winners will appear in a 7 episode arc on Glee. Samuel was announced first. Then in a surprise twist, Ryan Murphy revealed to Damian that he also won.  Lindsay and Alex got their good news minutes later.
The homework assignment is "Don't Stop Believing" and the music video brings all of the Glee project kids together for a performance of "Raise Your Glass".

Ryan Murhpy? You are still such a freaking liar! You told us in interviews there would ONLY be one winner of The Glee Project! Not 4 winners! Yes, in a feel good twist, Both Damien McGinty, Jr and Samuel Larsen won a 7 episode arc AND Lindsay Pearce and Alex Newell each got 2 episodes.
And I would not be surprised if other cast members turned up at one time or another. EVERYBODY WINS ON THE GLEE PROJECT Y'ALL. But I have to say, even though I would have rather had the best actress and singer–that would be the uber-talented Lindsay Pearce–standing next to Damian in the winners circle, I totally adored the feel-good ending of this thoroughly satisfying competition reality show. What could be cuter than Damian's reaction when he found out he won too? I don't know…unicorns farting rainbows perhaps? I LOVE THIS SHOW!
About the winners. Ya know, I remember watching the "Firework" music video way back before the show premiered and there was something about Damian, standing at a locker, with a mischievous look in his eye that caught my attention. Right hand up to cheesus, I thought "there's somebody who could win this thing." and "He's probably going to be my favorite." Admittedly, I wondered about his chances as he struggled throughout the competition. Damian reminds me a bit of Darren Criss who isn't the best singer-actor-dancer on Glee, but he's got TONS of charisma. Damian is going to be perfect for the show.
I'm a little suspect about Samuel (Oh, we knew Samuel so very early on when he was a Season 9 Idol contestant). Ryan said during the reveal that Sam is both wholesome and dangerous, and I think that's exactly the thing Ryan feels he can write to. I wonder if Sam will play that Christian character Ryan had mentioned a few times during the last chance performances? Although Samuel is only 19, I can't imagine him as a high school student. He's a little too intense, without the range to make it interesting. I feel the same way about Sam as I did about Cameron, great musical performances, but not so sure how interesting they'd be on camera.
Lindsay's bitchy edit on the show may not have won a lot of hearts, but she was hands down the best actress and singer. I believe she could have done just about anything on the show. Why write to an actors real personality? If you've got someone talented in front of you, there are endless possibilities. Yeah, I think Lindsay was robbed a little.
Alex has a great voice, but like Samuel, he also seemed one dimensional. Although, a transgendered/drag queen is certainly a type we hardly ever see portrayed realistically on TV, I'm not sure he has the acting chops to pull it off.
I was happy to see Ryan Murphy turn off the asshattery this week. He was great with the kids. Very sweet and caring. I'm sure I'll go back to hating him soon (Will probably never forgive him for THIS. Hmph). But for tonight? I will not be appending asshat to his name.
Here's a recap of what happened during the episode. With videos, as always!
The kids are totally excited to find out they are singing "Don't Stop Believing" for their homework assignment. The final four contestants are all determined to win! It's not about who is good, but who is GLEE Samuel speculates.
Ryan Murphy is the surprise guest mentor. Damian rolls his eyes, "Oh for god sakes". Ryan uses his favorite Glee Project catch phrase to describe "Don't Stop Believing". It' "the show", he says. Ryan watches the kids perform. He stops them almost immediately. He criticizes their choreography. "It's flat…I think you need some help." Gah Ryan! Oh wait…. Surprise! The rest of the Glee contenders enter the room! So, Ryan isn't a total asshat in this particular moment.
http://www.youtube.com/watch?v=ZtZUAdOCI4g
Ryan promises not to interrupt as all 12 take the stage to perform. 'That's better!" says Ryan, beaming. The kids are having a blast up there. Ha ha FAKE GUITAR PLAYING FOR THE WIN! Oh look. Ryan Murphy looks HAPPY. SOMEBODY TAKE A PHOTO. "That was pretty amazing…Awesome!" he says.
http://www.youtube.com/watch?v=3MsGykwcZac
No homework winner today. It's all about who will win the Glee project. All 12 will perform in the music video, "Raise Your Glass" at the top of a 35 story building in Los Angeles.
Then, the Final Four contenders will sing a last chance performance, and for the first time, the final four will be able to choose their own songs.
Choreography with Zach and Brooke: After the big reunion, the Top 12 get to work. "Performing on a helipad will be heli awkward, " says Alex, "I'm afraid one of these contenders will push me off."
Samuel thinks it's weird having everyone back. He thinks the ousted contenders are wondering "why them and not us". Uh. You might be projecting a little, Samuel.
Vocals with Nikki. Nikki's husband, Executive Music Producer, Adam Anders, is here to help! Adam feels Lindsay isn't versatile, and Nikki notes her issues with perfection. But, Nikki really liked Damian. Samuel is having trouble getting a nice tone. His phrasing is off. Give it all you got, says Nikki.
Sam warns the others to watch their "c'mons". Alex says, "maybe it's just you." MEOW. Samuel realizes Alex can be arrogant, but won't be brought down. Adam says Alex did the "c'mons" best. Samuel is feeling really insecure, afraid he's the only one who messed up in the vocal booth.
http://www.youtube.com/watch?v=lawaemvL7j8
Time to shoot the music video with Erik White. They climb to the top of the building. There's a helicopter shooting the action. The kids are awestruck. Robert, Nikki, Zach, and Erik discuss the strengths and weaknesses of the remaining contestants. Sam's battle this whole competition has been to keep from getting stuck in his head. Damian is lovable and accessible, but is that enough? Lindsay is a fantastic talent, but has problems with accessibility. Alex loses focus. They've all struggled in different ways.
Last chance performances! The time is now. The kids pick their songs. Lindsay chooses "Gimme Gimme" from the Broadway show, Thoroughly Modern Millie. Nikki tells Lindsay she needs to have heart.
Damian chooses "Beyond the Sea" by Bobby Darrin – Damian wants to prove he can be the lead male. Nikki says he's not the best singer dancer or actor (YIKES OUCH), but that's not what Glee is necessarily about
Samuel chooses Jolene by Dolly Parton – He wants the performance to be organic, as if he were performing in a coffee house. He imagines getting lost in his own little world. Zach says he needs to invite us into his world.
Alex chooses "I Am Changing" by Dreamgirls. Robert says that Alex needs to prove that he's not just a one-note character. Just a Diva. Alex is going to do drag. He feels his ability to "change my sex at the drop of a dime" gives him an advantage.
http://www.youtube.com/watch?v=5yERmr9Agb0
The kids get ready for their performances. "That is a sexy guitar, " Samuel says in the practice room, "Oh we're going to make out!" Alrighty then! The kids psych themselves up for what lies ahead.
http://www.youtube.com/watch?v=97EXTtBUMn8
Ian Brennan, Max Adler, Dot Marie Jones, Ryan Murphy, Zach Woodley, Ashley Fink, Harry Shrum, Jr, Darren Criss, Tina Ushkowitz, all the contenders and more are sitting in the audience to watch and cheer on the Final Four.
Lindsay is up first, and she pretty much kills the performance. She's got true Broadway chops. She gets a big standing o from everyone. Ryan thinks it's her best vocal yet.
http://www.youtube.com/watch?v=g7xN5eZy1tk
Damian takes the stage. He's not the best singer, but Hes SO EFFING ADORABLE WHO CARES. He dedicates his performance to Hannah and Cameron. Aw. Seriously. Bottle this kid. So charming. He's such an old soul, says Ian. But Ryan loves his youth. He's an old soul with a young face.
http://www.youtube.com/watch?v=orCwKSrvKoA
Samuel is next, with an awesome performance of "Jolene". Wow. Very intense, well phrased. Dude can sang. Really impressive. "He's f*cking incredible" says Zach.
http://www.youtube.com/watch?v=Rw62p188B_c
Alex comes out in drag. I'm still not sure why Alex believes he has to put on a dress to sing a girl song. I don't feel a transformation between man to a worman. It's Alex in a dress. Not all that remarkable. His vocals are big and powerful and impressive. In this case, the drag doesn't add anything. "That was amazing!" says Ian.
http://www.youtube.com/watch?v=UwGtr-f6l9c
Ryan asks the audience what they think. Ashley, and Dot-Marie won't commit to picking a favorite. Darren thinks Lindsay would be a wonderful foil to Rachel Berry. Harry thinks Sam is "just that cool boy that could give Puck a run for his money." Max thinks Alex goes with Glee so well, and represents a whole group of people that are never represented on TV. Nikki feels Damian embodies the underdog quality, had a magnetic personality that everybody has responded to.
Erik, the video director says the best actor was Lindsay. "Whatever note I gave her, she could pinpoint and deliver, " he says.
The crowd steps out, and Zach, Ryan, Ian and Robert put their heads together to make a decision. Zach thinks Damian can be groomed to take on a leadership role. Robert says there's nobody on TV like Samuel. Zach notes that Lindsay is powerful on camera, and blows the rest away acting-wise. Ryan thinks she had her best performance tonight. Robert loves Alex's drag act. "When he is in drag, There's something special." Everybody agrees it's a very brave thing he did. Ian and Ryan know which contenders they'd be most excited to write to. The decision is made.
http://www.youtube.com/watch?v=YalEZiG7cBk
It's time to reveal the winner. Ryan reiterates the fact that it's not about talent, but the needs of the show. Ryan tells Lindsay she came the farthest in the competition. "You are just pure light, " says Ryan. Damian always stepped up to the plate every week with humility and a smile on his face. Ryan thinks he got better every single week. Sam has always fascinated Ryan. "There's something about you that's very wholesome, " says Ryan, "But also something about you that's very dark. There's an intensity to you. You have this cool indie-rock spirit that we don't have on the show."
Back to Alex. Even though Alex sums up the message of what Glee is about, and has a great future ahead of him, he's not the winner of the Glee project.
Lindsay is next. She's not the winner of the Glee project either.
It's down to Samuel and Damian. Ryan says Damian is the crowd favorite, but Sam is the star. It was a difficult decision, but Sam…is the winner of the Glee project! Sam flips out. Damian hugs him graciously.
Ryan has a few words for Damian. "It was so hard, you are so special.." Damian says he's delighted for Samuel, even though he is disappointed.
"Well, the thing I want to tell you is…" Ryan continues, "YOU HAVE ALSO WON THE GLEE PROJECT!"
Holy crap! The look on Damian's face? I could roll that tape over and over again. He's shocked surprised, delighted. Sam goes in for a hug. The celebration gets even bigger. "I think you are both fantastic, " says Ryan, "congrats!"
Oh but wait…there's more.
Both Alex and Lindsay are such good actors…they get a two episode arc on Glee. EVERYBODY WINS ON GLEE! The end.
I LOVE THIS SHOW!
http://www.youtube.com/watch?v=BT0QSRx89qo