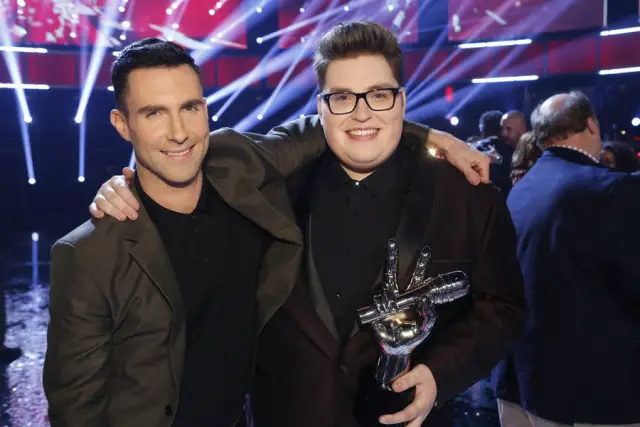 Congratulations to Jordan Smith and Adam Levine. The young singer from Lee University won The Voice 9, it was announced at the conclusion of Tuesday's 2 hour finale. The singer's coach, Adam Levine, could not have been prouder.
It wasn't a major surprise to anyone when the powerfully piped vocalist with the amazing range walked off with the trophy, instead of fellow finalists, Emily Roberts (2nd place), Barrett Baber (3rd place) from Team Blake Shelton and Jeffery Austin (4th place) from Team Gwen Stefani. Jordan had been smashing it on iTunes all season long.
At the bottom of the page, check out a gallery of photos from The Voice finale press conference and broadcast. Plus, here is a full video of the post show interview with Jordan and Adam with entertainment journalists.
"It means a ton," Jordan said of winning The Voice. "Slowly throughout the show, I proved to myself and everyone [that differences] don't matter. I was up against Regina Love, who has a lot of experience and is amazing and great. Then I was up against Viktor Király, who is gorgeous, but I slowly throughout the show proved to myself more than anybody that those things don't matter. It is really special to be here and see and celebrate those differences."
"The hard work is about to start," he said of choosing his competition cover, "Climb Every Mountain".  "For me that song was more like, 'Hey, Jordan, don't forget, you still have a whole lot of hard work to do."
"You have these ideas, and goals and dreams, but always there is doubt that creeps in," he said. "I think this was a group of very talented people, who constantly proved over and over how talented they are, and they surprised me every week, raising the bar for me and themselves. So, honestly, there were some weeks, I did not expect to be in this position. I am still kind of blown away by that. This is so surreal but I am so proud to be sitting here out of all these people."
Jordin's performance of Queen's "Somebody to Love" was his favorite.  "That was a really cool moment for me," he admitted. "I got to the end of the song and I said, 'What is this? Did I black out?' I did things I didn't expect. When I watched it back, I was, 'Who is this person?' We've made choices all season long that led to a moment like that."
"I am ready to start writing music and get out there and work to make this happen for myself," he said. "I don't think I'll ever have arrived."
Adam gave Jordan all the credit for his win. "I won because he's on my team," the coach insisted. "He's like…a genius! I didn't do anything other than [say] 'Good job! Killer!'"
As far as hopes and dreams for the future are concerned, Jordan wrote down a wish list. At the top-to sing the National Anthem at the Super Bowl.
On beating his "frenemy," Blake Shelton, Adam said, "Oh man! I'm going to enjoy this night." Adam continued, "It's really quite beautiful. Jordan gets to win The Voice, and I get to tear [Blake] apart for the next…six months. I'm going to look for new and exciting ways for him to feel terrible!"
More strong opinions were forthcoming from Adam on the record deal with Republic Records the winners walk away with. You'll recall he called the label out recently on mishandling the singers.  He was asked about that during the conference, and his remarks begin at the 8:15 mark.
"There have been shortcomings on the other side of this fence, and that's not shocking or surprising, it's just true," Adam said. "Jordan has had more success on iTunes than most artists ever have… This is a no-brainer, and this kid is so special. Musically, talent-wise, spiritually, on a human level, on every level, this guy deserves the most success imaginable.
"It's great because we bring everybody to this beautiful point where there are cameras rolling and everybody wants to know this guy and everyone wants to hear more music from this guy. So the baton has been passed to the record label, and hopefully, they will do right by Jordan Smith.
"Right, Republic Records?" Levine concluded snarkily/frustratedly. "You will do right by Jordan Smith. And that's all I have to say about that."  Later, he also implored Republic to get out some music as soon as possible.
When a reporter asked Adam what kind of music Jordan should make, he answered that after the dust settles, Jordan will figure that out for himself.  He added "It doesn't really matter what kind of record the guy makes…like all good artists, radio will come to him." ( 12:37 mark).
Jordan's advice to The Voice hopefuls, "Live in these moments. Looking back, it's gone by so quickly. I'm thankful I didn't spend each moment so nervous that I missed it…not to get caught up in this whole process…and not to get so stuck in the show that you forget there is life outside the show…enjoy every little moment that you can."
Via Parade, Reality Rocks
Photo Gallery