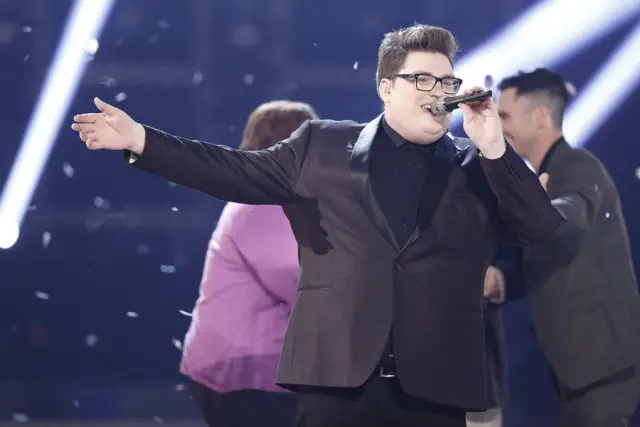 The Voice 9 Recap Finale Live Blog VIDEOS
ETA: Most Boring The Voice Finale Ever. I kept glancing down at my computer clock, anxious for the totally predictable results to be revealed. SO MUCH DAMN FILLER. I don't care about The Voice coaches and their OMG AWESOME CHEMISTRY. Did we really need 4 separate clips to fawn over the coaches? One would have been more than enough. The performances were all repeats from the CMAs/AMA and in the case of Coldplay, counting Sunday's X Factor finale, it was the THIRD TIME I SAW THOSE DAMN GORILLAS. Watching the contestant bring back performances reminded me of a: Contestants who were booted WAY TOO SOON (SOB Morgan Frazier, Riley Biederer, Darius Scott, Mark Hood, Evan McKeel Madi Davis) b: How little I was invested in the outcome of this season.
The highlights of the night were Jeffery Austin's duets with Madi Davis and Tori Kelly. Emily Ann Roberts getting on her bluegrass with Randy Skaggs, and Missy Elliott doing…well just about anything. Jordan Smith should probably not give EDM another shot. Barrett Baber overshadowed fellow Team Blake member, Zach Seabaugh in their bring back duet, and was overpowered by Wynonna Judd in theirs.
As I mention later in the recap, voting via iTunes downloads is telegraphing the eventual winner too far in advance, and ruining any suspense. I can only imagine how contestants who aren't at the top of the heap feel. How does a singer sitting at the bottom of the iTunes chart stay motivated? It's time for a few tweaks on The Voice.
***
Tonight, The Voice season 9 winner will be crowned. Will it be Jordan Smith from Team Adam Levine, Jeffery Austin from Team Gwen Stefani, Emily Ann Roberts, or Barrett Baber from Team Blake Shelton? We'll be live blogging the results right here, beginning at 9/8c PM.
The Voice 9 Finale Predictions, iTunes Charts, Poll Results
The Voice 9 Final 4 Performance – Live Blog and Videos
Justin Bieber, Coldplay, Missy Elliott, Sam Hunt and The Weeknd are all set to perform their latest singles, and look out for superstar duets, including, Jordan Smith & Usher singing "Without You," Emily Ann Roberts & Ricky Scaggs performing "Country Boy," Barrett Baber & Wynonna Judd teaming up on "No One Else on Earth" and Jeffery Austin & Tori Kelly singing "Hollow."  Watch out for the usual contestant "bring back" performances too!
Here we go! To kick off the night, the entire Top 24, led by the Final Four, perform "Lean On." Evan McKeel sounding so good! Pharrell screwed you over with horrible song choices, and I sob. I miss him. And Mark Hood! Ditto. Riley Biederer! Gone too soon. And already…it's time for a break.
https://www.youtube.com/watch?v=1mPOnb05VFA
Next up, Barrett Baber brings back fellow Blake Shelton teammate, Zach Seabaugh for a performance of  "Forever and Ever Amen" by Randy Travis. Some old school country. Barrett refers to young Zach as a "little brother" he enjoyed watching grow on The Voice.  Barrett is overpowering Zach, who performs like he's under rehearsed.
Next, it's Coldplay, who will be headlining Superbowl 5o. Chris Martin was The Voice key adviser a few seasons ago. The band performs their new single, "Adventure of a Lifetime." They arrive–did they bring their gorrilla friends? HAHAHHA. The gorillas are grooving to the music in the big red chairs before they take the stage to join the band.  Here come the balloons! That was totally recorded earlier.
Blake Shelton is featured in a video clip parody of The Godfather, with Blake cast as "The Godfather of Nashville." Nobody will talk about the Nashville Mafia. His team members come to his office offering "Don Blake" gifts, and in a cute twist, Gwen Stefani plays Diane Keaton to Blake's Al Pacino. She asks him to tell her the truth. He doesn't slam any doors in her face. Brad Paisley makes a cameo. The real don? is a Godmother, Dolly Parton. You got that right.
Next, Mark Hood, Celeste Betton, Darius Scott, Regina Love and Nadjah Cole, perform the O'Jays "Love Train,"  and it's pretty awesome. The supergroup performance is like a consolation prize for the African American contestants, who could have been nurtured more by the producers.
After the break, it's a clip featuring all of Gwen Stefani's major creys. Jeffery Austin declares he made her cry 10 times. The other team members are jealous that their coaches aren't sobbing for them. Blake says Gwen cries because she has a big heart. Adam cries because he's a big baby.
The first superstar duet of the evening. Emily Roberts strums a mandolin as she joins Ricky Skaggs and his band for a performance of "Country Boy."  Emily Ann is personality plus. I wish we had seen more of that during the competition. She's so at ease with the old skool bluegrass vibes.
https://www.youtube.com/watch?v=lAqPSMfw2-4
OHHHH. Jeffery Austin and Madi Davis are teaming up for a Amy Winehouse cover. YAASSS. My favs are duetting! They sing "Tears Dry On Their Own." LOVE THAT SONG. They probably could have used more rehearsal for this, but the duo is working it. Who says Jeffery can't sing upbeat? He brings the soul, she brings the quirk and it's all good. I love the way Madi plays with melody. Jeffery pours his heart out.  Not a perfect performance, but it left me in a happy, happy place, nonetheless.
Missy Elliott and Pharrell join forces on "WTF" their new song.  Well, Missy, she's a Queen. Nothing but love for Missy. The stage is set up like a train station. It's the "WTF Station" complete with "WTF" subway map. It's an apt metaphor for this season of The Voice.  Pharrell is rapping. There appears to be no melodic break. I expect some will use this opportunity to fine a snack. Not me. Blake gives them a standing ovation, though I imagine he has no idea what he just heard.
https://www.youtube.com/watch?v=7uEH1QvtWFg
In the next clip, the Final Four make their final confessionals. Did we even have confession clips this season? I don't remember any. They reveal what winning The Voice would mean to them. Of course, the coaches horn in on the action, revealing why their team members deserve to win.
The next superstar duet features former The Voice coach, Usher, with Jordan Smith. They sing "Without You."  I love Usher! I wish he'd come back to the show. He was a pretty solid coach. The song gives Jordan the opportunity to hit a Big Long Note, and he does not miss that opportunity, although I wish he had.
https://www.youtube.com/watch?v=PDLVNY3pkeU
Country star, Sam Hunt, is up next, performing his single, "Break Up in a Small Town".  Why is he talking instead of singing? I'm not down with this particular trend in country. Dude. Why do you mumble when you do sing? I get it now. His singing is horrid. Pitch, dude, pitch. Dreadful.
https://www.youtube.com/watch?v=cLpQ7KLbMl8
Synergy! Another video clip features the Final 4 touring the Universal Studios theme park. Clues lead them through the park to a prize. A BRAND NEW NISSAN CAR!  Hooray! They each pick a different model to shill.
https://www.youtube.com/watch?v=3B9oMGWWBFQ
Jeffery Austin and Tori Kelly join forces to sing her latest single, "Hollow."  Dang that Tori makes those runs seem effortless! Jeffery struggles a little bit at first with a tricky melody, but shines on the chorus, as Tori peppers the melody with her amazing ad libs.
After the break, Barrett Baber and Wynonna Judd sing "No One Else on Earth."  Wynonna is blowing Barrett off the stage when they sing together, but he handles the solos ably.
https://www.youtube.com/watch?v=wG_kIr7fwXw
Pharrell Williams is featured in the next video clip. He challenges the other coaches to a go-cart race, or something.  I DON'T CARE. Adam wins the race. Is this some kind of foreshadowing?
The Weeknd is next, performing his chart-topping hit, "The Hills." Friend Zone…..blah blah blah and on to a medley of his hits. Zzzzzz.
https://www.youtube.com/watch?v=loYQIfKKos4
Jordan is bringing back a slew of singers for his bring back performance. Evan McKeel, Amy Vachal, Korin Bukowski, Regina Love and Mark Hood join Jordan for a performance of "Any Way You Want It" by Journey.  That was lively–a nice combo of talent.  Jordan hits a big amazing high note to finish. Well, it IS his bring back…
Gwen Stefani is on outfit #4. In case you were counting.
Emily Ann Roberts also brings a big group back to sing. Ivonne Acero, Nadjah Nicole, Riley Biederer, Morgan Frazier and Shelby Brown join her for a performance of "Summer Nights" by Rascal Flatts. The girls in the studio pit whip out pastel colored glow sticks to wave off the beat.  A summer jam for a winter's day.
Adam Levine is the Best Coach Ever in the clip devoted to him, featuring his team members kissing his ass, basically. Shelby Brown got a visit from a real-life Giraffe, for reals, at least. But, ONCE AGAIN. Don't care. Don't Care. Don't Care. So. Much. Filler.
And now, still an asshat, the performance of the night.  Justin Bieber sings "Sorry." Can we just get the anointing crowning of Jordan Smith over with? I'm getting a little antsy here.
FINALLY. The Final Four take the stage for the moment of truth. Here we go.  The finalist in 4th place is Jeffery Austin. In 3rd place is…Barrett Baber. The winner of the The Voice is Jordan Smith. Now, try and act surprised, Jordan.  He sings us out with "Climb Every Mountain" and too many runs.
The Voice 9 Results
4. Jeffery Austin – Team Gwen
3. Barrett Baber – Team Blake
2. Emily Ann Roberts – Team Blake
The Winner – Jordan Smith – Team Adam
I predicted The Voice elimination perfectly! And so did about 90% of the audience. Season 9 was literally the most predictable season in the history of The Voice. What the producers need to do, is cut back on iTune voting. Ditch the cumulative total bonus at least. But, how too much money was at stake for American Idol to cut out unlimited voting to keep invested fanbases from determining the winner, The Voice will never sacrifice those iTunes dollars for the sake of better TV. Also: Bragging rights.
Jordan Smith. He's all YOURS Republic Records. Let's see what you do with him. Probably nothing.
https://www.youtube.com/watch?v=YDc4WZCRgws