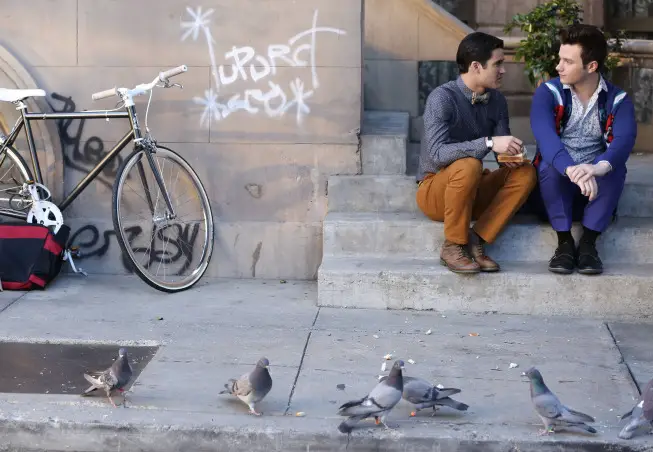 Glee Season 6 spoilers Blaine Karofsky Relationship? Do Klaine Break Up?
OK kiddos. I've got some Glee Season 6 spoilers for you. Please don't shoot the messenger.
The time jump between the Season 5 finale and the Season 6 premiere is only 6 months.
Rachel (Lea Michele) AND Kurt (Chris Colfer) are leading New Directions. Kurt is earning NYADA credit for his efforts. So, yes, he's still a student.
Blaine (Darren Criss) is leading The Warblers at Dalton. I don't know the circumstances that bring him to Dalton, or whether he is still a NYADA student or not.
I don't know why Rachel is in Ohio either. UPDATED: FOX has confirmed that Rachel returns to Ohio after her Hollywood dreams are dashed.
Will Schuester (Matt Morrison) is heading up Vocal Adrenaline
Karofsky (Max Adler) will be Blaine's new love interest. Max is locked in for at least half a season's worth of episodes. I am not clear on whether Blaine and Kurt are together or apart when season 6 begins, or whether they break up later. I also don't know whether Blaine/Karofsky are together in the first episode, or something develops later.  I am working to find out answers to these questions.
There are no definite plans to use the Season 4/5 newbies. HOWEVER they will most likely come back near the end of the season for one or two episodes. I am guessing there will be a big reunion of Glee alumni at series finale time.
The five new McKinley High kids will be incorporated into the first two episodes to some degree, but their story lines are still being developed.
I don't have plot specifics at this time on other characters–Santana (Naya Rivera), Artie (Kevin McHale), Sam (Chord Overstreet) etc.  The minute I know something, I'll post it here.
I know I'll be bombarded with questions. But what I have bulleted above is EVERYTHING I know at this point. Stay tuned for updates
Glee Season 6 Spoilers: Max Adler Returns As Blaine's Boyfriend
Glee Season 6 Spoilers – Casting New Characters This Week!
Glee Season 6 Spoilers Rachel to Re-launch New Directions
Glee Season 6 Casting: Five New McKinley High Students!
For readers who may not be keeping up with all things Glee spoilers:
Glee production is back at work this week, getting ready the start of filming next week. Glee music producer, Alex Anders, tweeted photos of Lea Michele (photo) and Darren Criss (photo) recording songs in the studio.
Lea tweeted, "So excited! First day back at #Glee today for #Season6! #BerryIsBack…First up.. recording session with @alxanders… So excited to be singing one of my all time FAVORITE songs! #GleeSeason6″
Also, Darren hinted heavily that he'll be singing an Ed Sheeran song when he instagrammed a photo of them together at the VMAs with the caption "Glee Spoiler…?"
It looks like Santana will be making an appearance sooner rather than later, as Naya Rivera recently tweeted, "Just got my first batch of songs to pre-record next week for the new season of @GLEEonFOX! You're going to love them!"
There is a Glee shoot at the location used as the Dalton set scheduled for September 12, 15 and 16. The FOX notice lists the filming is for 601/602 (the first two season 6 episodes)
UPDATE: FOX Spoilery Press Blurb:
Over the last five years, the series has followed a dynamic group of high school students from the halls of McKinley to the mean streets of New York City, as they embarked on life after high school. This season, after her humiliating failure as a TV actress, New Directions' original star, RACHEL BERRY (Golden Globe Award nominee Lea Michele), comes home to Lima to figure out what she wants to do next. Upon discovering that SUE SYLVESTER (Emmy Award winner Jane Lynch) has banished the arts at McKinley, Rachel takes it upon herself to reinstate and lead the glee club. Meanwhile, BLAINE ANDERSON (Darren Criss), SAM EVANS (Chord Overstreet) and WILL SCHUESTER (Matthew Morrison) have all found surprising new gigs in Ohio. Throughout the season, other alumnae also will return to McKinley.
Here's the official cast list:
While Naya Rivera is missing from the list, she will return for a few episodes as a recurring character, and as was noted above, she's already preparing to enter the studio. Although Amber Riley IS included in the list, I heard she was also only recurring, as was Jenna Ushkowitz.  As I mentioned above other former castmates may pop in and out of the storylines.
Chris Colfer (Kurt Hummel)
Darren Criss (Blaine Anderson)
Dot-Marie Jones (Coach Beiste)
Jane Lynch (Sue Sylvester)
Kevin McHale (Artie Abrams)
Lea Michele (Rachel Berry)
Matthew Morrison (Will Schuester)
Chord Overstreet (Sam Evans)
Amber Riley (Mercedes Jones)