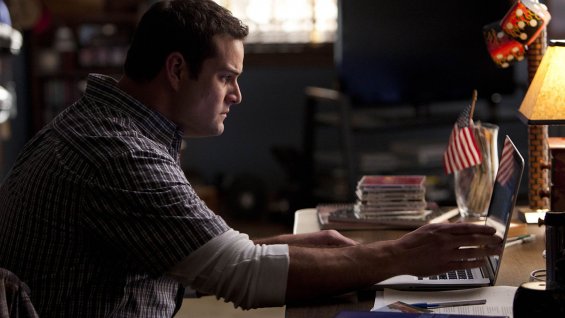 Here's your proof that Glee co-creator, Ryan Murphy, has utter contempt for Glee fans and loves trolling them in the most outrageous ways he can think of.
The Hollywood Reporter reports that Max Adler will return, as Dave Karofsky,  to the final and sixth season of Glee for at least four of the final 13 episodes. And get this: "Sources tell THR that Dave may now be romantically entangled with Blaine (Darren Criss)." Oh really?
You'll remember Dave as the closeted McKinley High football player who bullied and tortured Kurt (Chris Colfer) in season 2, culminating with a forced kiss, basically outing himself. Kurt kept his secret, even as the bullying continued. Eventually, Kurt was forced to transfer to the all-boys private school, Dalton where he struck up a romantic relationship with Blaine.
Dave eventually transferred away from McKinley after Kurt won prom queen (as a joke) and Dave refused the first dance, afraid it would give his secret away.
The character only popped up a few times in season 3. Once, running into Kurt and Blaine in a gay bar, where he and Kurt came to a truce. Later in the season, Dave's arc came to an emotional apex when he attempted to commit suicide after being outed at his new school.  A schoolmate had overheard Dave confessing to Kurt that he had a crush.
Dave popped up a final time: At the end of last season, in Rachel's pre-opening night nightmare.
So two things: If the storyline is a done deal, What happened to the Kurt/Blaine engagement? And how the hell will Dave and Blaine hook up?
Spending nearly all of season 4 apart, after Blaine's one-night stand led to a break up, the two suddenly got back together and became engaged.  To be honest, I never really liked the idea of Kurt and Blaine getting engaged in high school. Lets face it, Klaine is endgame. But I actually LIKED that they broke up for awhile. But I was really disappointed that neither of them got a satisfying mid-game relationship. Adam Crawford (Oliver Kieran Jones), the older NYADA student who had his eye on Kurt was a storyline that went nowhere. Blaine spent his senior year semi-pining for Sam (Chord Overstreet).
Remember, Ryan promised a time jump. Presumably, in the ensuing months/years, we can assume the engagement broke off.  But really writers? You can't come up with anything other than Blaine hooking up with Kurt's former tormentor? Ryan is no doubt cackling and rubbing his hands together at the thought of fandom in the midst of a major meltdown. I haven't checked tumblr yet, but believe me…that's happening.  Gle fans shouldn't worry though. I have no doubt, that when the dust settles, y'all will get your Klaine wedding. It will probably be the finale episode.
Having said all that…LOVE that Max Adler is coming back! I always wanted a followup to his character's story. How did Dave move on from his attempted suicide? Did he come to accept himself? Did his friends and family come around? Does he find peace and happiness? Also, Max is a fantastic actor, I really look forward to his episodes.
But really? Blaine's BOYFRIEND? C'mon writers, you can do better than that. If you must break them up, give Blaine and Kurt brand new characters to tangle with! In any case, THR's use of the words "may be" indicates the storyline isn't completely fleshed out yet. It could be producers trying to cause a stir in the wake of dwindling ratings.
Max Adler comments via Twitter. Love the hashtag "You Never Know with Glee". He probably has no idea what's in store for his character at this point. As I said above, it could be the writers have completely decided where to take the character yet–a romantic relationship with Blaine could be just one of the possibilities they are considering.
In the words of the X-Files, The truth is out there …. Tune in next season to see what's really true and what is not #YouNeverKnowWithGlee

— Max Adler (@Mr_Max_Adler) August 21, 2014