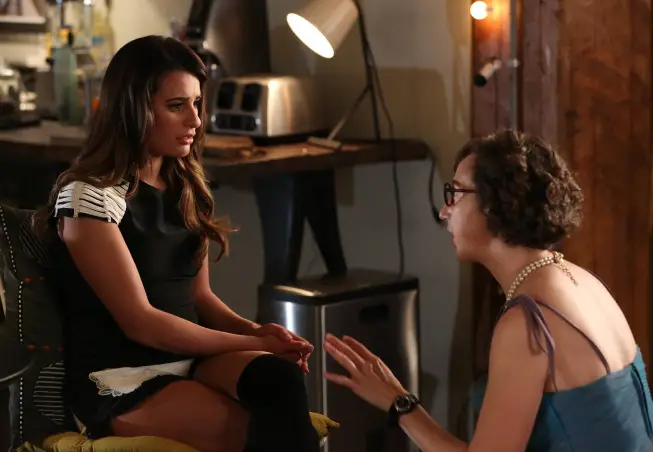 Glee Season 6 Spoilers Rachel to Re-launch New Directions
More Glee Season 6 spoilers for you thirsty fans!  This comes courtesy of TV Line's Ask Ausiello column:
Question: There's a Glee rumor going around that Rachel will return to Lima to relaunch New Directions — is it true?
Ausiello: Actually, that rumor happens to be… true! We will, however, find out what became of the TV pilot she was developing with Bob's Burgers' Kristen Schaal and Community's Jim Rash. We might even catch a glimpse of the final product. (I'm guessing its failure is what leads to the homecoming.)
Who could be starting rumors about Rachel returning to Lima to reboot New Directions? OOPS. That would be us! Heck yeah, Glee spoiler source!
Back in June, when I first reported the "rumor,"  I mentioned that scenes would take place in both Los Angeles and New York City, as well as in Ohio.
According to Ausiello, we will find out what happened to Rachel's pilot.  I suspect the story will pick up as various Glee club alums go about their lives in different parts of the country.  Perhaps the failure of the pilot–or the cancellation of the TV show– sends Rachel back to Lima.
What I heard, and what Jane Lynch later confirmed, was that rival Ohio Glee clubs would be headed by various original New Directioners. I heard Mr. Schue (Matthew Morrison) would wind up leading Vocal Adrenaline.  Maybe a call to arms from Rachel–and/or other events bring the rest of the gang back home.
The reunion, however, may not be so friendly. Jane said that old rivalries will be revived in Glee's sixth and final season. "I think we're going to have some surprises about who's going to be the choir director of The Warblers and who will be the choir director of Vocal Adrenaline." Jane told Entertainment Weekly.  "I think it'll be a big surprise."
Where the other returning cast regulars,  including  Chris Colfer (Kurt), Darren Criss (Blaine),  and Kevin McHale (Artie) and Chord Overstreet (Sam)  will fit into Lima 2.o remains to be seen. But, with the Warblers thrown into the mix, fans have been speculating that Blaine will return to Dalton to  take charge of his old club.
Speaking of Chord. The actor confirmed his return to the show in a short, spoilery red carpet interview with E! News and said that he is pretty sure he'll be in all 13 episodes of the shortened season.
"I assume I will be in all of the episodes," Chord said."I know I am back in Ohio at the school."  The actor also confirmed that the writing staff has been hard at work crafting the final season. "I know the writers are three to four episodes in right now and from what I've heard it's really fun stuff."
Read More: Glee Season 6 Spoilers: Chord Overstreet Confirms Return
As far as other original cast members coming back to the fold?  It's been widely reported that Naya Rivera (Santana) would be returning as a recurring cast member, for a few episodes. My sources tell me Amber Riley (Mercedes) and Jenna Ushkowitz (Tina) have also been asked to return for 3 or 4 episodes.  I wouldn't count the other originals out, however. Glee co-creator, Ryan Murphy, has hinted that he would love to get the original gang back together again.
As for as the New Direction newbies–I initially reported that Alex Newell was asked to guest star in the final season. But plans changed and for now, no newbies are expected to return.  New Directions, at least, will be populated with brand new students.
Read More: Glee Season 6 Casting: Five New McKinley High Students!
Also, don't forget that back in May, Ryan teased a time jump, that could encompass several years.  It hasn't been mentioned by Ryan since, so who knows. But imagine the actors playing their characters close to their own ages? That could really be cool.