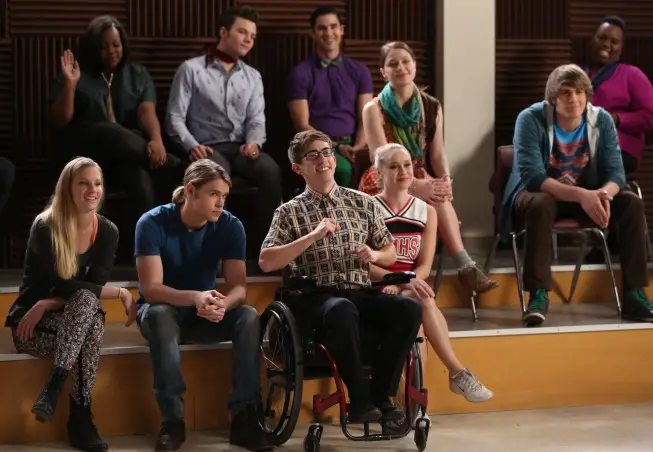 Glee star, Jane Lynch, always a great source of spoilers, dishes a little about season 6 in an interview with Entertainment Weekly:
You've put a lot of time into this show. How are you feeling about it coming to an end?

We're kind of winding down and the end is near. It's sad. It's also kind of exciting to move on, but I've never been very good about wanting anything to end. I like things to go on forever and ever. I don't know what's going to happen with anybody, but I think we're bringing back a lot of the cast. I think it's going to be very solid and fun.

What would you like to happen with your character, particularly her relationship with Mario?

I hope Mario comes back, of course. That's Chris Parnell, who played my love interest in New York. But we'll have to see if he comes back and if that softens Sue's heart at all. I think she's back as principal, as far as I know. I think we're going to have some surprises about who's going to be the choir director of The Warblers and who will be the choir director of Vocal Adrenaline. I think it'll be a big surprise.
Right after the season ended, co-creator, Ryan Murphy, spoiled a time jump in between seasons 5 and 6. I'm thinking the story will jump at least a few years, picking up the kids lives in their post-college careers, with events (unknown at this time) leading the kids back to Ohio.
Read More:
Glee Season 6 Spoilers: A Return to McKinley, Casting News!
Glee Season 6 Spoilers: Ryan Murphy Confirms A Return to Ohio
As I reported before, my sources say Rachel (Lea Michele) will resurrect the Glee club at McKinley. I also heard that Will (Matt Morrison) would be leading Vocal Adrenaline with one of the Glee kids–Blaine was a name that was tossed around–assisting him. But now, if The Warblers are back in the game? And with Jane hinting that we'd be surprised at who is heading them up? I'm thinking Blaine (Darren Criss) will be back at his old school, leading the Warblers.
I just want to reiterate that when I posted this a month ago:
Also, an idea that's being considered, is to have  the Rachel-led New Directions go head to head once again with their old nemesis, Vocal Adrenaline. Only this time, Mr. Schue (Matthew Morrison) would be at the helm, with Blaine (Darren Criss)–or maybe another ND alum–working as his assistant.
It was not speculation on my part, but ideas that were being discussed behind the scenes at Glee. It looks like a variation of those plans will come to fruition when Glee returns to FOX in 2015 at midseason.  We could end up with Rachel (ND) Will (VA) and Blaine (Warblers) facing off against each other at Nationals.
Also, Matthew Morrison has mentioned Glee will be 13 seasons.  My spoiler said a 10-12 episode season. I hope my spoiler, in this particular instance, is wrong.  I'd really like the writers to have enough time to wrap up the Glee story in a satisfying way.