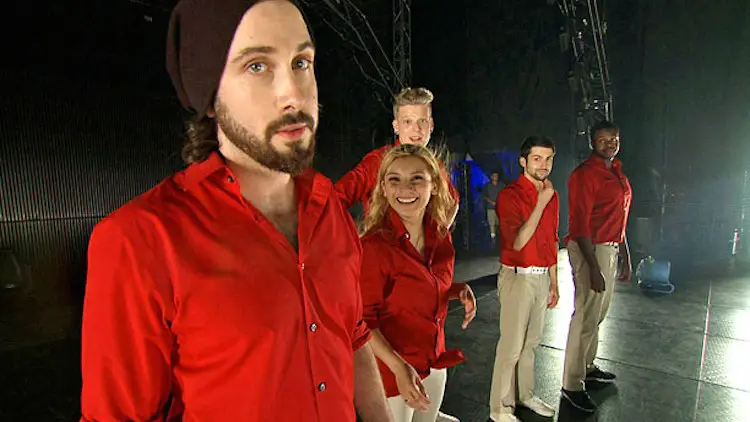 What could be more pitch perfect than Sing-Off 3 winners, Pentatonix, joining the cast of the movie, Pitch Perfect 2?  It's a no brainer that the popular a cappella group would make an appearance in the sequel of the hugely popular 2012 film about collegiate a cappella competitions.
The band reveals to Entertainment Weekly that they'll be joining the cast–playing a rival group to the Barden Bellas, the college singing group at the center of the film. Pitch Perfect 2 is due in theaters in 2015.
The 5 members of Pentatonix (Scott Hoying, Mitch Grassi, Avi Kaplan, Kirstie Maldonado, and Kevin Olusola)  put in a 12 hour day on set in Baton Rouge, Louisiana in full make up.
"We're wearing some pretty interesting things," teased Scott. "You can definitely tell it's the five of us, but what we're wearing and who we're portraying is definitely not Pentatonix."
Mitch added, "You're going to love it."
Pitch Perfect 2 finds the original Bellas—Anna Kendrick, Rebel Wilson, Brittany Snow, and others—returning to  Barden University, where they're breaking new singers into the group. Pentatonix will play a threatening foil to the nationals-winning group.
There's a connection between The Sing-Off and Pitch Perfect in  Deke Sharon who arranged music for both. He, along with the film publicist who coordinated Pentatonix's performance at the original Pitch Perfect premiere, were responsible for getting the group the gig.  There were also fans tweeting producers to add them to the cast.
The band has no dialogue-"Let's be honest, it's probably for the best," laughed Scott-but they did get to arrange their own song to ensure that unmistakable Pentatonix sound was retained. "They gave us a song, and we arranged it and sent it back, expecting them to say, 'You need to change this, this, and this.' But they came back and said, 'Great, that's it!' That was really cool."
Read more at Entertainment Weekly