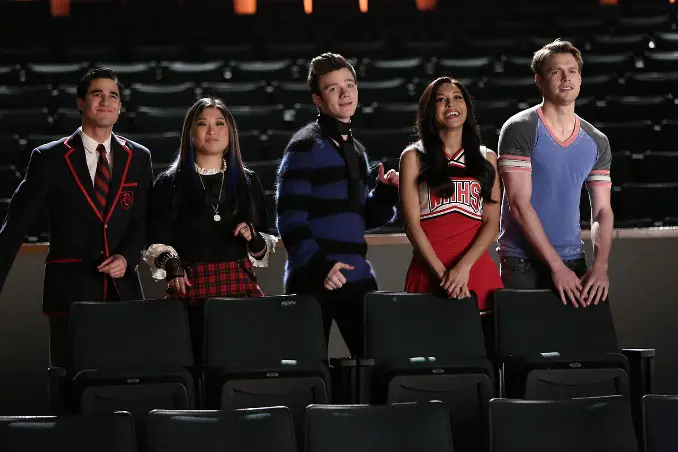 Glee star Jane Lynch took part in the FOX event, Girls Night Out, with other distaff FOX stars, including, Mindy Kaling and Yeardley Smith. During the event, she revealed that the Glee story line for Season 6 will bring the cast back to Lima.
"We're all going to be coming back together in Ohio at McKinley" –@janemarielynch on the finale season of #glee #foxfyc #emmys

— FOX (@FOXTV) June 10, 2014
Jane confirms what I have heard from a source. Lea Michele told David Letterman during a recent appearance that she'd be "doing something very different than [she'd] ever done on the show before."
When Dave pressed her for details she said that Rachel was "going to have a different role. She's going to be in a location you've seen her in before, but doing something different."
What I heard is that Rachel will return to McKinley to put the Glee club back together. In effect, she'd be the new Mr. Schue.
An idea that's also being considered is to have  the Rachel-led New Directions go head to head once again with their old nemesis, Vocal Adrenaline. Only this time, Mr. Schue (Matthew Morrison) would be at the helm, with Blaine (Darren Criss)–or maybe another ND alum–working as his assistant.
I hear that out of the newbies, only Alex Newell, has been asked to return, for a few episodes. He plays the transgender character, Unique.
With Jane confirming that everyone will be back in Ohio, it sounds like each returning cast member will have a role to play in this new scenario. At this point,  I have no idea which of the other cast members are returning or in what capacity.
Also, there's also filming to be set in both New York City and Los Angeles, I hear.  You'll remember that Season 5 left off with Blaine and Kurt (Chris Colfer) living together in NYC, Artie (Kevin McHale) still studying at a Brooklyn film school, and Rachel heading off to shoot a pilot in Los Angeles.  I haven't heard, but I'm assuming that season 6 will end up in Ohio, but won't begin there.
Also, don't forget that Ryan Murphy spoiled a time jump for next season. The jump could be several months or even years. We'll see.
No scripts have been written yet. So you know. Stuff can still change.
Season 6 will have a total of 10-12 episodes, I heard filming could wrap up as early as December.
Glee is set to return to the FOX schedule at mid season.