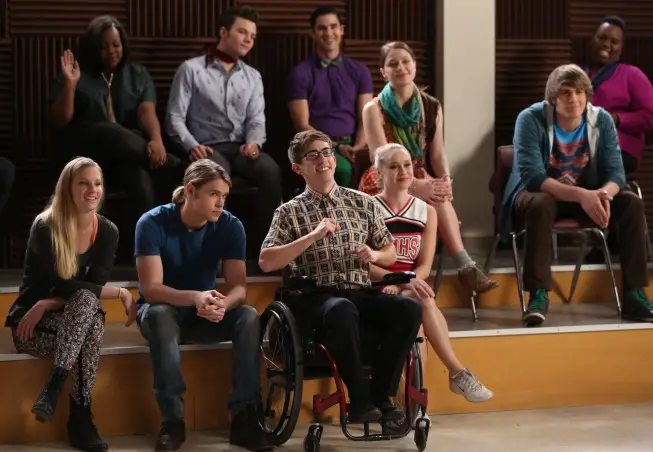 Glee Season 6 Spoilers
All has been quiet on the Glee season 6 spoiler front this summer. The near silence on all fronts can be attributed, at least in part, to the final season of the musical comedy not returning to the FOX airwaves until midseason.
The cast, who would normally be back on the Paramount lot by now, hard at work, is still on hiatus–scheduled to begin filming sometime in September. In the meantime, when the press can catch up with cast members on the red carpet (or anywhere else!), they do leave a few tidbits of what we can expect in the upcoming season
Recently, E Online spoke with Chord Overstreet, who plays the lovable lunk, and Blaine BFF, Sam Evans. Predictably (as in WE already knew that) the actor confirms that he will be returning to the show, and is pretty sure he'll be in all 13 episodes of the shortened season.
"I assume I will be in all of the episodes," Chord revealed to E! News at the premiere of The Expendables 3."I know I am back in Ohio at the school." According to reports, so are fellow returning cast regulars, Lea Michele (Rachel), Chris Colfer (Kurt), Darren Criss (Blaine) and Kevin McHale (Artie).
Naya Rivera (Santana) is widely reported to be returning as a recurring cast member, for a few episodes. My sources tell me Amber Riley (Mercedes) and Jenna Ushkowitz (Tina) will also return on a limited basis.
Here's where Chord spills some brand new intel, "I know the writers are three to four episodes in right now and from what I've heard it's really fun stuff."
Read More:
Glee Season 6 Casting: Five New McKinley High Students!
Glee Season 6: Producers Confirm 13 Episode Final Season
Glee Season 6 Spoilers: Naya Rivera Returns as Recurring Guest Star
Glee Season 6 Spoilers: Jane Lynch Spills on the Return to Ohio
Sigh. Still not thrilled with the gang being back in Ohio. Hopefully the 5 newbies set for the final season add a little spice to the final season, rather than merely serving as 2.0 versions of the originals.
Via EOnline