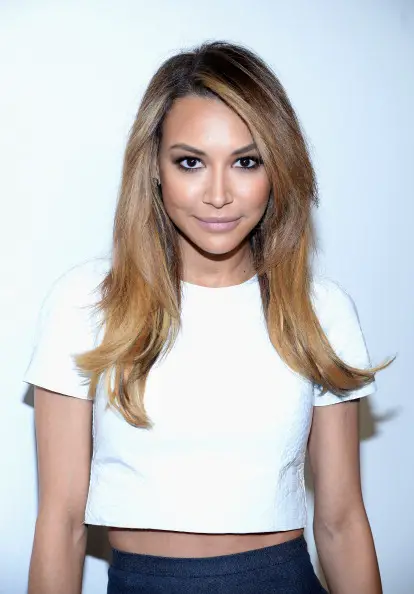 TV Line is reporting that Naya Rivera will return to Glee in the role of Santana Lopez. BUT NOT as a series regular. Reportedly, she will be billed as a recurring guest star, a change in status that SHE requested and the producers honored.
Previously, we reported that Naya had decided not to return to Glee for season 6–at least not as a series regular. This was before the actress had a falling out with Glee producers and was written out of the season 5 finale.  I heard that an argument with producer Brad Falchuk prompted him to ban her from the set.
It appears that all parties have kissed and made up.  Naya's character, Santana, played a strong role in the New York City storyline in seasons 4 and 5. She was the comic foil, and the sarcastic yin to her rommates, Rachel (Lea Michele) and Kurt (Chris Colfer), earnest yang.  She's an original cast member, part of the gang since the pilot.  Even if its on a limited basis, the final season of Glee would not be the same without her.
The TV Line report has not been confirmed by either Naya's rep or a Glee spokesperson.
UPDATE: Also, look for one of the Glee newbies to make a return. I hear that Alex Newell will reprise the role of transgender singer, Unique, as a recurring cast member. NOPE. Scratch that.  None of the newbies have been asked to return. There was talk of Alex returning. He was even tested with a new love interest. But all that has changed. Expect Naya and Amber Riley (Mercedes) to be back for 3-4 episodes each. ETA: Jenna Ushkowitz is not returning as a regular, but she will also return for 3-4 episodes!
Chord Overstreet, Kevin McHale, Chris Colfer, Lea Michele, Darren Criss–are returning a series regular cast members.
Glee co-creator, Ryan Murphy, has teased that Glee will end where it began–in Lima Ohio.   Sources tell me that Rachel will return to Ohio to reinvigorate New Directions. The club will once again face off against Vocal Adrenaline. I heard that Mr. Schue (Matthew Morrison) would be in charge.  But in a recent interview, Jane Lynch, who plays evil coach Sue Sylvester, teased that we'd be surprised to learn which characters will be heading both VA and The Warblers.  There's lots of fan speculation around which characters will lead the groups.  Former Warbler, Blaine (Darren Criss) inspiring and advising the boys at his old school perhaps?
Is Naya Rivera Leaving Glee? The Evidence Says Yes
Naya Rivera "Raged" to Glee Bosses – Lea Michele is Out of Control
Glee Season 5: Naya Rivera has Been Written Out of The Finale
Glee Season 6 Spoilers: Jane Lynch Spills on the Return to Ohio
Speaking of limited. What I'm hearing now from sources is that Season 6,  will be 14 episodes total. Filming will not begin until September 3.  Production was originally scheduled to start in mid-August, but the writers requested more time.  Glee's abbreviated final season is set to premiere midseason on FOX.
Via TV Line