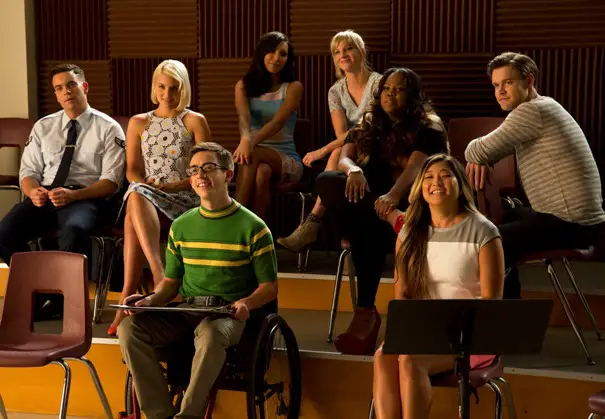 Glee Season 6 Songs – Premiere
The Glee Season 6 premiere is ALMOST HERE! Two episodes will air back-to-back beginning at 8/7c PM Friday January 9 on FOX.
Ahead of the big day, we have ALL THE SONGS right here from BOTH EPISODES!
First up is Episode 1, "Loser Like Me". We learn that Rachel (Lea Michele) is back in Lima after her television show, That's So Rachel is cancelled after one episode. Blaine (Darren Criss) is also back in Lima, after a painful breakup with his fiance, and Kurt (Chris Colfer) sends him into a spiral. Kurt realizes he still loves Blaine and heads back home to get him back. Through a series of events. (Click to read the "Loser Like Me" spoilers if you really want to know!) Kurt and Rachel end up coaching New Directions, while Blaine heads his his old club, The Dalton Warblers. Will Schuester (Matthew Morrison) takes a job coaching New Directions' old nemesis, Vocal Adrenaline. And, oh yeah. Blaine is now dating Dave Karofsky (Max Adler). But I digress!
Glee Season 6 – Songs from "Loser Like Me"
"Uninvited" by Alanis Morissette – sung by Rachel – After Rachel is kicked off the FOX lot after her show is cancelled, she sings this angsty version of "Uninvited" by Alanis Morissette. By the end of the song, she's back in Ohio, on the McKinley stage.
"Suddenly Seymour" from Little Shop of Horrors – sung by Rachel & Blaine – Rachel and Blaine meet at the Lima Bean and share their troubles. They comfort each other with this song.
"Sing" by Ed Sheeran – sung by Blaine & the Warblers – Rachel visits Blaine to watch rehearsal and offer advice. The Warblers perform "Sing," but halfway through, Blaine can't resist joining in. (Click to watch a video of the performance)
"Dance the Night Away" by Van Halen – sung by Vocal Adrenaline – Vocal Adrenaline rehearse for Mr. Shue before Rachel drops by to have a heart to heart.
"Let it Go" from Frozen – sung by Rachel – The episode closes with Rachel, singing her heart out on the McKinley stage. Reinvigorating New Directions has given her a new purpose in life.
Glee Season 6 – Songs from "Homecoming"
The second hour is titled "Homecoming" and means exactly that. Now that Rachel and Kurt have taken on the challenge of bringing back the Glee, they need some help!  During Homecoming week, Mercedes (Amber Riley), Santana (Naya Rivera), Brittany (Heather Morris), Puck (Mark Salling), Quinn (Dianna Agron), Artie (Kevin McHale) and Tina (Jena Ushkowitz) return to help recruit new members. Sam (Chord Overstreet) is now an assistant football coach at McKinley. Click for "Homecoming" Spoilers!
Also, we meet the McKinley high newbies in a significant way!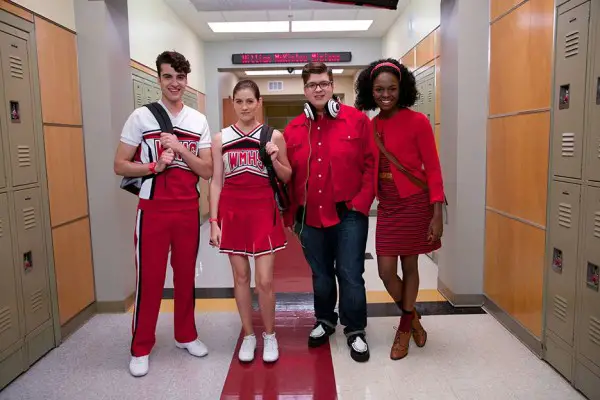 l-r – The Cheerio twins: Mason (Billy Lewis, Jr.) Madison (Laura Dreyfus) Roderick (Noah Guthrie) and Jane (Samantha Ware)
Madison and Mason are so upbeat, it's a little creepy! Roderick is the shy loner with the big voice (Click for more on Noah Guthrie). Jane wants to be a Warbler, but ends up at McKinley.  Plus, there's the out and proud football player, Spencer, played by Marshall Williams.
"Take on Me" by Aha – Sung by Rachel, Kurt, Sam, Brittany, Santana, Artie, Tina, Mercedes, Puck, Quinn – The kids, once again, take over the McKinley cafeteria to prove how rad Glee is. Sue Sylvester, however, is in hot pursuit! The performance is an homage to the song's innovative 80's music video. You've got day glo clothes AND rotoscoping! (Click to Watch a Video of the Performance)
"Tightrope" by Janelle Monae – Sung by Jane and the Dalton Warblers – Meet newbie, Jane, played by Samantha Ware. She wants to be the first female Warbler. She auditions with this incredible rendition of Janelle Monae's "Tightrope."  Blaine is ready to fight for her inclusion, but the guys in the group push back so hard, that Jane decides to defect to New Directions. (Blaine had enlisted Rachel to help out with Jane's audition. Rachel helps Jane pick a song and improve her stage presence).
"Problem" by Ariana Grande feat Iggy Azalea – Sung by Quinn, Santana, Brittany and Artie –  The Unholy Trinity, with the help of Artie, are out to recruit Cheerios for the Glee club. Kitty (Becca Tobin) the new head cheerleader, is NOT impressed. However, the twins, Madison and Mason watch with interest…
"Mustang Sally" by Wilson Pickett – Sung by Roderick backed by Quinn, Santana and Brittany – Rachel and the others hear an amazing voice and follow it to the library, where the headphone-clad Roderick is singing to himself. (The kids check the showers first, of course.).  They convince the shy boy to audition, and he's AMAZING.
"Home" by Edward Sharpe – Sung by Rachel, Kurt, Brittany, Santana, Artie, Tina, Mercedes, Puck, Quinn, Mason, Madison, Spencer, Jane, Roderick. – The episode ends with the gang at the Homecoming pep rally where they sing "Home." the middle versus cut to Madison and Mason auditioning with the song for Glee. Yep. That's Chris Colfer singing in his lower register on the first verse.
Read More:
Glee Season 6 – Watch The Glee Grads pay Homage to "Take On Me" by A-Ha (VIDEO)
 Glee Season 6 Preview – Blaine & The Warblers perform "Sing" (VIDEO)
 Glee Season 6 Preview: Lea Michele & Darren Criss Duet! (VIDEO)
 Glee Season 6 – Lea Michele Sings "Let It Go" (AUDIO)