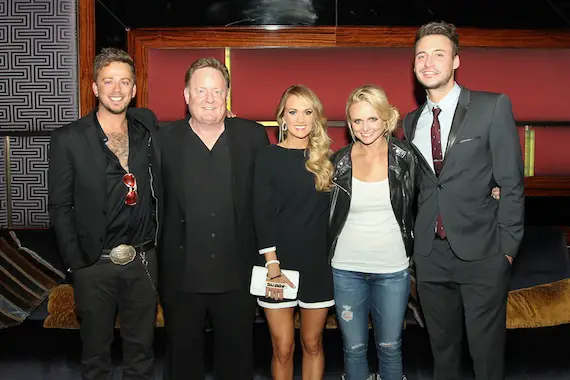 There was some major news out of Nashville Tuesday with the announcement that Gary Overton, chairman & CEO of Sony Nashville since May 2010, would step down effective March 31, 2015, just short of 5 years into the job. The short press release spawned more questions than it answered, with a lot of conversation about whether Overton's recent run of controversial press had anything to do with the end of his time at Sony Nashville and some about what this means for Sony Nashville acts. Let's explore those topics here.
Joe Galante, Gary Overton's Predecessor
Overton had big shoes to fill when he took on the chairman/CEO role as his predecessor Joe Galante, head of RCA Nashville from 1982 through 1990 (when he became president of RCA Records, during which time he signed Dave Matthews Band), and head of RCA Label Group (the Nashville branch of BMG, now known as Sony Nashville) since the mid-1990s, was considered one of the most powerful men on Music Row. Galante had overseen flush times for what's now known as Sony Nashville via the superstar successes of Carrie Underwood, Kenny Chesney, Brad Paisley, Martina McBride, Brooks & Dunn, Sara Evans, and the breakouts of Gretchen Wilson and now-superstar Miranda Lambert.
At the time of Galante's surprise departure from Sony Nashville, there were signs of an industry in transition. Kenny Chesney and Brad Paisley's careers had fully matured, and while Carrie Underwood's overall career was getting bigger and she remained a top tier seller in the genre, her album sales were unlikely to hit the 7+ million sales peak of Some Hearts again. The country industry seemed ready for a new generation of superstars (and award winners). But as this Tennessean article pointed out, Galante hadn't broken a superstar-level act without "pre-recording career TV fame" since Chesney and Paisley. In fact, Big Machine and Capitol Nashville seemed to have the most momentum on the backs of breakthroughs by Taylor Swift and Lady Antebellum, respectively. Meanwhile, the country market's continued embrace of digital sales in 2009 had helped the country genre see a relatively soft sales decline of 3.2%, compared to a 12.7% decline across all genres according to Nielsen Soundscan. But more declines seemed inevitable.
In retrospect, it seems likely that Galante was getting out in anticipation of the shift in the market, in time to allow somebody else to take a crack at guiding Sony Nashville through the coming transitions and breaking new superstars. Galante recently said as much:
"I'd been there at the top for a long time and done really well," he says. "I could have stayed a few more years. The company wanted me to stay a few more years, but I felt it was time for other people to have a shot. I didn't want to overstay the welcome."
Gary Overton's Tenure At Sony Nashville: The Headlines
So in came Gary Overton, a well-qualified individual with 15 years as Executive VP and General Manager of EMI Music Publishing in Nashville under his belt, as well as experience as Alan Jackson's manager, time as Director, A&R for former Sony imprint BNA Records, and as VP of Warner/Chappell Music's Nashville branch, according to The Tennessean. The beginning of his tenure coincided with the peak of Miranda Lambert's career-defining modern classic "The House That Built Me" (a Tom Douglas/Allen Shamblin co-write) which catapulted her into a CMA/ACM award juggernaut (a status that she retains today) and won Miranda her 1st Grammy.
Overton's 1st year at Sony also coincided with the shock snub of Carrie Underwood in the 2010 CMA Entertainer Of The Year category (which Music Row media had tipped her to win) and the following year's ACM Entertainer Of The Year category (snubs that continue to this day). The former, which saw Brad Paisley up against 4 opening acts, was likely a bid to get Paisley his 1st (and to date only) CMA Entertainer win. The latter was also chalked up by Music Row reporter Jimmy Carter (not the former US president) to a label decision at Sony to boost other acts who "needed" the promotional support more. Indeed, the best-selling Sony Nashville album released during Overton's tenure was Carrie's 4th studio album Blown Away (which has sold over 1.7 million copies since its May 2012 release), and Carrie has picked up 2 more Grammy Awards and 6 more airplay #1 hits in that time, in addition to 2 additional #1s on the new methodology-driven Billboard Hot Country Songs chart that since an October 2012 shift has incorporated sales, streams, and airplay on all formats instead of just country airplay.
The Overton years also saw Kellie Pickler parting ways with Sony Nashville 6 months after releasing the critically acclaimed 100 Proof album. Kellie acknowledged the possibility that the album could spell the end of her time with Sony Nashville in this Tennessean interview, though the article got other indications from Overton:
Overton assures that while he's head of the label group, Pickler's fate is safe. But with two albums under her belt and the third set for release, Pickler has been unable to consistently produce radio hits. Unless Sony decides to exercise a clause in her contract that allows her to make a fourth album for the label, Pickler's record deal is fulfilled.
Kellie would later have a few choice words about her experience making the album in this Entertainment Weekly interview:
Well, it wasn't promoted. When my album came out, I didn't even have a song out on the radio. Nobody does that. [The label was] spread thin. When I was making my record, the CEO left. He retired. They brought in Gary [Overton]. My A&R left. They brought in somebody else. I went through four heads of promotion when my record was coming out. The only consistency was inconsistency.
Recording this album, to be honest – and I don't mind saying this – the process was hell. We couldn't agree on songs. The thing is, my life is a country song. I don't need to be manufactured, and I don't need anyone to tell me what to say or what to sing.
The Kellie Pickler contract situation would not be the only time that Overton reversed his position within just a few months. Last July, HDD published an interview with Overton in which he discussed the much-derided "bro country" movement that has taken over country radio for a few years:
When it hits its point of saturation, listeners are going to start reacting, and radio's going to look at Mscores and say "Whoa! This music is starting to fade on us." But that's nowhere in the foreseeable future.
But under 3 months later, while promoting Kenny Chesney's current album to The Tennessean, Overton would say:
"'American Kids' is an amazing song. By far, it's the biggest-selling single that he's ever had. Again, it has nothing to do with bro-country. The music mix will move towards the middle again. You can't overload any style of music or anything else in life. There's a saturation point."
More famously, Overton sparked major discussion when, in a Tennessean interview published on February 25, 2015 in the leadup to the annual Country Radio Seminar (a big industry powwow where labels court country radio), he declared:
You can ask people in the building, and I can be quoted several times a day, "If you're not on country radio, you don't exist." Again I can't think of one star, much less superstar in country music, who wasn't broken by country radio. It's just a fact. That's where the active audience is. That's where they go to listen to it. People talk about, "It's a media act. It's a groundswell. We're going to build it virally." That's all nice, but I defy you to tell me one act that made it big without country radio. And they're great partners.
This happened just as the Billboard Country Albums chart was topped successively by Blackberry Smoke and Texas country act Aaron Watson, neither of whom is on the mainstream country radio of which Overton had spoken. Overton's comments sparked a great deal of discussion and backlash in the Texas country and Americana communities, many of whose fans and artists took the opportunity to renew harsh criticism of Music Row's premium on commercial appeal over quality considerations and connection to genre roots. Singer/songwriter Charlie Robison was especially pointed.
Meanwhile, Scott Borchetta presented a more nuanced version of Overton's point, which was that mainstream country success these days is built on mainstream country radio exposure. Overton probably didn't intend to dismiss the importance of artists not on country radio. But it's still myopic that a major label head (really, 2) would make such strong statements of voluntary captivity to a system that costs $2-$3 million to break a new act in the hopes that said act would eventually score a few gold singles (maybe a platinum single) and 75k-350k debut albums sold (500k+ in the absolute best case scenario) plus, if everything really fell into place, staying power.
When news of the end of Overton's time at Sony Nashville broke, Charlie Robison had this to say:
And we all lived happily ever after.

— Charlie Robison (@CharlieRobison) March 17, 2015
Sony Nashville's Numbers Under Gary Overton
Overton's focus on radio did yield a pretty consistent track record for Sony labels through his tenure, even if the label group couldn't regain its top position among Nashville music groups thanks to the UMG Nashville-Capitol Nashville merger under the UMG Nashville umbrella. Sony labels finished the 2010 Billboard year as the #2, #8, #11, and #12 labels by airplay, the 2011 Billboard year as the #2, #3, and #13 labels by airplay, the 2012 Billboard year as the #2, #8, and #10 labels by airplay, the 2013 Billboard year as the #4, #6, and #11 labels by airplay, and the 2014 Billboard year with Sony labels at #4, #6, and #12. During Overton's tenure, Sony Nashville picked up 38.5 Billboard &/or Mediabase airplay #1 hits (awarding half credit for the Keith Urban/Miranda Lambert duet "We Were Us," which also received promotion from RCA Nashville) – 6 in 2010 after Overton took over as Sony Nashville chief, 10 in 2011, 8 in 2012, 7.5 in 2013 (see previous parenthetical note), 5 in 2014, and 2 so far in 2015.
On the sales front, Sony Nashville landed 5 albums in 2010's Billboard Year End Top Country Albums t20 (2 in the t10), 2 albums in 2011's Billboard Year End Top Country Albums t20 (1 in the t10), 3 albums in 2012's Billboard Year End Top Country Albums t20 (1 in the t10), 2 albums in 2013's Billboard Year End Top Country Albums t20 (1 in the t10), and 3 albums in 2014's Billboard Year End Top Country Albums t20 (1 in the t10). This was a steady performance from Sony Nashville starting from 2011, but increasingly weak compared to that of pre-merger Capitol Nashville, pre- and post-merger UMG Nashville, and Big Machine Label Group.
From 2010, Sony Nashville landed 3 acts among the 5 Top New Artists on Billboard Year End Country charts (1 in 2010, 1 in 2013, and 1 in 2014). In that timeframe, UMG Nashville landed 7 acts among the 5 Top New Artists and Warner Nashville had 5. Big Machine Label Group had 6 in the same timeframe. Speaking of new artists, Sony Nashville hasn't seen a nominee in the CMA New Artist Of The Year category since 2012 (Love & Theft), and hasn't had a CMA New Artist winner since 2006 (Carrie Underwood). In that time, UMG Nashville has seen multiple nominees and 1 winner, Warner Nashville has had multiple nominees and 2 winners, and Big Machine Label Group has seen multiple nominees and 1 winner.
Therein lies the likely primary reason for Overton's departure from Sony Nashville. Remember that Sony hadn't broken a superstar-level new act since Carrie Underwood when Gary Overton took over the reins at the label. Overton was tasked with addressing that. Miranda Lambert has ascended to superstar status under Overton's watch, though with an album that she had created while Joe Galante was still a label head, and her continued success has been built largely on the back of quality music, the power couple status that comes with her marriage to Blake Shelton, the strong career foundation she had laid with manager Marion Kraft, and affiliations with increasingly strong country industry players at William Morris Endeavor and Live Nation that have boosted her CMA/ACM awards tally and her overall market presence.
Sony Nashville seemed to score a big get last summer when it signed megastar Garth Brooks for his comeback, but massive tour ticket sales aside, his new music impact has been muted. RCA Nashville has handled radio promotion for Garth's current album, and the 2 singles from the album have both peaked outside of the t15 (lead single "People Loving People" eked out a t20 airplay peak at #19 Billboard, follow up "Mom" peaked at #32 Billboard). To be fair, Garth's refusal to make his music available at the major digital retailers combined with the stop & start-hampered soft launch of his own GhostTunes may have handicapped RCA Nashville's promo staff, as did the tepid response from programmers to the tunes. But this probably didn't help Overton's weakening cause.
Sony Nashville's retail success has rested largely on established acts, without many signs of momentum among its middle tier and baby acts and only Miranda added to the top tier of the label group's current sellers. Jake Owen and Chris Young both went from gold-selling albums to current albums that are crawling to the 250k sales mark, and though both are mid-level headliners, neither is any closer to challenging the country's top male acts than he was a few years ago. Jerrod Niemann has gone from a well-reviewed debut album with a gold and platinum hit (the latter was released just before Galante announced his Sony Nashville departure) to a complete stiff though well-reviewed sophomore album that sold just over 30k copies total, followed by an album that was a poorly-selling surrender to bro country trends. The latter's run came to an abrupt halt after a pop remix of the lead single with Pitbull went nowhere and its 2nd single (the horrendous "Donkey") stiffed outside the country t40.
As far as new acts, as noted in the tables here, Sony Nashville has fared no better than other major labels in breaking new females, and has fared worse than the other majors in breaking new solo males. Sony Nashville hasn't broken a new group or duo during that time frame, though it did recently win a bidding war to sign Old Dominion, whose Sirius XM Highway exposure has translated to downloads to a degree that bodes well for their success.
So while there was considerable negative buzz over Overton's recent comments about existence and country radio, and some negative attention from ex-Sony Nashville duo Love & Theft's recent interviews with Rolling Stone and Billboard, the writing has been on the wall regarding Overton's place at Sony Nashville has been on the wall for some time. For example, Overton was barely acknowledged at last July's press conference announcing Garth Brooks's signing to Sony Entertainment/RCA Nashville, whose presentation made clear that it was Sony Music Entertainment chief Doug Morris who was responsible for Brooks's signing. Billboard also reported "rumors of Overton's departure have been circulating around Music Row for many months."
What's Next?
So now that rumor is reality, what does this mean for Sony Nashville? Look for turnover on the personnel side, both in terms of label executives and in terms of the roster. It's the nature of new leadership that a new label head would want to bring in personnel beholden to him or her, who is more likely to share his/her vision for how to move forward. Galante's Executive Vice President Butch Waugh preceded Galante in retirement by about 5 months. When Gary Overton took over the reins at Sony Nashville, Joe Galante stalwarts like Skip Bishop (Galante's SVP for national promotion) and Renee Bell (Galante's Executive VP of A&R) followed him out the door within 19 months. Since then, Sony has seen 2 A&R heads (Lisa Ramsey-Perkins and current head Jim Catino) and restructured so that there is no single executive overseeing the promotion teams of the 3 labels in the family.
There's also likely to be turnover in the roster, especially at the two ends of the tenure spectrum – acts nearing the ends of their deals may be less likely to renew with the same label if the people with whom they built the current phase of their careers leave the label and/or if they don't expect to get the attention under new leadership that they would want. We saw this in 2011 when Alan Jackson and Martina McBride departed from Sony Nashville after 22 and nearly 20 years within the label family, respectively. Kenny Chesney and Brad Paisley now have the longest runs with Sony Nashville, and Kenny extended his deal in 2012. Brad, on the other hand, has an ongoing royalties lawsuit against Sony that mirrors the one 19 Entertainment filed last year against the label, though that hasn't affected the release or promotion of his new music (in fact, he and Gary Overton were bantering and playing practical jokes on each other when Brad decided to "leak" his own album last August).
Meanwhile less established acts who were signed by the departing leadership may be left without a strong advocate at the label depending on who leaves and what the new leadership's strategy is. In the aftermath of Galante's departure from Sony Nashville and Overton's taking over at the steering wheel, Adam Brand, Jypsi, Chris Janson, the Lost Trailers, Chuck Wicks, and Danny Gokey exited Sony Nashville within 2 years. Wicks is the only 1 in this group who had scored a t20 hit, and parted ways with Sony after 2 consecutive single releases missed the t40. Craig Morgan, who spent about 3 years with Sony Nashville after 5 with indie Broken Bow, also parted ways with Sony Nashville after a single meant to lead a new album with them didn't crack the t35.
Focusing on blog-relevant acts, that's the position that Season 9 Idol finalist Casey James and Season 4 Voice finalists The Swon Brothers find themselves in now. CaseyJ was Gary Overton's 1st announced signing as Sony Nashville chairman, and went to score 2 t20 hits on his self-titled debut album (1 of them Mediabase-only with a #21 Billboard peak), whose last known sales were still under 100k. CaseyJ's new single "Fall Apart," intended as a lead single for his sophomore album, is set to go for adds on 3/30, the day before Overton officially steps down, but the continuity in radio promotion teams for now should mean a minimal impact from the leadership change for now.
The Swon Brothers signed with Arista Nashville in November 2013, and their lead single "Later On" set what was then a record for the most one-week adds for a debut single in March 2014. "Later On" went on to a t15 peak in October 2014, which led to a mid-October 2014 album release of their self-titled debut album, which had sold 32k copies through early February 2015. They are a CMA and ACM-nominated duo (in the thin Duo Of The Year category), and their 2nd single "Pray For You" has been treading water in the mid-40s for weeks (it is #44 on the Billboard Country Airplay chart in its 20th week). Because both CaseyJ and the Swon Brothers have been relatively weak sellers to this point, further label development will depend on the new leadership's belief in their current material and the new leadership's belief that fresh A&R can take them to another career level. Both acts will likely get 1-2 more singles to make more of a mark at country radio.
Meanwhile, Carrie Underwood is an established superstar and Sony Nashville's top seller. Promotion for her current single, "Little Toy Guns," the 2nd from her current Greatest Hits Decade #1 album, is unlikely to be affected. She has stated her plan to release a new album of original material late this year, and blogged recently at her fan club about how she and newborn Isaiah were listening to demos during nightly feedings and that she hoped to get back into songwriting soon. If that plan holds, then Carrie's is likely to be the new Sony Nashville leadership's 1st superstar release, and there will be a little something extra riding on the success of that release for the new leadership. Combine that with a changing marketplace, a new global release day for albums, jockeying between Apple/Beats and Spotify for windowed exclusives, and a rise in artist-brand partnerships, and the rollout of Carrie's next album probably just got more interesting. It is probably for the best that Carrie and the new leadership will have had a few months to put their heads together and get on the same page with respect to the new music and everybody's plans and priorities.
This fall, Sony Nashville will also release the first Garth Brooks-Trisha Yearwood duets album, a Christmas album that won't depend on radio promotion and seems like a surefire seller. Kelly Clarkson is promising a full-on country album that she has been recording while still under contract to RCA Records, so unless she somehow owns or buys back those masters, odds are that will be a Sony Nashville release as well, but here too, there will be time for Kelly's team to get on the same page as new Sony Nashville personnel.
Who's Next?
Then comes the question of who may succeed Overton as head of Sony Nashville. Billboard reports that Sandbox Entertainment founder Jason Owen had been approached about and turned down the job. Owen's Sandbox Entertainment represents megastar Shania Twain, reigning CMA Vocal Group Of The Year Little Big Town, the most critically acclaimed new mainstream country act of the past few years Kacey Musgraves, and rookie duo Dan+Shay, and is part of the Scooter Braun management consortium that was described in this GQ UK article as an attempt to shift "the balance of power away from record companies towards management companies."
A different conception of the industry's future may explain why Owen may not have been interested in the Sony Nashville gig. Still, the fact that Sony brass considered him may give some clues as to what they are looking for in Sony Nashville's next captain. It's noteworthy that Owen's 3 biggest clients have succeeded without being country radio staples. In fact, Owen told HDD in an interview published last July:
My attitude: We do give you the opportunity, then we help you make the most of it. I am a big believer that you can launch careers off television: there will be one or two performances on an awards show everyone's talking about the next day; those will be mine.
It's not a coincidence that Little Big Town's performances at the CMA, ACM, and CMT Awards of late have featured memorable production (and in the case of the most recent CMA Awards, a collaboration with Ariana Grande). Owen also seems to favor a less trend-following approach to hit-making. From the same interview:
Or Little Big Town. Everybody loved them, but changing producers to Jay Joyce was a huge step. Then asking the creative community, 'What do you love about them?' and trying to bring the songs in line with that, versus just 'This is a hit," which is how some people think.
…
"Everyone says, 'How do you feel not having big radio success with Kacey?' And I feel like we have. A #1? No, but there's been incredible support. 'Follow Your Arrow' might not have been everyone's cup of tea, but the passion was there—even some people who didn't play it let us know they believed in her. What more could you want?"
We see that philosophy in play now with Little Big Town's current single "Girl Crush," an industry favorite that is already t5 at Itunes Country despite not having cracked the t30 at country radio.
Given the way Music Row continues to revolve around country radio, it's not likely that the next Sony Nashville head would be able to challenge country radio with every roster act and every single, but it would make sense for Sony Nashville to look for a new leader who might push the envelope more than his/her predecessor has. The consideration of Jason Owen may also point to the value Sony brass places on crossover ties – Owen's ties to Scooter Braun facilitated the aforementioned Little Big Town/Ariana Granda collaborative performance, and Kacey Musgraves has toured with pop megastar (and fan) Katy Perry.
With that in mind, here are some thoughts on people who might come under consideration to become the next head of Sony Nashville. Please note: this is completely speculative and in a vacuum where contracts & non-compete clauses are non-issues.
John Marks, Senior Director, Country Music Programming, Sirius XM A former program director at San Diego's KSON, John Marks has, since 2010, transformed himself into a much-buzzed about tastemaker/act-breaker in the country world, and he has turned Sirius XM The Highway into an incubator for Nashville's biggest labels. Credited with the early exposure that led to early download sales and record deals for Florida Georgia Line, Cole Swindell, and Chase Rice, Marks has also overseen the SXM The Highway exposure that has translated into major label contracts for the aforementioned Old Dominion, Logan Mize, Clare Dunn, and Brooke Eden. He has received press attention from Billboard, NPR, the Wall Street Journal, and Rolling Stone among many others. Last August, USA Today covered his "Fresh Female Voices" initiative, which was a short-term attempt by SXM The Highway to use the same sales data, social media metrics, and streaming data he used to spot breakout acts like Florida Georgia Line and Cole Swindell to discover the next country female hit. Unfortunately, he concluded:
As many female artists and types, styles and varieties as we've tried on The Highway, the reception has been almost unanimous that people either had no opinion or didn't like it.
A testament to the pitfalls of expecting a narrow bro country-conditioned audience, especially one accustomed male-dominated rock radio, to support females, so Marks may not be the right person to attack country radio's gender imbalance. On the other hand, if he looks outside of radio, he may find numbers that support the development of country females anyway.
Beth Mason Laird, Co-Founder & General Manager, Creative Nation Beth Mason Laird co-founded Creative Nation, a new-model music management, publishing and record company, with her hitmaker husband Luke Laird in 2012, and the company now also counts hitmakers Barry Dean and Natalie Hemby as well as rising singer/songwriters Native Run, Maggie Chapman (who released an album on the Creative Nation imprint) and Steve Moakler on its roster. Prior to launching Creative Nation, she was Director of Writer/Publisher Relations at BMI, during which time she launched several initiatives, including one that facilitated the placement of "Out Of Summertime" with Season 10 Idol champ Scotty McCreery. Laird has placed songs and arranged professional songwriter collaborations with Sony's highest profile acts, so there would be a familiarity and comfort level there. Too, since country music still revolves around the song (at least in theory), her background in publishing and connections would be of value from an A&R standpoint. Not only that, if Sony is looking for somebody with collaborative ties to the pop world, Creative Nation has a partnership in place with pop hitmaking team at Pulse Recordings since 2012. While her youth may not play in her favor in the eyes of Sony brass and the odds that she would leave behind her still-young and growing venture at Creative Nation are probably low, Laird's moves over the past few years show a willingness to think outside traditionally prescribed roles and boundaries within the industry.
John Grady, President, I.R.S. Nashville and Artist Manager, Crush Music John Grady was the president of Sony Nashville from May 2003 through April 2006, when he was the odd man out after the Sony-BMG merger that saw Joe Galante assume the chairmanship of Sony-BMG's Nashville labels. During that time, he signed Miranda Lambert from out of Nashville Star, Gretchen Wilson, and Ashley Monroe, and he continues to represent Ashley Monroe as her manager. Previous to that, he spent 10 years as Senior VP of sales, marketing, and promotion for Mercury Nashville and Lost Highway, where he oversaw the blockbuster sales run of the O Brother, Where Art Thou film soundtrack. In this HDD interview he asserted the importance of building a committed audience outside of radio rather than depending exclusively on radio and letting the "best record" win, much like Jason Owen. He is currently promoting the debut Striking Matches album out next week – the duo has landed several songs on ABC's Nashville, and their 1st single to country radio is a song performed by Hayden Panettiere on the show, "Hanging On A Lie" (I.R.S. is also working a different single, "Missing You Tonight," to the AAA format). I.R.S. Nashville hired a Vice President for Promotion last December for radio purposes, and just announced the addition of former Clark Brothers/Sons Of Sylvia member and former Carrie Underwood fiddler Ashley Clark to its roster. A return to Sony Nashville would be a full-circle moment for Grady, though with things just getting started for Grady at I.R.S. Nashville and Ashley Monroe just having launched a new album, it's not likely John Grady could be lured away from current projects even if Sony were interested.
Skip Bishop, founder, HitShop Records Skip Bishop was SVP Promotion during Joe Galante's days as chairman/CEO of Sony, and launched independent label HitShop Records in early 2013. The label's highest profile release was probably "Quarterback" by 2013 Canadian Country Music Association Female Vocalist Of The Year Kira Isabella, a devastating tune about a Steubenville-like date rape that did not chart in the US despite peaking at #10 on the Canadian country charts as a Sony Music Canada single. "Quarterback," cowritten by Bobby Hamrick, Marti Dodson, and Rivers Rutherford was the #2 ranked country single on the Village Voice's Pazz& Jop Critics Poll and Spin's #1 country song of the year. A difficult and expensive radio promotion environment led to HitShop shuttering its radio promotions department to "refocus its energies in artist development in areas including major radio platforms such as satellite, streaming, syndication, social entities and executive level radio strategies." HitShop is another very young project, and one without a great deal of momentum at this time. That works for and against the inclusion of Skip Bishop as a possibility here.
In a similar vein, a look at former UMG Nashville staffers pushed out by the UMG-Capitol merger yields names like Ken Robold, former ACM Chairman Of The Board and former EVP and General Manager of UMG Nashville, who had a short stint as President of Southern Ground Records that ended in 2013. He would bring experience, and like former UMG Nashville chairman Luke Lewis would be familiar to Sony Music Entertainment chairman Doug Morris from Morris's time as chairman/CEO of Universal Music Group.
The often revolving door of music label executives also points to the possibility of Sony poaching rising talent from other growing labels with the promise of more power/responsibilities. The momentum in Music Row has been with UMG Nashville and Big Machine Label Group over the past few years, so they would be natural places to look for candidates. UMG Nashville's current leadership team has really only been in place for a couple of years, which doesn't seem like enough time to make an individual mark and get restless.
On the other hand, Kelly Rich, Senior VP of sales, marketing and interactive at Big Machine Label Group, has been with the label since 2006 after a stint as Vice President of Sales for UMG Nashville and work in the Sales department of BMG/Arista as well. This press release from 2012 announcing her promotion credits her with "an integral part of BMLG's success at retail and in enhancing the online presence of the label's ventures through innovative technologies and partnerships" and "working with key physical and online retailers to earn artists a major marketing presence through multiple media platforms." To the extent that Sony Music Entertainment is looking for somebody with the expertise to shepherd the label through an environment where marketing lags behind technology, she seems well qualified.
Meanwhile, Big Machine COO Andrew Kautz has been with the company since its 2005 inception, and this press release announcing his 2013 promotion credited his work in negotating performance royalty rights agreements with radio conglomerates Clear Channel and Entercom. Sony has not followed suit, but to the extent that music labels are thinking about additional revenue streams when their consumer-based revenue streams are on the decline, Kautz's experience may be an asset. With Big Machine Label Group rumored to be on the market, it wouldn't be a big surprise if personnel changes took place. Big Machine EVP and Republic Nashville president Jimmy Harnen, who has overseen crossover bids by The Band Perry and Florida Georgia Line, has an On The Verge-boosted act in A Thousand Horses rising in the t15 right now and new music from Season 3 Voice champ Cassadee Pope in the works might be another candidate, but he has been tweeting away about his current roster's successes lately.
Another potential target for Sony could be Broken Bow Music Group Executive Vice President Jon Loba, who helped sign Jason Aldean to the label in 2004, then left for a 4 year stint at Big Machine before returning to Broken Bow. He currently oversees Broken Bow's family of labels (Broken Bow, Stoney Creek & Red Bow), which has expanded over the last few years, BBR Management, and Magic Mustang Publishing, and it's worth noting that Broken Bow does its distribution through Sony's RED (Sony also handles Jason Aldean's global releases). Despite being an independent label, Broken Bow has been able to leverage superstar Aldean's success into a roster that now boasts solid hitmakers in Randy Houser, Thompson Square, and Joe Nichols as well as rising On The Verge-boosted acts like Dustin Lynch, Chase Bryant, and Craig Campbell. Broken Bow has fared no better than the major labels in trying to break female talent through, though, with no t40 hits between Idol alum Kristy Lee Cook, Rachel Farley and Lindsey Ell. Nor has Broken Bow developed a reputation for critically-acclaimed or industry-acclaimed artists and music. Still, Loba was able to get through last year's pre-CRS Tennessean interview without sparking outrage, and his views on Spotify seem in line with the windowed exclusives approach that HDD reports Apple/Beats is lobbying artists to use for future releases.
Edited to add another interesting possibility after a recent conversation:
Carla Wallace, Co-Founder & General Manager, Big Yellow Dog Music, Wallace founded independent publishing company Big Yellow Dog Music in 1998, and its catalog includes 21 #1 country hits and many more high-profile country album cuts. Its current roster includes 4 time Grammy winner Josh Kear (who cowrote Carrie's "Before He Cheats" and "Blown Away" as well as Lady Antebellum's "Need You Now"), recent Arista Nashville signee Logan Mize, buzzy up & coming songwriters Abe Stoklasa and Maren Morris, hitmakers Shawn Camp and Adam Sanders, regular Nashville song contributor Kate York, pop breakout star Meghan Trainor and more. 2014 was a banner year for Big Yellow Dog Music, whose writers have made their presence known across mainstream country releases without relying exclusively (or even mostly) the bro country formula that has dominated country radio over the past few years. The Big Yellow Dog catalog points to Wallace's ability to successfully A&R mainstream country in the aftermath of bro country's peak and the ability to navigate the crossover space as well, and the fact that Wallace has been able to lead an independent publishing company to this point speaks well to her market acumen too.
Concluding Thoughts
With Gary Overton set to formally step down on 3/31, odds are Sony Music Entertainment already has his successor lined up, and their choice will reflect SME leadership's assessment of the changing country market and what Sony Nashville needs in order to re-assert itself in it. New personnel will likely bring at least some new priorities and new strategies to the label group when it comes to bottom-line considerations, the focus on country radio versus other promotion outlets, A&R, crossover appeal, and more. Roster artists will likely have to re-adjust over the next couple years as a result. In the short term, there's no reason to expect interruptions in radio promotion for current or newly launching singles and projects, but the impact of new leadership will likely start being felt by the end of 2015.
What do you see coming for Sony Nashville and its artists?