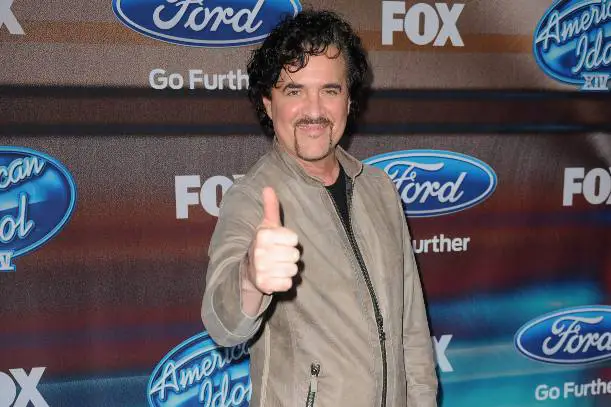 New American Idol mentor, Scott Borchetta, is set to sign the winner of American Idol to his Big Machine Label Group. In a phone interview with reporters this afternoon, he talked about his new role on American Idol and how he plans to shepherd the kids from beginning to the end of the Idol process. Also, Scott talks about how he and his team will continue to develop the winner's post competition career.
Read more: Scott Borchetta: American Idol Winner Will Not Be the Best Singer
Scott began working with the kids during Hollywood, but beginning with the Top 12 this week, we'll see some of his behind the scenes mentoring.
How did the American Idol producers convince Scott to sign on as mentor? "We'd been talking about it for a little while. In so many conversations over the last 3 or 4 years–when I'm talking to new artists who are looking to get a record deal, to figure out how to have a career–American Idol started showing up as one of the consistent talking points. 'I can bang it out in the clubs, I can do online, I can try out for American Idol…' I'm like Whoa. Back up to that! I think because you have a generation now that has grown up with American Idol, I had to look at it as I what I believe it to be. [It's] a great A&R and artist development opportunity, with Idol giving me the opportunity to work behind the scenes with the contestants and develop them one on one. We're going to have a huge audience every week. To do that in real time–it was a challenge that we wanted to take on."
What does Scott hope to accomplish as a mentor? "I look at this, again, the same way that we sign any artist. It's all about development. My goal is when that winner is announced on May 13, that on May 14, we are bringing a significant new recording artist into the market. All of these TV shows–when the show's over, the show's over. The career isn't over. Big Machine is going to continue to work diligently in the continued development of whoever wins."
On Quentin Alexander and Joey Cook being stylistic outliers. How are they fitting into Idol, and what has he suggested to them about following through on winning? "I love that you brought up those two, because one of the missions for, as well on the show, is for all of the kids out there that are watching and might not have been interested in the path. Maybe they were thinking they were too left of center to do well on a show like this. I think this season–you throw in Jax and a couple of others who are really bringing a lot of artistic vision to the show to begin with, and it's been great for me. I'm always looking for those extraordinary and different qualities that I can work with and help bring to the forefront. Because the reality is, the next superstar is on the edge of the mainstream. If you look at the most successful artists, you don't want more of what you already have. You want to add a color. You want to hear something different on the radio. You want to be able to have a platform like this to be able to break the next Lady Gaga. To be able to break the next Eric Church. To be able to break an edgier artist that's on the edge of the mainstream. That's what I love about Quentin and Joey and Jax and some of the others. They are individuals. And I'm very excited about them."
What is it specifically about American Idol that appealed to him and make him think it was the kind of platform that could launch successful artists? "We are attached and affiliated to Republic records out of New York, and so our Republic Nashville label has a first right of refusal for any of the country artists that come off of The Voice. In that situation, we don't have any communication with them until after the show is over. This is the complete opposite. I get the chance to work with the kids as soon as we get to Hollywood week, and really start to develop behind the scenes. For instance, Cassadee Pope, who is a great artist on our label–we didn't even know she wanted to make a country record until a day or two after she won. It was really starting from zero for us. If you look at the success of RaeLynn, who has a Top 5 single at iTunes today, that's three years in the making of development. Again, we didn't have any opportunity to work with them until they were off the show. We're trying to advance the curve here, work with them now, take advantage of all the attention and media, and get a head start. When done right, I believe this show does not anoint you a career, it anoints you a fantastic opportunity and I'm here to take every advantage of that opportunity."
What does he think of the statement from a Nashville label chief, "When you're not on country, you don't exist," – "It depends on which lane you want to be in. That is a very broad statement, and you could shoot holes in it all day long. You can look at an artist like Sturgill [Simpson] who has a fantastic career that he has built from the ground up. You can look at several different artists that are just a little bit to the left of center, that have built great careers. If you want to play in the mainstream country game, you're not going to win it if you're not winning it at mainstream country [radio]. I look at that as a very specific thing."
What is the industry missing that one of this year's American Idol contestants could fill? "I'm always looking for some of the things I feel are missing. Right now, if you look at pop radio, it's really been dominated by female artists. I think there's a huge opportunity for a couple of male pop artists. That's something that I'm looking out for. There are a couple of other things that I'm not going to mention, because they haven't been done yet, and I don't want to give away any secrets. But we're always looking for that lane that is open and to how to fill those spots. It gets back to really being unique and having an artistic vision and having something to say. I think we have contestants on the show this year that can do that."
There's been so much movement on stage this season. Is that something he has been focussing on with the contestants? "Definitely been involved in that conversation. It's not just me. I think with my own background and working with artists literally from zero to hero, understanding how to use the stage, and where to be, and what to do with the camera–we've really been super focused on making sure that every time you get on stage it is a performance. It doesn't have to be overdone, but understand that in the 90 seconds you get, the two minutes you get, you can move the needle. Understand that every note counts."
Is there anything Scott can tell us about tonight (March 12) that we can look forward to? "One of the things that we've been talking about this week with production is in this media world, we never talk about which songs we're going to be performing prior to the show. Something that we started yesterday is having the contestants tweet out to the artists or to a hashtag and say 'Hey, I'm doing this song tonight, if I get through.'" [It's] just to get that awareness and get that buzz out there. All of the contestants will be tweeting today about what song they're going to do tonight. I think that's a great way to build excitement for what's going to happen that night. We have our Top 12. Tonight we will have 11 perform and the last one standing goes home. There's no more results show. Every performance show counts, there's no fat in this, and it's game on."
What has surprised him the most about being mentor? "I really came into this with my eyes open and my mouth shut, just to learn the program, understand how the entire production works together. I've been so impressed with how this team takes care of each other–from the judges all the way down to every piece of this production. It's really incredible and it's really blown me away how much everybody cares about this show. Watching the judges interact–especially during Hollywood Week and the Green Mile–and seeing how much Jennifer [Lopez] and Keith [Urban] and Harry [Connick] take so much time and care in trying to make sure they do the best job possible. You never know that coming from the outside."
Can he tease any upcoming musical guests? "Watch my twitter today, because we're going to give away something tonight. We're going to make a really cool announcement tonight. That's all I can say."
How does he think going to one single combined results show is going to impact how well viewers get to know the contestants? "I think we've got to do a great job on sending everybody to Americanidol.com, because we have so much content, so much more than we could ever put on television. You can really learn a lot more about [the contestants] by just a couple of clicks. I think that's the message for our Idol fans and watchers, is to make sure you're going to AmericanIdol.com. There's so much cool stuff online, and that's just the way of the world now."
When somebody does win, what is going to be the most important element. Where does he see the real power to make a superstar after they've come off of American Idol? "If we get it right, it's everything. You've got to have the total package. You've got to have your artistic image–the impact is completely specific, clear–everybody knows what this is. And then it is a continued effort every day of all of the things we have to do. We have to have great music. If I don't come out with great music–we have this great season, ratings are good, the show got picked up, everything's rocking. [But] oh wow, the record sucks. We've got to make sure that the music is right, and I think the other elements will reveal themselves by the time that we get to May 13. Probably mission critical for me when we get that far, is to make sure that we have great music to back all of this up."
Any advice he would give to somebody who wants to try to get on Idol next year? "Pay attention. Because we're going to show you more than ever before on how to get a leg up and come into the auditions for next year–I hope to better prepare anybody, any young artist, better than ever, and any time before, to have a better understanding of what is most important coming into this. Also, for the parents as well-we're going to give you more information this year than ever before about how to do this."
How important is it for the American Idol winner's music to reach outside of America? "It's very important. [It's] one of the things I've talked to some of the team about in the past. You look at some of the bigger artists that have broken here–I think Kelly Clarkson has done a great job of really doing the work, putting the time into becoming a global artist. We look at some of the others that didn't take advantage of that. Something we did with Taylor [Swift] very early on–as soon as we saw that we were going to have a good foothold here, we got her off the continent to make sure that we could grow her fan base globally in real time. You never want to leave any territory out, because you never want any fan anywhere in the world to feel 'Oh well they don't care about me.' We care about every fan. It's going to be a very important piece of this. Anywhere we see interest, we're going to try to address it."
How would he advise contestants on how to use streaming services to help their careers after the competition? "The problem I have with Spotify and some of the free streaming services, is there a one size fits all concept. One size does not fit all. When you are a new and developing artist, free is fine. You need the promotional noise. You need the promotional push, but it's creating value. Once you've created value, you don't continue to give it away. Value is value. Music has value. There's a way to work with those streaming services to grow the concept and the psychology together. It's like: 'OK, this is new, I want to sample it, it now has value, I'm willing to pay for it.'"
How does he instinctively know who has that intangible star quality?. Is it an instant reaction for him, or is it a feeling that develops over time? "More often than not, the artist that we have at the Big Machine Label Group, it was…in the first 5 minutes. 'OMG I love this person. Lock the doors, don't let them leave.' I don't know what it is. I can't put my finger on it. I just feel that myself and my A&R team know it when we see it. It is that intangible. There's a charisma about it. It's like those handful of people have more juice than the rest of us. I wish I could give you a checklist. It's never the same way twice."
Has he had that moment with any of the Top 12. "Yes."