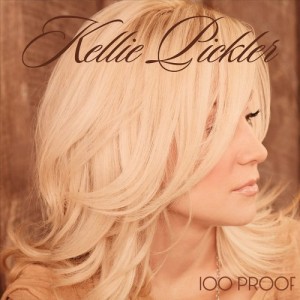 There's a sad rumor that Kellie Pickler has parted ways with her label since 2006, Sony Nashville.
UPDATE: ABC News Radio confirms:
Kellie Pickler has parted ways with Sony Music Nashville. Her manager Larry Fitzgerald said in a statement to ABC News Radio, "Kellie's contract with Sony came to an end and they mutually decided not to renew."
Country Music Tattle Tale, a country blog that's been keeping its ear to the ground in Nashville since 2008, reports:
A little birdy flew in my window this morning to tell me Kellie Pickler and her record label Sony/BNA have parted ways. There has been no official statement from Kellie or Sony as to the breakup but we will keep you updated as soon as we hear something.
Based on raw numbers alone, this wouldn't be a surprising outcome. Kellie released her critically acclaimed 3rd album, 100 Proof on January 20, 2012 and it debuted at #7 on the Billboard Top 200 Albums chart with 27k copies sold. That's arguably a decent showing considering the lead single from that album, "Tough" had peaked at #28 Mediabase/#30 Billboard in October 2011 and Sony Nashville wasn't promoting a follow-up single at the time. Subsequently, Sony Nashville sent the title track, "100 Proof" for adds in the middle of April 2012 after pushing it to smaller markets. "100 Proof" peaked at #31 on the Billboard Country Indicator chart for small markets, but lasted only a few weeks on the Billboard Hot Country Songs chart, peaking at #50 in late May 2012.
Without enough radio play to support sales but thanks to Kellie's promotional performances on TV and the internet, 100 Proof had sold 74k copies through June 10, 2012. But the problem for a major label country act is that you are expected to get radio play as a way to sustain sales. Country radio is notoriously hard for solo females to crack: look at the current Billboard Hot Country songs chart, and you'll see 5 solo females in the t50 (1 in the t20, 1 between #21 and #30, 3 between #31 and #50). That's compared to 31 solo males and 7 all male groups in the t50 (the remaining 7 acts are mixed gender groups).
Kellie scored 3 t20 hits from her debut album, Small Town Girl ("Red High Heels" which peaked at #15 Billboard and is certified Gold, "I Wonder" which peaked at #14 Billboard, and "Things That Never Cross A Man's Mind" which peaked at #16 Billboard), which went on to sell more than 854k copies after being released on October 31, 2006 (know total sales are through March 20, 2010). Kellie's self-titled sophomore album had a spottier performance at radio, yielding Kellie's only t10 country and platinum hit, the Taylor Swift cowrite "Best Days Of Your Life" and another t20 hit in the #14 peaking "Didn't You Know How Much I Loved You", but also 2 singles that missed the t20 (lead single "Don't You Know You're Beautiful", which peaked at #21, and 4th single "Makin Me Fall In Love Again," which peaked at #30). Nevertheless, Kellie Pickler had still sold 438k copies through December 4, 2010 (when it was selling less than 1k per week). It was starting with the last single off Kellie Pickler that radio looked like it might be an issue for Kellie, and it didn't help that there was a gap of over 3 years between Kellie's sophomore album (released September 30 2008) and Kellie's 3rd album (which was delayed in part by personnel changes at top at Sony Nashville, starting with new chairman/CEO Gary Overton, who officially took over in May 2010).
Kellie released 100 Proof knowing full well her record deal status may be in danger. But The Tennessean reported Gary Overton's assurances that her record deal was safe despite her fears:
The album is doggedly critically important to the cheery blonde with the flawless skin and tiny waist, because she's scared to death it's going to be the last album she makes for her label, BNA Records, which is under the Sony Music umbrella. Overton assures that while he's head of the label group, Pickler's fate is safe. But with two albums under her belt and the third set for release, Pickler has been unable to consistently produce radio hits. Unless Sony decides to exercise a clause in her contract that allows her to make a fourth album for the label, Pickler's record deal is fulfilled.
It's also worth noting Kellie is still listed on the Sony Nashville and Columbia Nashville sites. Sony Nashville recently underwent some roster cuts in which Bradley Gaskin and The Lunabelles parted ways with the label family, but it appeared that Kellie had survived those cuts. On June 4th, the BNA roster, of which Kellie is/was part, was transferred to Columbia Nashville, and it appeared Kellie had made the move as well.
So, this is still a rumor. Kellie also recently announced a sponsorship deal with Tone Body Wash (which will also sponsor her tour in support of 100 Proof) and became the national spokesperson for ConAgra Foods Foundation Hunger-Free Summer campaign, so she won't be hurting for visibility whatever happens. It may be a red flag that neither press release appears in the Sony Nashville press release section, which does include other sponsorship/partnership press releases for other Sony Nashville acts. If Kellie has indeed parted ways with Sony Nashville, at least it'll have been after releasing an album where she finally released the kind of music that's right for her, and having a lot of people in Nashville notice.