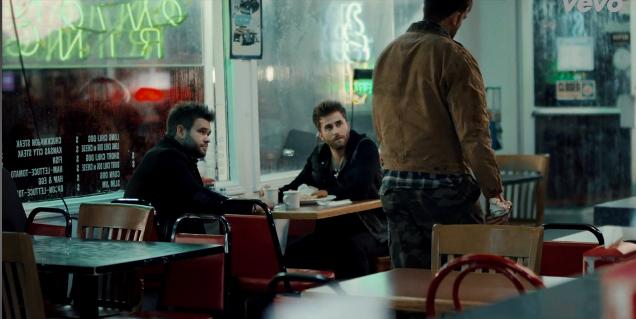 ACM & CMA-nominated Arista Nashville recording act and Season 4 Voice finalists The Swon Brothers have released the new video for their current single, "Pray For You," in which they take on the topical storyline of a serviceman with a family who is armed and running from the law after a robbery. His car runs out of gas and he winds up at a diner, and tense moments ensue.
Written by Jessi Alexander, Tommy James and Eric Paslay, "Pray For You" acknowledges that the day-to-day challenges of life can lead people to desperate and bad places, places from which neither "whiskey" nor "wisdom" can rescue them. In the chorus, the Swon Brothers promise, "I ain't gonna judge you, I'm just gonna love you, tonight I'm gonna pray for you."
"Pray For You" has been treading water on the airplay charts in a tough environment full of new releases from superstar acts – it sits at #47 Billboard in its 16th week, and at #44 on the Mediabase country chart. The video, though, should garner some attention for what it depicts, and could provide the shot in the arm the single needs.
So what do you think of the video? Are you surprised by the treatment, and do you think that the risk the video takes in addressing such a difficult subject will pay off, both in awareness and discussion of the tough at-home realities that military servicemen and servicewomen often face, and in terms of awareness of the message of the song?