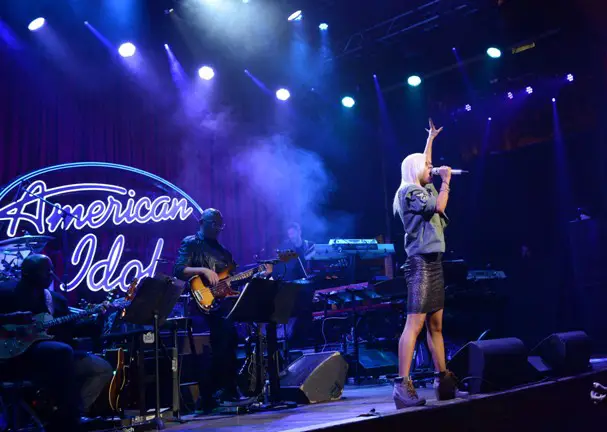 Mac and I are back with our weekly American Idol discussions. Today, we reveal our Top 10 contestants coming out of the Hollywood Round.  Which are your favorites? Sound off in comments below!
MAC: For my "Power List", I picked the five girls and the five guys that are standing out to me the most that are in the Top 48. So, without further adieu, here are the 10 people that I hope can pull through next week. Full disclosure, I know the Top 24, but I'm not letting that impact this list.
MAC: 1) Jax
I feel like Jax is the apology to all the Jena fans who watched the most promising pop female since Kelly Clarkson lose to Caleb Johnson, who we all knew wasn't going to sell records, or chart, or do anything remotely interesting. Jax is getting a lot of screentime, and she's delivering with some really spectacular performances. She was my favorite round 1 performance, and in my top 3 for my round 3. I feel like she's probably going to knock the Top 48 round out of the park as well.
Suggested Songs: After hearing her cover of I Wanna Hold Your Hand, I don't want to box Jax into a corner. I don't feel like she needs song suggestions yet, because she seems to know just exactly what to sing herself.
MJ: 1) Jax
We agree! The producers obviously love Jax. She's young, musically talented and brings something fresh and different to each one of her performances. She's an engaging performer–current and charismatic. She's already amassed a fan base. All good stuff. The only caveat is her tendency to try too hard at times. She's got to be careful not to come off pretentious, or she'll be polarizing and won't get the votes. But, personally, I love her. A breath of fresh air. Her song selections are excellent. Sprinkling classics in her repertoire is a smart move.
Mac: 2) Clark Beckham
If we're due another WGWG winner, it might as well be Clark, who seems to be America's answer to Sam Smith. He could work a little on his personality, and be a little less introverted, but vocals are definitely on point. I love his voice, and I think America does too. I expect him to be around for quite a while.
Suggested Songs: At some point, he should address the Sam Smith comparison and tackle something by him. He doesn't have to do it right away. Also, something cool like Noah Guthrie's cover of Skyfall would be awesome.
MJ: 2) Clark Beckham
Clark is going to be a formidable competitor. He plays the guitar AND can sing his face off. I agree that he's a bit low key, but when he opens his mouth to sing, the talent is undeniable. That tone is to die for. I'd like to hear him sing something cool–maybe by the Black Keys.
MAC: 3) Rayvon Owen
It's been a while since a black male made it to the Top 2. As good as Joshua Ledet was, he still couldn't do it. Can Rayvon? I think he's got potential. There's such an ease in his performance and in his tone. I think he'll be around for a long time, and I do think he has potential to win the whole thing.
Suggested Songs: Anything by John Legend. To Make You Feel My Love.
MJ: 3) Rayvon Owen
This singer has got something really special. His phrasing never fails to surprise me. He uses his voice like an instrument. If he keeps on the right track (I thought his group performance was off.) he could go very far.
MAC: 4) Savion Wright
We didn't get just one excellent black male this year, we got a few. Savion is our "redemption arc" (along with Sarina-Joi) and they both have a real shot. Savion is honestly better this season than last. He's more seasoned, he's more focused, and he looks more like a star. I think he can definitely reach out and grab the grand prize.
Suggested Songs: Arms Of A Woman by Amos Lee or I'd Rather Be With You by Joshua Radin.
MJ: 4) Sarina Joi-Crowe
Savion is amazing, but a little further down my list! My #4 is the incredible Sarina-Joi Crowe, who has also worked hard to make a comeback. I'm rooting for this gifted vocalist whose talent is finally being recognised. This gal's powerful performances are so EFFORTLESS.
MAC: 5) Sarina-Joi Crowe
Basically everything I just said about Savion, except we've seen less of Sarina in past seasons. I'm not sure that she's miles better than previous attempts, because she was never heavily featured. I think she could be on the radio though. She's got tons of talent. Hopefully she doesn't squander it.
Suggested Songs: How about putting her own spin on something like We Are Never Ever Getting Back Together by Taylor Swift? Or she could stick more to her roots with If I Were A Boy.
MJ: 5) Trevor Douglas
My #5 is Trevor Douglas, the Texas geek. Trevor is not only a really musical guy, but has the kind of outsized personality that will serve him well on Idol. He's not the best singer of the bunch, but he is a terrific, engaging performer. I hope he steps away from Ed Sheeran for the next couple of performances.
MAC: 6) Hunter Larsen
Hunter is terrific too. I wasn't crazy about her audition, but everything I've seen from her in Hollywood makes me believe that she's got what it takes. She's confident, she's got stage presence, and she sounds like she could be on the radio right now.
Suggested Songs: Harder To Breathe by Maroon 5? The Scientist by Coldplay?
MJ: Savion Wright
Hunter is in my Top 12 or so. These were hard cuts to make! Hunter has that P!nk thing going on. A quirky sound, but with edge. Love her rasp. My #6, however, is Savion Wright, who was cut before the Top 30 and has obviously worked on his craft in the meantime. His season 14 audition was brimming with confidence. I could feel the depth of emotion and gratitude coming off of him in waves. In a competitive year, I'm really hoping Savion makes the Top 10.
MAC: 7) Quentin Alexander
He's the first contestant I'm including that I don't think can win. He's too niche, too artistic. That doesn't mean I can't enjoy his performances and root for him to go as far as possible. I love his quirky style, and that it doesn't feel put on (unlike that kid who keeps bringing the freaking teddy bear everywhere). He's everything Hollywood Anderson wishes he was. A true original.
Suggested Songs: Much like Jax, I feel like suggesting songs for Quentin is infringing upon his uniqueness.
MJ: 7) Maddie Walker
I have mixed feelings about Quentin. There's something really interesting about his style and  presentation, but he's not as strong a singer as many of the others. I think he's going to have a tough time making it out of the semis. My #7 is Maddie Walker, a singer we haven't seen much of in the competition, which tells me the producers aren't pushing her. But every glimpse I get of her on screen–that pure tone and pure country heart–grabs my attention. If she's given half a chance, she could be a dark horse.
Mac: I feel like I'm the only person who hasn't really been blown away by Maddie Walker. She often seems a little wooden in her performances, and I haven't found anything special about her vocals yet.
MAC: 8) Erica Washington
THIS GIRL IS ON FIRE. Those few words, in just a few seconds in Hollywood round made me think that Erica Washington was the girl who was just going to disappear and we'd never hear from her again. I'm glad she's Top 48, and I hope the judges know what to do (and by that I mean Top 24). I understand Candice's album isn't selling well, but we need our diva with a big voice, and Erica's got it.
Suggested Songs: The phone book? Literally anything ever written by someone named Whitney, Mariah, Alicia, Beyonce, or any of the divas. Isn't there a diva song book she can pick from?
MJ: 8) Daniel Seavey
Erica could definitely represent the big voiced diva in the competition, but the question is whether we need an old fashioned singer in the Top 24. I'm not convinced. Something tells me you're going to vigorously disagree with my #8, but I think Daniel Seavey has the potential to go far in the competition. He's a very raw talent at this stage, and that could be a problem. But if he works hard and improves, he could grab a wide cross section of fans.
Mac: If we had done a "bottom five", or anything like that, Daniel would have made that list for me. His talent is SO raw that I don't believe he belongs in the competition. That unique quality to his voice? That's his voice changing. I think Daniel could be a contender in a year or two, but he's just not ready. And every time he hits on J.lo, it's a little creepy. He's 15. Does he really expect to get her digits?
MAC: 9) Tyanna Jones
I'm putting her on the list because I have high hopes for her. I think her audition was strong, and her round 1 was strong. We lost her a bit during groups, and she's really young. She might have really needed another year to marinate, but I'm pulling for her. I think she might be something special.
Suggested Songs: Perhaps some Beyonce? Perhaps some Lorde? She's young, and I think one of her qualities is her youthfulness. I wouldn't throw a lot of older songs at her.
MJ: 9) Riley Bria
Tyanna has a ton of potential! And I'll address her at #10.  My #9 is the radio ready country singer, Riley Bria. Like Trevor Douglas, he's young, but confident and very musical. An excellent performer and guitar player, the drawback is that he's a little generic at this stage. He may be out played by contestants who bring more originality to the table.
MAC: 10) Trevor Douglas
I wasn't sure who would be the final guy on the spot. Had you asked me after auditions, I would have picked Hector Montenegro. But since the Idol producers threw him into "contestant protection" and we never saw Hector in Hollywood (singing, at least), I had to pick someone else. He's on here because his Round 1 was solid, and his Round 2 group was pretty good too. I will admit that I debated giving this spot to Riley Bria, but I think Trevor had the stronger Hollywood Week.
Suggested Songs: I'd love to see him do a boyband cover on his guitar. His nasal quality could make it sound cool. Also, anything by Rascal Flatts (but done as a non-country song).
MJ: 10) Tyanna Jones
My fear, is that Tyanna will turn out to be another debacle, like Majesty Rose from season 13, who was a bright star that burned out quickly due to lack of experience.  I hope not, because Tyanna's solo performances have been impressive.  I loved, loved her cover of "Wings" by Little Mix.
MJ: Honorable Mention to Katherine Winston:
She's barely been on screen, but I love the alt country realness she's bringing to the competition. I've been a fan since her mournful Civil Wars cover served as backdrop to a montage of nos in the New York City audition episode. She probably doesn't have a chance, but I'm giving her a shout out anyway.
Mac:: Honorable Mention to Hector Montenegro:
I didn't include Hector in my top 10, because he disappeared during Hollywood Rounds (even though we know he made the showcase). I think he's a strong singer, and I love the tone in his voice. I don't know why the producers don't like him, but the best I can do for Hector is offer him my Honorable Mention spot, and hope he comes back next year (should he be eliminated at any point) and gets the proper coverage he deserves.