Introduction
The difficult environment at country radio for sole female talent was been a topic of regular discussion here, cropping up in discussions of why experienced artists like Emily West and Sarah Darling would compete on the current seasons of America's Got Talent and Rising Star, respectively, and in the explanation for why the talented American Idol Season 12 runner-up Kree Harrison remains unsigned. It's an issue that country superstar and American Idol Season 4 champ Carrie Underwood, country radio's strongest and most consistent female hitmaker of the Soundscan era (with a streak of 17 consecutive top-2 country hits, including 16 #1s), has taken up, along with Season 5 Idol finalist and Season 16 Dancing With The Stars champ Kellie Pickler, a country star in her own right.
As the industry has grappled with this topic, we've cycled through some unconvincing and sometimes flat out wrong explanations referring to sales & distinctive material. We've also seen the argument that it's just that there are simply more male acts out there, as if that isn't the product of a self-fulfilling cycle, and that's the explanation that I want to address here.
So I looked at what used to be the big 4: Capitol Nashville (which is now part of UMG Nashville, but was its own major until 2012, comprised of Capitol Nashville & EMI Nashville), Sony Nashville (currently comprised of Arista Nashville, Columbia Nashville, and RCA Nashville), Warner Nashville (comprised of Warner Brothers Nashville, Elektra Nashville, Atlantic Nashville, and now, WEA), and UMG Nashville (comprised of MCA Nashville and Mercury Nashville), plus Big Machine Label Group, which is effectively another major (and which includes Repubic Nashville, a joint venture with Universal Republic, plus Big Machine Records, Valory Records, and the newly relaunched Dot Records). I'm focusing on the major labels because they have the most resources and the best relationships with country radio (I did compile supplementary statistics for Curb Records and Broken Bow Records and can post them for anybody curious – their success rates don't change the observations below).
I looked at the names and numbers of solo acts each label has promoted to radio, focusing on baby acts who have charted for the 1st time as solo acts on the country airplay chart in 2008 or later. Why 2008? Because 2007 was the last year a non-established female scored her 1st 2 consecutive t20 country hits: Taylor Swift (Big Machine Records) did it with "Tim McGraw" and "Teardrops On My Guitar," Miranda Lambert (now RCA Nashville) did it with "Famous In A Small Town" and "Gunpowder & Lead," and Kellie Pickler (formerly of Sony Nashville's BNA imprint) did it with "Red High Heels" and "I Wonder." Taylor has of course gone on to become a mostly pop superstar, Miranda is now a core country radio act, and Kellie is a critically acclaimed indie act who hasn't seen a t40 country radio peak since 2011's "Tough" (which scratched out a t30 peak). 2007 was also significant for country radio today in that Luke Bryan spent most of the year achieving his first t20 (which was also his first t5) hit, and he is country's best selling star right now. So 2008 seems like the right year to start in thinking about the environment at country radio for nurturing a new round of superstars.
So who and how many have come through the system in the past 6 1/2 years? Are more male acts breaking through at radio just because there are more men? Are certain labels having more success with developing females than others? Let's go to the numbers…
The Data
Here's the data in aggregate form:

This table shows us a few things. The 1st is obvious: the big labels have had a much higher success rate at scoring a t20 single for a debuting male act than a debuting female act. Another notable stat: Sony Nashville has made the most attempts since 2008 to bring new solo female and male developing acts to country radio, which may point to higher willingness to greenlight promotion for new talent. But its overall success rate is the lowest of the 5 big labels (it is the only label with a sub-50% success rate when it comes to solo male developing acts scoring their 1st t20 hits). Capitol Nashville has not landed a t20 single for a solo female act in the time period considered (the drought actually extends longer than that).
Big Machine Label Group has an impressively high success rate at landing a t20 single for both debuting solo male *AND* solo female acts, which is especially good news for RaeLynn, whose debut single "God Made Girls" has had a strong 1st month out (it's at #37 after 4 weeks charting). In fact, take BMLG females out of the picture, and the rest of the labels combined for only 5 out of 22 debuting solo females scoring their 1st t20 hit from 2008-present (or a paltry 23% success rate). A deeper dive into the list of artists promoted tells us why Big Machine Label Group's success rate with females is so much higher than that of other labels – it has to do with whether those females are coming to radio with a pre-existing fanbase, a subject raised here. Still, Big Machine has fared no better than the rest of the big labels in achieving a 2nd t20 hit for solo females coming off their 1st t20 hit.
More on that issue to come. But first, let's look more closely at the list of debuting solo acts promoted by the big labels to country radio from 2008-present, and how they fared. Included are a few additional notes on acts who weren't included on the lists but whose progress or lack thereof is arguably relevant to the time period considered.
The List: Who Have Music Row's Biggest Labels Brought To Country Radio Since 2008?
Capitol/EMI Nashville
Note: Female artist Mickey Guyton has been on the Capitol Nashville roster for years but has not yet had a single released to country radio.
Sony Nashville
(Note: Sarah Johns first charted in 2007, Jordyn Shellhart was in development for a long time but parted ways with the label without anything being released)
(Note: Ronnie Dunn charted in 1983 as a solo country act, Kix Brooks had never charted in the Billboard t60 as a solo country act, Chris Young scored his 1st t20 hit in 2008, but had previously charted)
UMG Nashville (not including Capitol/EMI Nashville)
Warner Nashville
(Note: Ashley Monroe has not had a single promoted to radio by Warner Nashville)
Big Machine Label Group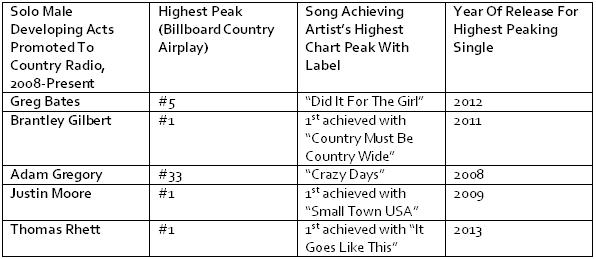 The Effect Of Pre-Existing Fanbases
As mentioned, 4 out of the 5 debuting solo females that Big Machine Label Group has brought to the market came to radio with pre-existing fanbases: Jewel was a pop superstar before coming over to country, while Cassadee Pope and Danielle Bradbery are both Voice winners (Pope also had a pre-existing fanbase from her days fronting pop/punk band Hey Monday). Hayden Panettiere is a well known TV actress, and her single was performed & promoted on the show where she is co-lead.
But BMLG is not the only label to try to leverage existing fanbases into female country radio airplay. All but 2 of the 9 solo female developing acts who scored their 1st t20 from 2008-present came to country radio with a fanbase: Jessica Simpson and Sheryl Crow all came over from pop/adult pop, Julianne Hough had a fanbase from Dancing With The Stars, and Jana Kramer was known from her time on One Tree Hill. Even Kacey Musgraves at least had some name recognition from her time on Nashville Star, though she and Sunny Sweeney are the 2 I'm counting as females who scored their 1st t20 hits without significant pre-existing fanbases.
A prior fanbase is not a guarantee though: neither Panettiere, Kristy Lee Cook, Melissa Lawson, Jennette McCurdy, Kelly Clarkson, nor Jennifer Nettles has scored a solo t20 hit, and that's despite Clarkson and Nettles having multi-platinum pasts and high industry regard. But 7 out of the 13 females with pre-existing fanbases who were promoted as new solo females at country radio from 2008-present scored their 1st t20 hit, and that 53% success rate is much higher than the success rate for females without pre-existing fanbases (13%). It's also comparable to the success rate for males introducing themselves to country radio since 2008. No wonder Sarah Darling and Emily West have made their way onto talent competitions this summer.
Pre-existing fanbases played out in a mixed fashion for the solo guys debuting at country radio from 2008-present. Darius Rucker (formerly of Hootie & The Blowfish), Scotty McCreery (the Season 10 Idol champ), Casey James (the #3 finisher in Idol's Season 9), Josh Kelley (who had 2 previous t10 HAC hits), and Chase Rice (Survivor runner-up) were able to score t20 hits. But Kix Brooks (half of the legendary country duo, Brooks & Dunn), Danny Gokey (#3 finisher in Idol's Season 8), Christian Kane (who was well known from his time playing a major character on TV's Angel), Canaan Smith (Amazing Race competitor) and Tate Stevens (the inaugural X Factor US champ) were not.
Solo male acts coming to country radio with prior exposure had a success rate of 50% achieving their 1st t20 hit between 2008 and the present, slightly lower than the 58% success rate of solo male acts without prior exposure who 1st came to country radio between 2008 and 2014. The success rates are even closer to each other with the additions of Chris Young (a Nashville Star winner who scored his 1st t20 hit in 2008 via Sony Nashville) and Lee Brice (who 1st charted in 2007 but gained his 1st t20 song in 2009, via mid-sized label Curb Records).
Consolidating Success
But not even pre-existing fanbases have helped solo females introducing themselves to country radio consolidate initial airplay success. As bad as the disparity between the success rates of debuting solo females and debuting solo males in scoring their 1st t20 hits at country radio is, the disparity between solo females and solo males promoted to country radio and achieving their 1st 2 t20 hits from 2008-present is even worse:

*NOTE: Not included are acts with singles currently charting but outside the t20: Musgraves, Pope, Ballard, and Pardi, and also Rice and Hunt because they are still on their 1st singles for Columbia Nashville and MCA Nashville, respectively. Of these, Ballard looks like he's on his way to another t20 hit. Also, Casey James is a borderline case in that his debut single peaked at #21 Billboard but made t20 on Mediabase/Country Aircheck (his follow-up single made t20 on both charts). I'm including him in the group with 2 or more t20 hits. *8/4/2014 update: Cassadee Pope's current single has peaked, so that makes Big Machine Label Group 0 for 4 since 2008 in its attempts to land a 2nd t20 hit for a solo female achieving her 1st, and newcomer solo females 0 for 8 since 2008 in achieving a 2nd t20 hit after achieving their 1st.
You are reading this correctly: not a single solo female act who has introduced herself via any label to country radio since 2008 has followed a t20 hit with another, compared to an 84% successful follow-up rate for solo males at country radio.
Concluding Thoughts
This has mostly been a descriptive exercise, aimed at showing that while it's true that the big labels have brought more solo males to country radio than solo females since 2008, the success rate for solo females scoring even their 1st t20 hit, never mind their 2nd, has been disproportionately low (females comprise 40% of the debuting solo acts promoted to country radio since 2008, but only 28% of those scoring their 1st t20 hit and 0% of those scoring their 2nd). Pre-existing fanbases raise a solo female's odds of hitting the t20 once significantly, but haven't yet translated into a real commitment by country radio to participation in a developing solo female act's career.
Why does this matter? As mentioned above, the difficulties of breaking new females at country radio have impacted major label willingness to sign and promote new females. Warner artist Ashley Monroe had one of 2013's most acclaimed albums, but Warner Nashville didn't bother promoting a single to country radio. Brandy Clark's 12 Stories is also one of 2013's most acclaimed albums in any genre, an album that was passed on after consideration Capitol Nashville and Warner Nashville. Kellie Pickler had one of 2012's best-reviewed country albums, and she parted ways with Sony Nashville 6 months after its release. The bottleneck at country radio risks the creation of a bottleneck at the major label level. And so the cycle continues…
Turning to the question of why this is happening, I've argued that this is about country radio overserving a target demographic of younger male rock radio refugees. In this recent Rolling Stone Country article about hit songwriting, hitmaker Craig Wiseman reinforced this argument:
Forty percent of the active rock males have abandoned that format and come over to country.
Fellow hitmaker Shane Minor agreed, saying:
The core country music listener is probably the guys that lost rock & roll before Nirvana came along and the hair bands [died out]. So, we're probably the closest things they have.
Rock radio's gender imbalance is even worse than country radio's, so the audience migrating to country from that format is not likely to welcome female voices. As the rock radio audience started to decline in the early 2000s, some rock stations "started to eliminate women from their audience research." While country radio isn't there yet and hopefully never will be, it seems clear that country radio has made a deliberate choice to cater to an audience that leans towards the party-hard excesses of rock & hair metal, to the detriment of female acts and fans who respond to them. Country radio programmers will say their ratings are great and they're playing what's popular, but that's only part of the story. They have actively chosen not to reach out to other country music demos within their reach, resulting in playlists that sound like this:
The consequences of the resulting "bro country" culture, which has proven a difficult environment not only for female artists but females in general, are now beyond just record label deals, careers not taking off, and music that sounds the same. There are increased reports of drunken misbehavior and worse at big venue country concerts this summer, the worst so far being the death of an "extremely intoxicated" fan at a Jason Aldean concert and the alleged rape of a 17 year old young woman at a Keith Urban concert, which took place with bystanders taking photos and video-taping the incident amid what police categorized as a "mass casualty" event caused by "alcohol-related issues." As the Attleboro Sun-Chronicle reported:
The issues at Urban's show stemmed from safety officials being outnumbered by concertgoers and that country music now attracts a much younger crowd than it did in years past, [Selectman chair George] Dentino said.

"They were totally outnumbered. It was a real party atmosphere," he said. "Country always gives us a problem lately."
All this points to a multi-faceted need for the country industry and country radio in particular to course-correct. Here's hoping. It's time.