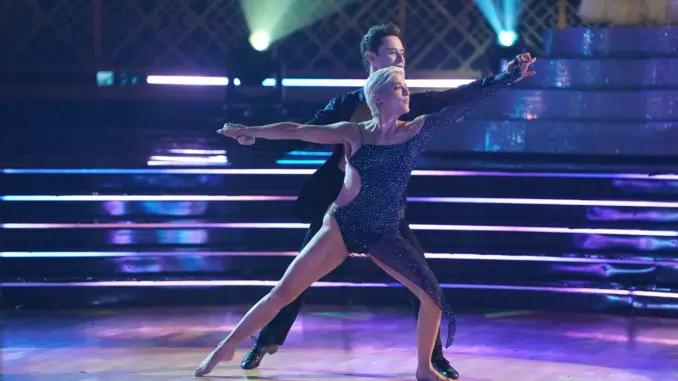 On Monday night's Dancing with the Stars finale (Read our Recap), American Idol alum Jordin Sparks returned to the ballroom to dance with her partner Brandon Armstrong one last time. But she also performed her 2007 hit song with Chris Brown, "No Air" as Selma Blair and Sasha Farber performed a contemporary routine.
Selma joined the Dancing with the Stars cast to push her own limits as she battles a Multiple Sclerosis diagnosis. Her first dance, a walz, to a song by another American Idol alum, "The Time of My Life" by David Cook, was a triumph. But due to health reasons, the actress dropped out of the competition after five episodes.
"What [a] special moment to sing for you and @sashafarber1, @selmablair," Jordin penned in the caption on Instagram alongside a video of the performance. "I adore you! And, along with the rest of the world, admire you deeply."
Jordin and Brandon were eliminated in 9th place after performing a Tango to "Oogie Boogie's Song by Ed Ivory and Ken Page on Halloween Night.
Watch Selma Blair and Sasha Farber's emotional performance, as Jordin Sparks sings "No Air" below.
Jordin Sparks sings "No Air", Selma Blair & Sasha Farber Contemporary
Recently, Jordin released a new song "Stop This Feeling" written by Jamall Smith, Sparks and Randy Nevels. Next, the singer will perform on NBC's Macy's Thanksgiving day parade on Thanksgiving morning.
Earlier this year, The American Idol season 6 winner shared that she was working on a new album. "I don't think you guys are ready because it's not just an album. It's a lot of music. I spent the second half [of] 2020 and 2021 going through and recording music," She continued, "Last year. I was in the studio at least four times a week, writing and recording."
Jordin recorded a few collaborations: "I did get to be in studio with the one and only T-Pain and that has been a dream of mine," she said "I've been wanting to work with him for so long." Additionally, she recorded with Young Dro.