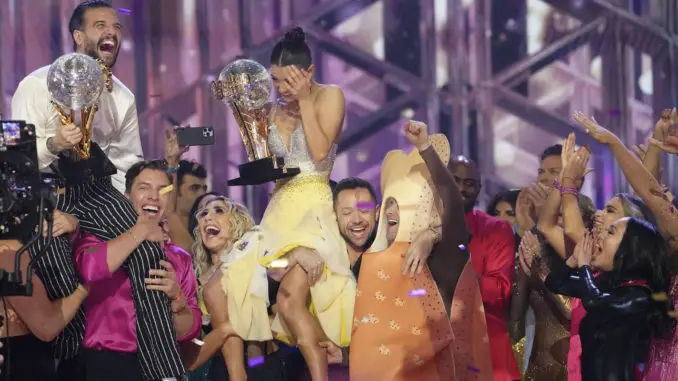 Where has the season gone? I can't believe it's already time for the finale of Dancing With The Stars!
During last week's semi-finals, we said goodbye to two season-long contenders: Daniel and Britt and Trevor and Emma.
Tonight, the four remaining couples – Charli and Mark, Wayne and Witney, Shangela and Gleb and Gabby and Val – will hit the ballroom for the final time and battle it out for the mirror ball with a redemption dance and a freestyle.
Tonight's finale will also feature performances by judge Derek Hough and fiancee Hayley Erbert, as well as Selma and Sasha reuniting for a dance while Jordin Sparks sings "No Air."
Vote at DisneyPlus.com or text the contestant's FIRST NAME to 21523. Voting begins at the top of the show.
After a fun opening number featuring the pros, returning contestants Sam and Cheryl, Cheryl and Louis, Teresa and Pasha and Jason and Peta come back to the ballroom for a performance.
Now we kick off the redemption round!
Shangela and Gleb – Quickstep – "Queen Bee"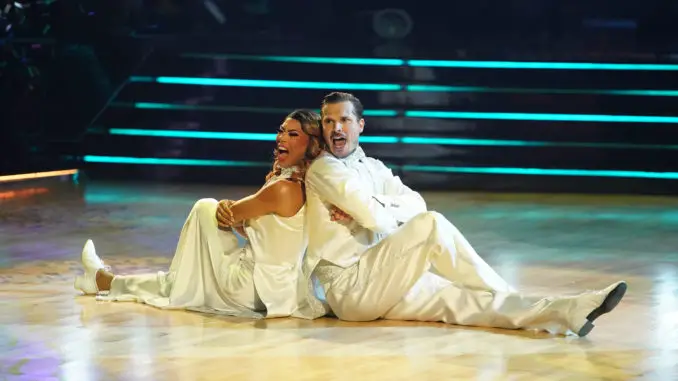 This Quickstep was so in sync. Shangela nails both the Charleston-esque solo steps and the parts in hold.
Bruno says her performance was more sparkly than him (in his bedazzled suit) but does mention she went on the wrong foot at the start. Carrie Ann says she excites her and she's grown but agrees there was a mistake. Len says he never saw a mistake and he saw vast improvement. Derek says she's been fantastic and has opened the door for others by being the first drag contestant.
Carrie Ann- 9, Len- 9, Derek- 9, Bruno- 9 = 36/40
Wayne and Witney – Quickstep – "(Your Love Keeps Lifting Me) Higher and Higher"
Talk about a redemption dance! From a dancer's point of view, this was a gorgeous routine. However, for a Quickstep, there was something a little slow about it at times. But their shimmery, gold costumes deserve 10s.
Len says his frame was stronger but it needed more movement. Derek says it could have had more pace and stride in the movement but was definitely an improvement. Bruno says it doesn't matter what he does, he makes it look good. Carrie Ann says his frame had improved and he's balanced when he dances, but agrees there was an out of sync moment.
Carrie Ann- 9, Len- 9, Derek- 9, Bruno- 9 = 36/40
Cheryl does a final dance with Louis and Pasha as a way of seeing her out of the ballroom for her final season. After the dance, Cheryl says she'll miss her DWTS family the most.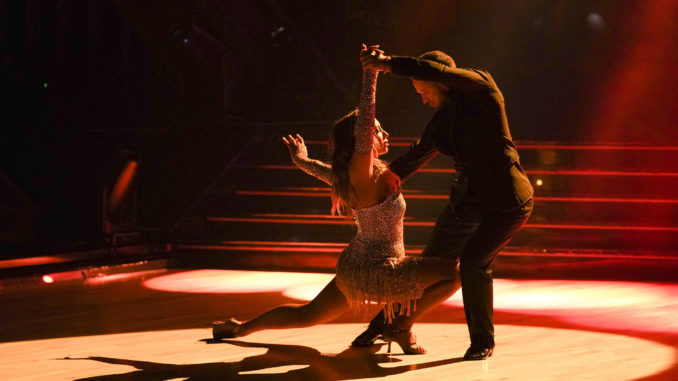 Tyra also announces that the performance with Derek and Hayley will not go on, as Hayley was injured in rehearsals yesterday.
Now, Joesph ad Daniella, Jessie and Alan and Jordin and Brandon perform together.
Charli and Mark – Jive – "Grown"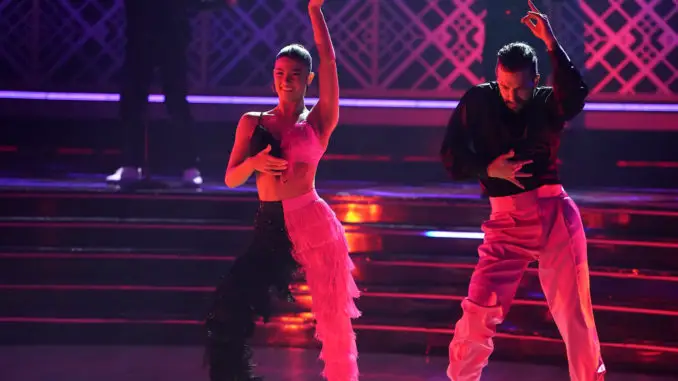 Lots of solo moments in this one. It almost didn't feel like a Jive at times. She definitely nailed the feel of the dance more than her first attempt though.
Carrie Ann asks the audience what they think and they cheer, then says it was remarkable. Len says he thought her first Jive was fantastic and he can't believe he thinks this was even better. Derek compliments the nuance and attention to detail. Bruno calls her a sparkling queen of Jive.
Carrie Ann- 10, Len- 10, Derek- 10, Bruno- 10 = 40/40
Now, Selma and Sasha perform the Contemporary routine she was never able to do, while Jordin Sparks sings "No Air."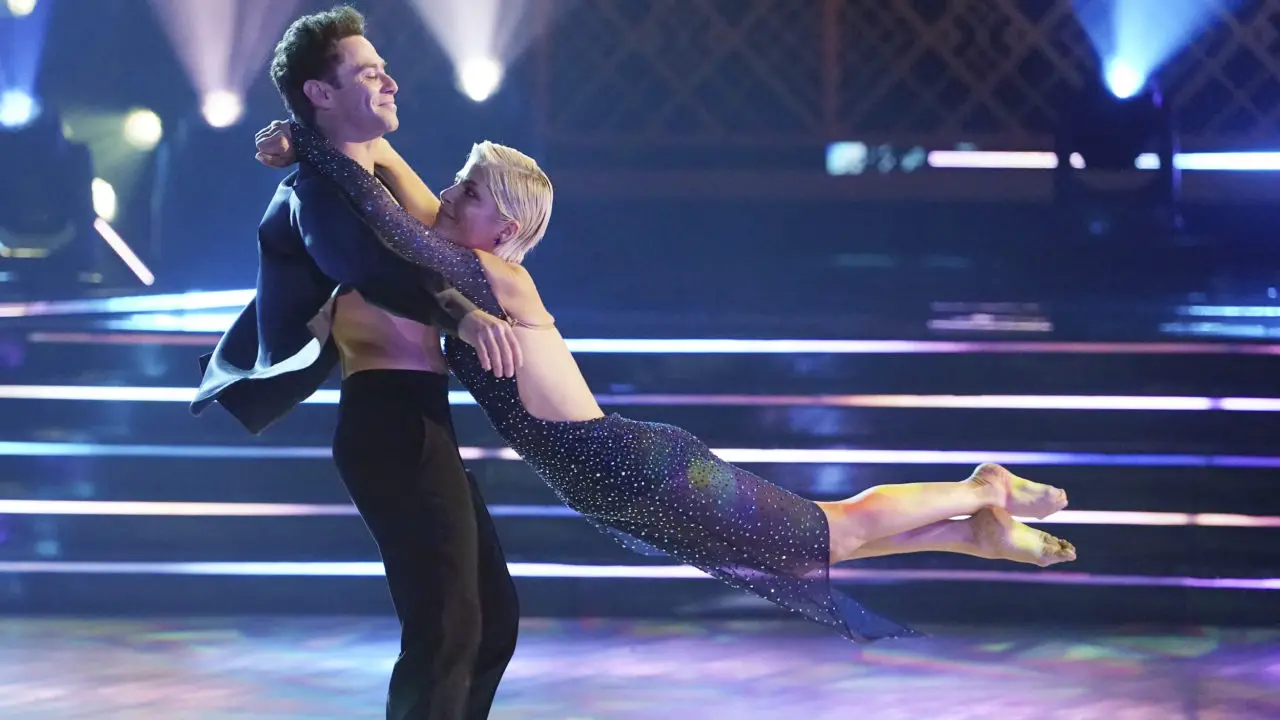 Gabby and Val – Cha Cha – "I Like It (Like That)"
Good song, good choreo, but Gabby just doesn't hit the steps the way Val does. It almost looks like she isn't even trying sometimes.
Derek says Gabby's superpower is embodying every dance and she definitely redeemed the Cha Cha. Bruno calls it sexy and stunning. Carrie Ann says it was by far her coolest dance and she had a real confidence in her performance. Len says it was full of rhythm, great technique, and compliments their chemistry.
Carrie Ann- 10, Len- 10, Derek- 10, Bruno- 10 = 40/40
Now, Heidi and Artem, Vinny and Koko, Daniel and Britt and Trevor and Emma perform together.
Len Goodman recalls his fondest memories over the seasons, then receives his very own mirror ball to remember it all by.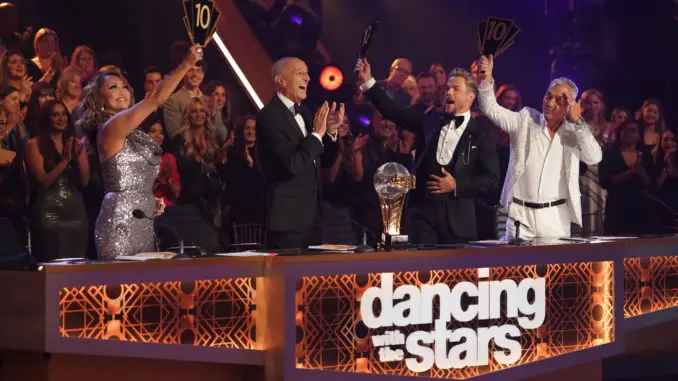 Wayne and Witney – Freestyle – "Get Up / 24K Magic"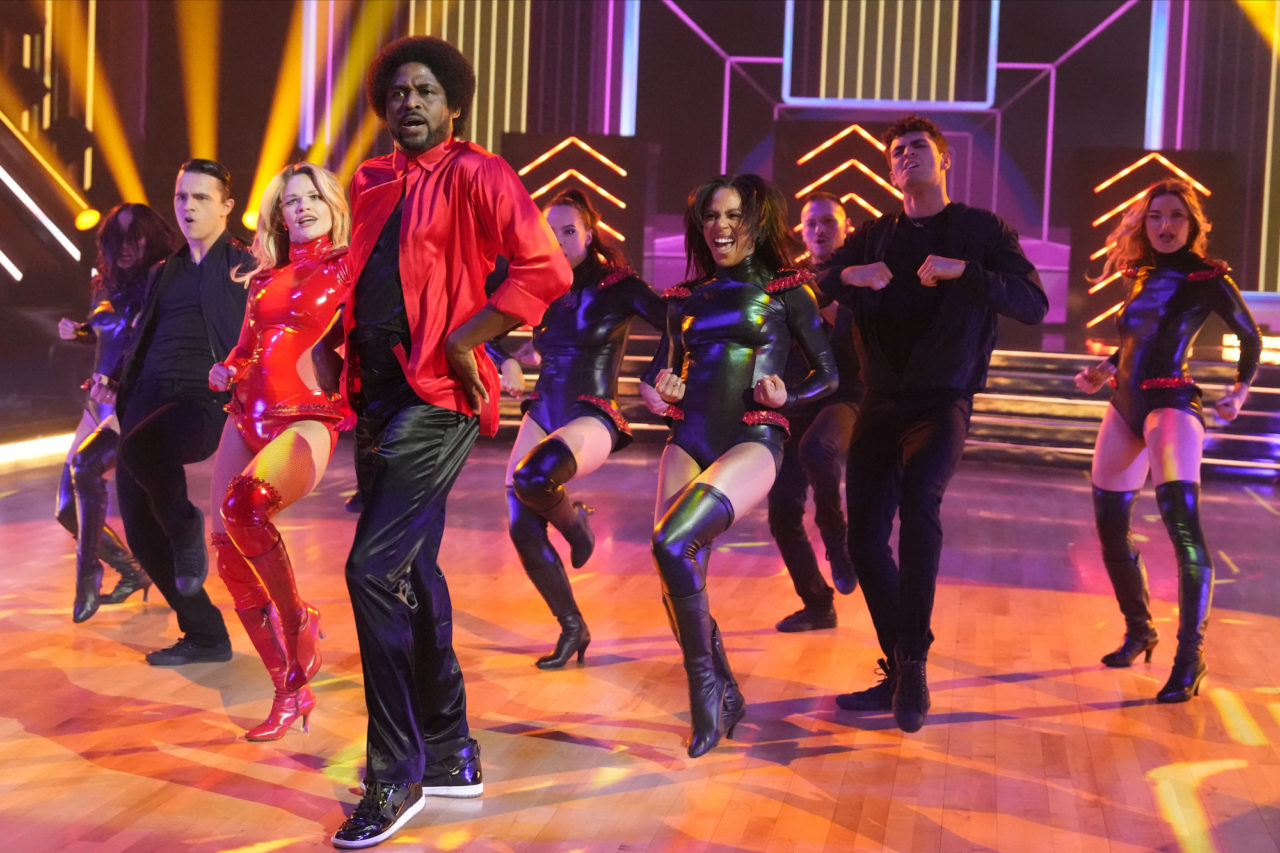 Loved the Hip Hop/Latin combo in this. It looked like Bruno Mars was dancing with Britney. Witney's always been an excellent Hip Hop choreographer and dancer, and her partnership with Wayne has always mimicked hers with Alfonso.
Len compliments the bits of Cha Cha and Salsa. Derek says he's a fan for life and loved the poppin and lockin. Bruno says they have a smash hit in their hands and he always performs like the greatest showman on the greatest show o TV. Carrie Ann says he's off the charts.
Carrie Ann- 10, Len- 10, Derek- 10, Bruno- 10 = 40/40
Charli and Mark – Freestyle – "Us Again"
This freestyle was perfection. It was so simple yet so full of content, like a rollercoaster going up and down from slow and beautiful to fast and fun.
Derek compliments their bond and tearfully says he loves that they both found a love of dance and a love for themselves. Bruno says it was pure, unquestionable excellence and a celebration of dance in all its forms. Carrie Ann says she chose to do the more challenging and difficult route for this dance and says she's beyond human when she dances. Len says no one has gotten 10s for six weeks in a row from him other than her and it was spectacular.
Carrie Ann- 10, Len- 10, Derek- 10, Bruno- 10 = 40/40
Gabby and Val – Freestyle – "Cell Block Tango"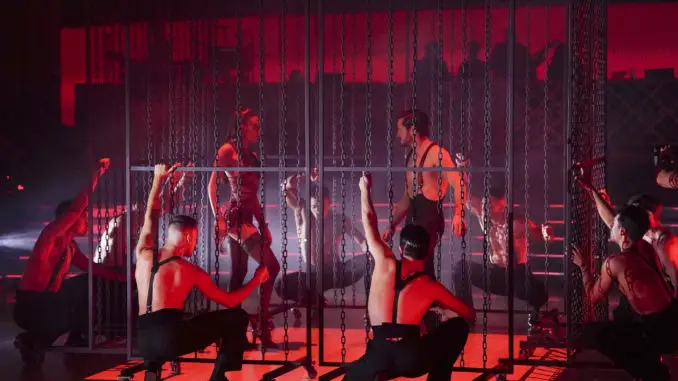 Gabby's solo bits in this prove she's the weakest dancer here. Not sure why this had to be so sexualized. It was an awfully lackluster freestyle compared to so many others we've seen over the years. It just wasn't your typical final dance.
Bruno says it was lethally hot. Carrie Ann says she's so impressive tonight because something has shifted. Len says she had so much charisma yet she stayed cool during a wardrobe malfunction. Derek says he loved the concept from start to finish.
Carrie Ann- 10, Len- 10, Derek- 10, Bruno- 10 = 40/40
Shangela and Gleb – Freestyle – "Survivor / Call Me Mother"
This was definitely a celebration of drag and a performance no one will ever forget. Gleb transforming into Natasha for this is iconic! The way Shangela made this freestyle entirely her own is so unique and memorable. And Sasha dressed as fried chicken is just as iconic!
Carrie Ann says when she dances she transforms generations. Len says he was absolutely mesmerized by it and forgot to vote for the first time in 31 seasons. Derek says we've never seen something like that on the show before and he couldn't imagine a better way to finish the season. Bruno says he feels like he won the lottery.
Carrie Ann- 10, Len- 10, Derek- 10, Bruno- 10 = 40/40
Fourth place is… Shangela and Gleb.
Third place is… Wayne and Witney.
The winner is… Charli and Mark.
That's a wrap on Season 31! DWTS will be back on Disney+ next year, and I hope to see y'all will more live blogs next year as well! :)