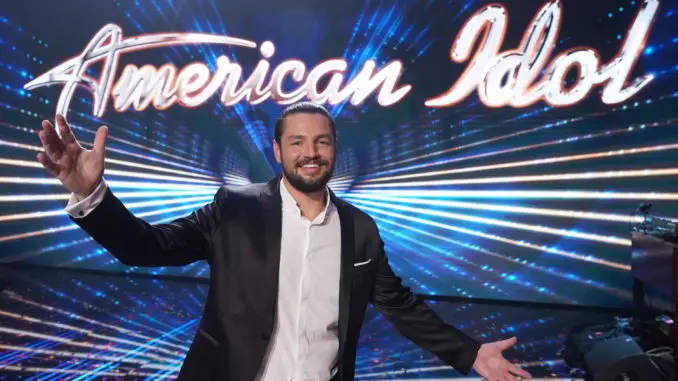 Chayce Beckham, Another American Idol Winner Who Saw the Card!
Ryan Seacrest
has ONE job on
American Idol
finale night! And that one job is to reveal the winner of that season's show, with no mishaps. That includes not flashing the dang card so that the Top 2 see the results before they are announced!In
an interview with
Idol in-house mentor,
Bobby Bones
,
American Idol
winner
Chayce Beckham
reveals that he saw his name on the HUGE card Ryan held, a full 10 seconds before he announced the winner. "My name was MASSIVE across the GIANT GOLD CARD," said Chayce.  By the time Ryan said his name, the element of surprise was gone. THAT'S NO FUN.
Ryan Seacrest has a history of sloppy cardsmanship
What's more, Ryan has been sloppy with the cards before. Season 16 winner, Maddie Poppe, said she saw the card before Ryan declared her the winner. "You're really bad at hiding the card!" Maddie scolded Ryan on Live with Kelly & Ryan the next day.
Also, season 13 winner, Caleb Johnson told ABC news in a post-finale interview, that HE spotted his name on the card before Ryan revealed that he won. 
And of course, the original sin, so to speak, back in season 2, Clay Aiken knew he had lost to Ruben Studdard for the same reason.  After Ruben's season, Ryan held an empty card for at least a few season finales. He needs to go back to that plan, stat. 
American Idol's Chayce Beckham Jams with Luke Bryan on Stage! (VIdeo)
Idol's Chayce Beckham Plots Record in Nashville, Sets Concert Dates
Bobby mentions the $250K record advance, calls Chayce most "emotionally prepared" winner he's seen
Bobby also mentions that "The winners do get a big money prize, along with his title of Season 19 winner, Beckham also received $250K." The $250K is an advance to be used to record and promote the singer-songwriter's debut album.
Chayce also shared that he owes his parents everything. "They believed in me more than I ever believed in myself," he said. They pushed him to audition for the show and had to convince him to do it.  At 24, Chayce only had a year left on his self-imposed deadline. He decided to quit the music business if he failed to make it by age 25, which he is turning next month. He made his deadline just under the wire!
Right now, Chayce is in Nashville looking for a place to live. Mom came with him to help out. After his parents saw Chayce at his lowest, as he grappled with a drinking problem, now the singer is happy to make them proud. 
Bobby calls the singer the "most emotionally prepared" contestant he's ever dealt with on the show. Producers would tell Bobby to "rev him up" (pretty telling remark, right there), but Chayce couldn't be rattled. 
Watch Bobby Bones interview the American Idol winner Chayce Beckham below.  
Chayce also performed a rendition of his hit winning song, the self-penned "23."