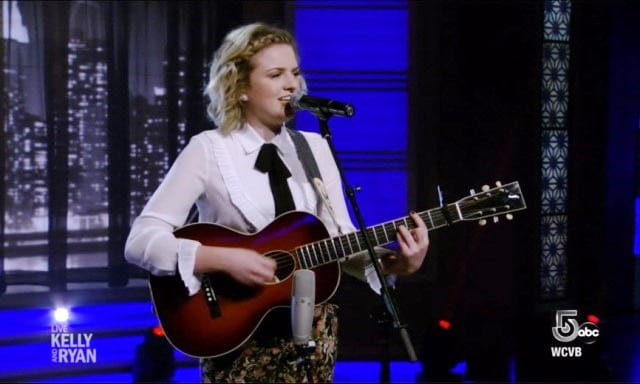 Newly minted American Idol winner Maddie Poppe stopped by Live with Kelly and Ryan Tuesday morning (May 22) to chat about her big win.
And here's a newsflash–she saw Ryan Seacrest's results card before he announced the winner. "You're really bad at hiding the card!" she scolded him. Remember, back in season 2, Clay Aiken knew he had lost to Ruben Studdard for the same reason. For a few seasons Ryan used a blank card as a prop as he announced the winner–something he may need to do going forward!
Kelly asked Maddie to break down the last 10 hours of her life, "So much has happened! I won the show, my love life is exposed…" That would be the big reveal during last night's finale that she's dating runner-up Caleb Lee Hutchinson.
American Idol Top 2 Maddie Pope, Caleb Lee Hutchinson Talk Romance (VIDEO)
Ryan shared that Caleb said at the end, after the show went off the air, "It's really cool for me to be in second place because I got to watch Maddie win." Aw.
After the interview, Maddie performed her coronation single, "Going Going Gone." Watch it here.