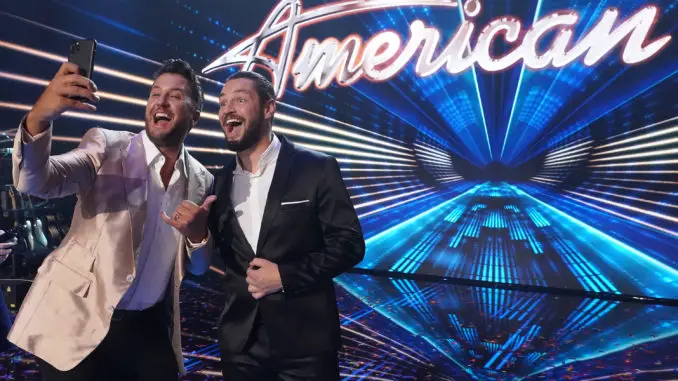 SURPRISE! American Idol winner Chayce Beckham and Luke Bryan are supposed to go fishing together soon. But Luke did ONE BETTER, inviting the American Idol 2021 winner on stage to perform. The surprise appearance happened Sunday night (June 6) during the American Idol judges' headlining stint at Pepsi's Gulf Coast Jam in Panama City Beach, Florida.
Luke brought the Apple Valley singer-songwriter on stage with an enthusiastic "Y'all give it up for Chayce," before launching into a duet of Luke's hit "Huntin', Fishin' and Lovin' Every Day."
Afterward, Luke gave the stage to Chayce to perform his chart-topping winners single "23." It definitely beats fishing for real! However, during the song, Luke promised the sell-out crowd that the two WILL go fishing later this week.
"….I promised him a fishing trip on American Idol," said Luke, "I'm going to make good on the promise this week, but I told him, if I'm gonna take you a** fishing, you gotta come out here and sing a little 'Hunting and Fishing..'"
Idol's Chayce Beckham Plots Record in Nashville, Sets Concert Dates
Chayce Beckham "23" Tops Billboard Charts, Plays Kimmel (Video)
Chayce Beckham is in Nashville right now preparing to reccord his post American Idol record.
Watch Chayce Beckham and Luke Bryan perform "Hunting and Fishin' and Lovin' Every Day
Watch Chayce Beckham perform "23" at Pepsi's Gulf Coast Jam
 

 

 

View this post on Instagram