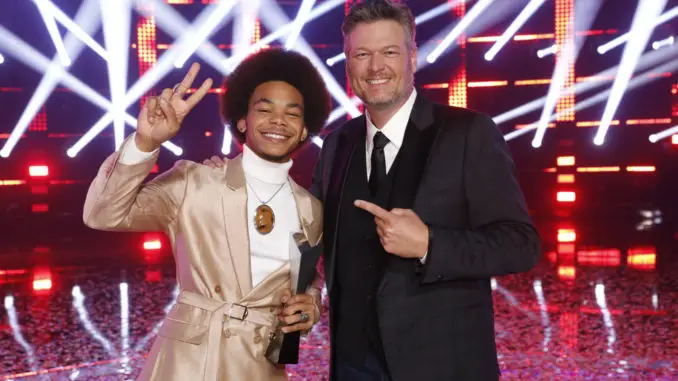 Cam Anthony, a 19-year-old former child prodigy from Philadelphia and currently living in Los Angeles, was crowned the champion of The Voice Tuesday night (May 25).
Cam, a member of Team Blake Shelton, faced off against his fellow Top 5 finalists – Jordan Matthew Young from Team Blake Shelton, Victor Solomon from Team John Legend Legend, Kenzie Wheeler from Team Kelly Clarkson and Rachel Mac from Team Nick Jonas.
Cam's triumph marked the 8th win for coach Blake Shelton.
In his Blind Audition, the R&B-soul artist impressed the coaches with his emotional performance of "Lay Me Down" by Sam Smith, earning a three-chair turn. Ultimately, he ended up choosing to be on Team Blake Shelton. That, after Nick Jonas used his block to keep Team John Legend out of the race.  Cam went on to win his Battle Round after impressing Blake with his versatility singing "10,000 Hours" by Dan + Shay and then his Knockout Round with a powerful rendition of "Feeling Good" by Nina Simone.
During the live rounds, Cam performed "Take Me to Church" by Hozier and gave a beautiful performance of "It's So Hard to Say Goodbye to Yesterday" by Boyz II Men, winning America over and securing him a spot in the Top 5.
On Monday night's (May 23) performance final, Cam showed his range with an empowering performance of the award winning anthem "Stand Up" by Cynthia Erivo from the film Harriet. He also performed a thrilling and unexpected rendition of "Wanted Dead Or Alive" by Bon Jovi.
On Tuesday's (May 25) finale,  coach Blake Shelton joined Cam on stage for a special duet of "She Drives Me Crazy" by Fine Young Cannibals.
Cam was the #1 most-viewed artist on YouTube this season with 5.4 million collective views.
The young singer grew up in North Philadelphia and turned to music as an escape from the violence and crime he faced in the city. He learned at an early age how to control his voice and honed his skills in the church choir. At 11, his life changed forever after a video of him singing a Bruno Mars song went viral.
Cam was later invited to open for Patti LaBelle, perform on The Ellen DeGeneres Show, and perform at the White House for the annual Easter Egg Roll. At 12, he was signed by Dr. Dre. and spent the rest of his teen years recording and performing. His contract with Dre ended recently.
Cam tells Access Hollywood that he wants to take time to figure out what his sound will be. "I just want to explore and have experiences to talk about."
Blake is convinced that Cam will be the first winner from The Voice to become a huge star.
Cynthia Erivo contacted Cam after his "Stand Up" performance.