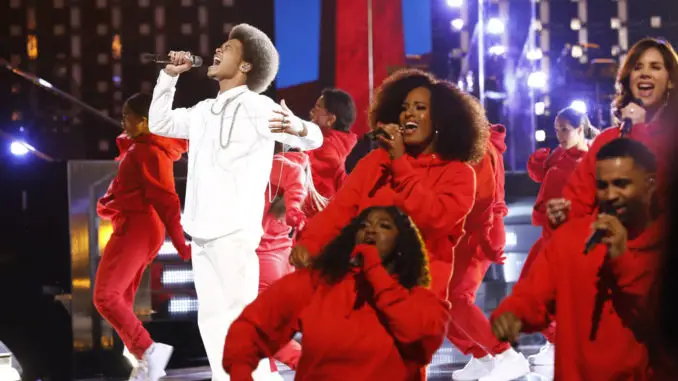 Tonight, The Voice season 20 Top 5– Team Blake Shelton's Cam Anthony and Jordan Matthew Young, Team Kelly Clarkson's Kenzie Wheeler, Team John Legend's Victor Solomon and Team Nick Jonas' Rachel Mac–will perform two cover songs–one a special dedication, and the other an uptempo–for your votes. Tomorrow night (May 25) a winner will be crowned.
The Voice Season 20 FINALE Song Spoilers: Listen to Top 5 Audio
The Voice Season 20: How To Vote for Your Favorite
Voting is open NOW.
Kenzie Wheeler – Heartland by George Strait  – Team Kelly Clarkson
During a chat with host Carson Daly and Kelly, let's review how Kelly blocked Blake from turning for Kenzie. She swears she feels bad about it. During a mentor session with his coach, the singer suggests that he might bust out a move. Oh boy. Kenzie's upbeat choice is just another song about how "REAL AMURICANS ARE FROM THE HEARTLAND." What Kenzie has going for him–his voice sounds like it belongs on the radio. He walks around the stage while he sings, but does not bust out any moves. However, the stage full of cowboy hat wearing dancers took care of that. Blake mentions that the tune is from a country-themed movie, in which George Strait appeared. Kelly calls Kenzie "amazing" adding "I think you're so fantastic. She begs America to vote for him. 
Victor Solomon – I Can't Make You Love Me by Bonnie Raitt – Team John Legend
These dedications are actual letters written by the singers. Victor dedicates his song to his girlfriend. He met her on Twitter, which is…interesting. Victor's version of the song is very soulful. He changes up the phrasing, while adding a little rasp. It's jazzy yet heartfelt. However, his voice sounds a little tired. "Beautiful!" John shouts out. Nick met his wife on Twitter too. I did not know that. He calls Victor's rendition "creative." John loves the passion that he brings to his performance. "Victor, you were incredible," he says.
Jordan Matthew Young – Key to the Highway by Eric Clapton – Team Blake Shelton
Jordan picked Blake because he knew the coach would let him do his thing. Being able to play slide guitar on The Voice stage was exciting for the singer. Blake thinks the song choice will show a different side. Blake finally notes the obvious–Jordan's striking resemblance to The Voice guitarist. They look like twins! Jordan starts off his performance accompanying himself on electric guitar. The band joins in after a few bars. This song is firmly in Jordan's wheelhouse, with heavy emphasis on his interaction with the band, which are front and center. John loves what he's bringing to the show–different than every other contestant. He calls him the "best dressed man on The Voice." Blake adds, "How much do we need this guy?" The remarks end with the panel holding a toast to Jordan.
Rachel Mac – I Hope You Dance by Lee Ann Womack – Team Nick Jonas
Rachel dedicates her song to her 8 month old nephew, Ezra. His mom–Rachel's big sister–helped raise her. So reading the letter is emotional for her (Rachel's mother abandoned the family). Dad used to sing the song to her when she was a baby. It's a very pretty and well controlled performance from the 16 year old. She's not always on top of what she's singing. But tonight, her vocals barely wobble, even when hitting an out-of-nowhere high note. Kelly calls her voice pure, angelic and captivating. She loves the intimate part of her voice. Nick reminds everyone that Rachel was a one chair turn. "You have so much depth as an artist and a person." Nick confesses that he almost cried.
Next, Blake Shelton sings his latest country single "Minimum Wage." Remember when he debuted the song live on New Years Eve, before the track dropped? And Twitter people were so mad because rich guy Blake sang about "feeling rich on minimum wage." As if rich country stars never sang about being working class.
Next, gal pal Gwen Stefani introduces a video clip featuring some of his former team members. Happy 10 year anniversary!
Cam Anthony – Stand Up by Cynthia Erivo   – Team Blake Shelton
Cam's dedication is to everyone. He urges peace, love and equality. "Faith and love can guide us all," he declares. Well, that was different. Dramatic staging finds the singer standing on an oblong table with dancers seated, wearing masks. Cam deserves to win the show, and I hope that he does. His vocals are effortless. It's like he's not even trying, but nevertheless his performances make a great impact every time.  John calls him ready for any stage he wants to be on. "That was a beautiful performance." Cam adds that he looks up to John. He would have so chosen John if Nick hadn't blocked him. Blake believes that Cam can change the show, by finally breaking out after his run. 
Kenzie Wheeler – The Keeper of the Stars by Tracy Byrd  – Team Kelly Clarkson
Kenzie dedicates his song to Dover, FL, the town that raised him. He's a 7th generation Floridian. Hoo boy. At one point, Kenzie chokes up talking about his family and his friends. I'm not sure Kenzie is helping himself by sticking to old fashioned country songs. He needs to mix it up a little. His song choices tonight are predictable. But maybe country fans are going crazy for this? I'll reiterate that Kenzie is an excellent country vocalist. However, it's too bad he's not stepping out of his box a little. Nick calls Kenzie "fun to watch." adding "I think you made a lot of people proud in Florida." Kelly calls his talent effortless, and that he's not totally aware of his own talent. She once again begs America to vote for him.
Rachel Mac – The Chain by Fleetwood Mac – Team Nick Jonas
Remember during her blind audition when she confessed to being a Blake Shelton superfan? Only Nick turned for her. Now, she did a brand new presentation, dedicated to Nick. Rachel says working with the Jonas bro is like collaborating with a fellow artist. No original songs for the contestants, but The Voice built sets for the singers' performances. Or am I being fooled by fancy CGI? Other than a few pitchy spots, Rachel performs a forceful version of the Fleetwood Mac classic. She's having a good night. No, that set with grass and a tree is real! John loves her energy and power. He compliments the song choice. Nick compares her performance to a live concert. "I'm so proud of you." He begs America to vote for Rachel.
Jordan Matthew Young – Stay by Rihanna – Team Blake Shelton
Jordan dedicates his Rihanna cover to…his grandmas. OK then. His grandmother Joy died suddenly, and grandma Betty passed shortly after her husband. "I never got to say goodbye," says Jordan. Wow. A country tinged version of "Stay." Don't really need it. Jordan has vocal limitations, which ballads reveal. His first song was better, where he could just blues it up, and vocal accuracy was unimportant. But, at least he's trying to do something daring. Nick thinks he's got a lot of soul, calling the performance "top notch." Blake thinks Jordan has showed a completely different layer that "none of us have ever heard before."
Cam Anthony – Wanted Dead or Alive by Bon Jovi   – Team Blake Shelton
Carson thinks if Cam ended up on Team Legend, he might have fallen through the cracks. The preview of Cam's performances show how consistently great he's been all season. Cam picked the song, and it's an unusual choice. He and his family played the tune when they played Rock Band together. His entire family would rock out to the song. Blake doubles down on his prediction that Cam will be The Voice's first superstar. And once again, Cam proves that he can sing anything in any genre. His charisma is off the charts. Dang. It's another triumph from Cam. Kelly thinks he's captivating, gifted and could conquer any artist endeavor he chooses. Blake once again calls him a star.
Victor Solomon – Freedom by Beyonce – Team John Legend
John never turns for artists who cover his songs…except Victor. I just realized he's only 22 years old. He seems so much older. The song is an intense ending for an intense night of performances. This is an entirely different side of Victor. He's rapping the Kendrick Lamar parts, and singing with a rock edge. It's a fierce performance. Kelly calls it "fricking awesome." John calls it "the best performance I've seen on this stage." He begs America to vote for Victor.